Boston can be scary at first glance. I mean, it's a big city with a million things to do. It can feel overwhelming, especially while embarking on the many academic and career-based endeavors Boston University has to offer. 
I began this semester with a new mindset — a positive one.
My roommate Sam and I have made it a point to remain optimistic toward every opportunity, adventure, struggle and obstacle we encounter. In our experience, this mindset makes all the difference in growing and becoming our best selves.
I would like to think growth is a goal in college in terms of growing into yourself and the person you're meant to be. At least that's my goal. 
Let me walk you through some adventures Sam and I embarked on during our Fall semester in Boston. Since COVID-19 took over our freshman year, it's safe to say this year feels like our true first year at Boston University.
We began the semester adopting a new mode of transportation: Bluebikes. We have most definitely run to the Bluebikes in hopes of making it to class on time when the train and buses were extremely delayed. Biking to Trader Joe's and Whole Foods has also become one of our favorite past times. There is no better feeling than letting yourself fly down the little hills on the streets of Boston. The feeling of freedom and possibility I get when biking is magical.
I highly recommend taking the Bluebikes for a spin at least once during this semester. And as funny and simple as it sounds, Trader Joe's runs bring me so much joy. Walking through the aisles and being an independent woman picking my groceries out with Sam is a moment we both appreciate. Also, stocking our fridge is a highlight as we constantly forget to buy groceries.
So Trader Joe's and Bluebikes better be on your next weekend's itinerary.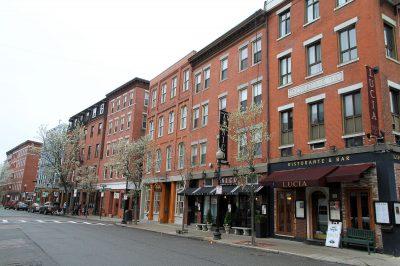 Next is the North End. Whether you take the train there for some pasta or the farmers market every Saturday morning, it is a must-see. Two weekends ago, Sam and I ventured to Haymarket for the first time, and it was like a scene out of a movie with the fresh vegetables on the stands, groups of people with big smiles on their faces and endless tents of fresh fruit. We even took a stroll into the North End for brunch at the cutest Italian restaurant called Caffè Paradiso. 
I felt like I was in Italy with my half of a mozzarella and prosciutto panini and gelato. I journaled as I watched people walk by and felt inspired to write a poem. It's wonderful how a setting and the people around you can provide so much inspiration. I haven't written a poem in months, but something about being in the North End surrounded by so much beauty and culture inspired me to write poems again.
The Charles River Esplanade is my favorite place for a run or afternoon stroll. Maybe grab a book and a blanket and head out there with a pal to get away from the noise of the city for a second. It provides a sense of clarity and calmness sitting on the grass staring at the Charles River. 
It makes you take a moment to appreciate where you are and how much there is to be thankful for. It's easy to get caught up in school work and clubs, but it's so important to remember to take time for yourself and explore this beautiful city you get to call your home.
I encourage you to take a day for yourself to explore all Boston has to offer. Nurture yourself, your body and your mind because it is so important. Boston is the best place to become your best self so take advantage of the city during your four years here.