Arsh Kakar and Jannat Kakar, married couple and co-founders of Tishwish, first realized the need for sustainable packaging when they saw the build up of their own trash from e-commerce packages during the height of the COVID-19 pandemic.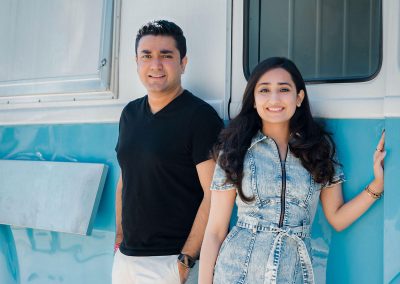 Tishwish is a packaging company that places great value in the sustainability and customizability of its products, Arsh, chief executive officer of Tishwish and Boston University alum, said. The company hyper focuses on the unwrapping experience of a product, providing sustainable cushioning such as compostable bubble and normal mailers, packaging tissues, stickers and more.
"It bothered us to the extent where we're like, okay, there's got to be an alternative for this," Arsh said.
Arsh worked five years in the packaging, production and manufacturing industry, where he developed connections with material scientists and professionals who helped develop Tishwish products.
"We came up with a starch-based biopolymer that comes from corn," he said. "They [corn] are of no value to the farmers as well."
With its biopolymer film, Tishwish is able to create value out of corn that would have otherwise gone to waste. According to the website, the average plastic poly mailer takes roughly 500 years to decompose while Tishwish's plant-based mailer only takes three to six months.
Tishwish also advocates for sustainability by implementing the "Timber Re-Leaf Project" — an initiative to ensure that products only use 100% recycled paper, Arsh said.
Moreover, the sustainable packaging company works with a third party organization to plant a tree for every order received in an area that needs reforestation.
"There's no reckless deforestation that happens in the procurement of these trees, so no rare timbers are used," Arsh said.
In the last 18 months, Tishwish planted over 7,000 trees — from Africa to New Zealand — and plans to increase this number drastically in 2022 with a target of 35,000 trees planted.
"It's a very aggressive target, but I think we're really confident that we'll be able to make it just because I feel January's been off to a great start," Arsh said.
Tishwish also plans to increase the number of trees planted per order for its enterprise scale customers — like Netflix — to 100 to 500 trees per order.
"It's only fair that we do our part on that as well," Arsh said.
According to Jannat, creative director of Tishwish and a current BU College of Communication graduate student, the company's commitment to sustainability appeals to its target age group of 18 to 35-year-olds, who are very "eco-conscious."
Tishwish is able to leverage initiatives such as the Timber Re-Leaf Project to conduct "cause marketing" that helps make customers say "let's go with this company," Jannat said.
Aisha Rawji, a 29-year-old BU alum and chief executive officer and founder of KYNAH and Kiska Studios, was drawn to the Tishwish because of its sustainability ethos and purchased the product because the company "cares for the environment."
Another core pillar of Tishwish's philosophy is transparency with its customers, with the company making the decision to display its certifications on all mailers.
"They're all printed with our numbers and everything," Jannat said.
Like most companies throughout the COVID-19 pandemic, Tishwish has faced supply chain challenges due to the global shortage of freight vessels, making it difficult to import materials from countries like Vietnam, India and China.
"Our base material is not made in the United States because the same grade of material is not available yet for this particular usage," Arsh said.
However, Arsh and Jannat are currently exploring potential partners in Canada and Mexico to help keep up with demand, Arsh said, and expect 40% of their products to be made in the US starting February 2022.
Arsh hopes that large enterprises like Zara or Gap will follow suit and take the initiative to move away from virgin plastic.
"That's where the needle will start moving," Arsh said.