The question, "What song are you listening to?" has become increasingly popular on TikTok and Youtube. People have created channels based on this idea, and if you haven't heard of this somewhere on the internet, you may be living under a rock.
Basically, this trend consists of videos where people walk around cities, college campuses or buildings and ask random people who have earbuds in a question — "What song are you listening to?" It's a simple question, but it really says a lot about a person. I'm not a content creator, but I am a journalist, so I went around Boston University and asked students the same question.
This is what I ended up with.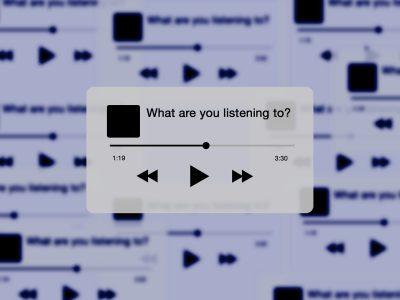 Let's start off strong with one of the best answers I received. I asked a girl named Stella what she was listening to as she walked to her class in the College of Arts and Sciences and she responded, "My country playlist and I'm not even embarrassed to admit that." I laughed and she added, "it's 'Stupid Boy' by Keith Urban though, that's not even a good one."
The next songs give off more of an indie vibe.
"Once Twice Melody" by Beach House was being listened to outside the College of Fine Arts by a boy named Roz. When he told me the title, I originally thought that it was a classical soundtrack, but it turned out to be a flowy indie song that I didn't mind listening to at all.
A girl named Kendall was listening to "Savior Complex" by Phoebe Bridges and said Bridges "touches her soul." Someone named Zaydra was listening to "Blame it on the Drugs" by Chance Peña, which I will be adding to my everyday playlist. And lastly, "Futura Free" by Frank Ocean was playing through a boy named O'Neal's earbuds — one of my personal favorites.
And now what a lot of you have probably been waiting for — the hip-hop side of music.
A boy named Jack was jamming out to "Lock Load" by Conway the Machine ft. Beanie Sigel. Someone named Corina was dancing to "Pillow Talking" by Lil Dicky ft. Brain, while a boy called Garrett was listening to Kanye West's classic, "Through the Wire."
Here's the best part, though. As Corina was walking away, she turned around and told me that she was actually listening to "Splash" by Tyga ft. Moneybagg Yo, but was embarrassed to admit her love for the song and covered it up by answering "Pillow Talking." That was intriguing to me — how someone would be self-conscious about their music taste.
And now, the classics. A boy named Cole was listening to "Careless Whisper" by George Michael as he walked in Allston through the snow, and someone named Cali had the uplifting "She's A Rainbow" by The Rolling Stones playing on a cloudy, gray day.
Finally, I'll share with you my top three favorite answers I received. A girl called Nina was listening to "London Bridge" by Fergie as she walked down Comm Ave. with her headphones in, which is such a classic. And Sadie, my lovely roommate, was very questionably listening to "Shower" by Becky G at 2 p.m. on the couch when I asked her what was playing through her AirPods.
My all-time favorite answer that I received in the process of writing this article was that the entire BU men's water polo team was listening to "Electric Feel" by MGMT on the way back from one of their tournaments.
Honorable mentions that didn't quite fit into a category were "Traitor" by Olivia Rodrigo, "Baianá (Pablo Fierro Edit)" by Barbatuques, "WOKE UP THINKIN BOUT" by Aaron May and "Champagne Problems" by Taylor Swift.
I would say that the question, "What are you listening to?" says a lot about the person listening to the music. And though this was just a small handful of the BU population, I'd love to continue this search and find out what even more students have playing through their earbuds.
If you're interested, I've created a playlist with all these songs, so that you can get a glimpse into these students' lives, as well.