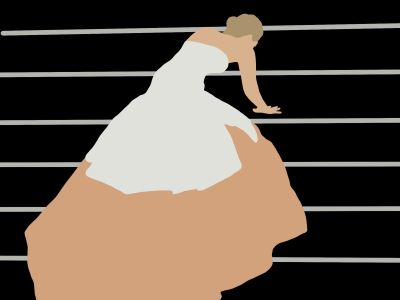 How better to ring in this year's Oscars than with #OscarsSoWhite trending on social media — again?
This time, it's largely due to the crowded and messy Best Actress race which gave Ana de Armas and Andrea Riseborough their flowers while shunning Black actresses Danielle Deadwyler and, perhaps even more shockingly, usual Oscars darling Viola Davis. 
Ana de Armas' performance in "Blonde" — the torturous, leering Marilyn Monroe biopic — wasn't bad, nor was Andrea Riseborough's irrelevant turn as a Texan alcoholic in "To Leslie." 
But critics and audiences alike were enthralled and enamored with Deadwyler's performance as Mamie Till-Bradley, the grief-stricken mother of young Emmett Till, as well as Viola Davis' role as a fierce yet vulnerable Agojie warrior in "Woman King."
Their performances weren't controversial or unpopular with the public as de Armas' and Riseborough's were. Instead, Deadwyler and Davis were considered strong, almost predictable contenders for the Oscars nod, especially as they both racked up nominations at nearly all of the previous awards shows. 
And yet both Deadwyler and Davis were ignored by the Academy this past week — as were Black-made films and female directors, leaving many of the major Oscars categories entirely white or entirely male, despite the powerful field of contenders that are neither. 
The Academy also reverted back to its usual ways this year when it completely snubbed all horror films, the visual effects of "Nope" and Mia Goth's performance in "Pearl," especially.
This year's Oscar nominations seem to confirm that for every step the Academy takes towards progress and nonconformity, it takes two steps back.  
To be fair, the Oscars are not entirely white and male this year — in fact, "Everything Everywhere All at Once," a film focusing on Asian-American characters and directed by an Asian-American man, has a leading 11 nominations. 
But as the years go by, viewership of the televised ceremony goes down, and Hollywood continuously tries to prove its progressivism to little avail. The Oscars seem to be slipping further and further into irrelevance. 
Oscar-nominated films consistently make little money at the box office. 
They almost always fall into the same few, overstuffed categories: historical tearjerkers, milquetoast and surface-level films about various-isms or self-obsessed movies about Hollywood itself.
As more and more actually beloved films are made — whether they appeal to arthouse film-bros or the comic-book crowd — they are increasingly disregarded by the Academy. 
There's just little reason for anyone except the nominees to care about the Oscars anymore. 
Audiences are also becoming more aware of the tangled, intricate, internal politics behind the nominations, which became more obvious than ever with Andrea Riseborough's nomination. 
Ignored throughout the entire awards season, Riseborough's name only came into Oscars play after such stars as Jennifer Aniston and Charlize Theron hosted campaign events for her, gushing over her performance on social media. 
If the Academy wants to remain the cultural staple it has been for so long, changes must be made. 
The nomination process should be more transparent, and certainly less cronyist. In order to become a voting member of the Academy, one must be both an industry professional and be nominated by two other members: perfect ingredients for bias and favoritism. 
Currently, the ceremony itself seems far too similar to the Met Gala: just another flashy, glitzy party for drunk celebrities — devoid of anything memorable or interesting but for the occasional trip on the stairs or slap to the face. 
Broadcasting on traditional television channels seems nonsensical, as more and more Americans are canceling their cable subscriptions every year. 
Of course, the Academy's fall from grace will be expedited as long as they continue to turn a blind eye to non-white, non-male industry members — as well as almost all horror and international films — both of which are becoming increasingly popular and prestigious. 
Despite repeated pledges made on behalf of the Academy to diversify their nominees and move into modernity, recent failures continue to prove that the Oscars is unwilling to grow — possibly dooming themselves to obscurity in the process. 
This article was written by Co-Opinion Editor Caroline McCord.