When Ishita Agrawal joined the Boston University Accounting Association as a freshman, the Executive Board members were mostly men. Almost three years later, Agrawal is the group's president, and the executive board is composed entirely of women.
Agrawal, now a junior in the Questrom School of Business, said this was "a major, drastic turn."
"It's really nice having a group of women who really want to have the same career goals," Agrawal said. "We want to bring in all of these opportunities for other women in the club. So we promote events from recruiters that have women that are geared towards women."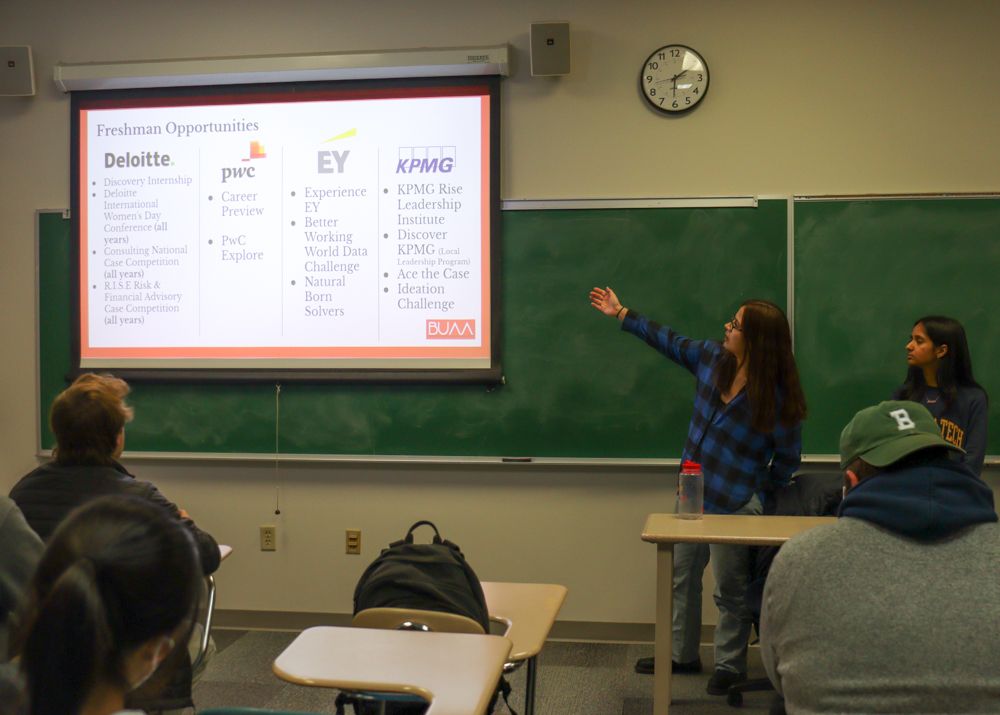 Laurie-Anne Matos, a senior in Questrom and vice president of BUAA, said the club's biggest activity is a mock interview. According to its website, BUAA "bridges the gap between the academic and professional worlds."
"We do events about once per month, and it's a great way to get involved with the accounting profession and the industry," Agrawal said.
Matos said throughout the year, the group brings in firms for information sessions, including the "Big Four" accounting firms: Deloitte, Ernst & Young, KPMG and PricewaterhouseCoopers. The club also hosts information sessions with midsize firms, as well as general meetings and Certified Public Accountant information sessions. Compiling internship deadlines for the Big Four and, occasionally, taking on case studies make up a few of the club's other features, Matos said.
"I definitely think it's different from learning in the classroom because we're not really applying any accounting knowledge realistically," Matos said. "We're taking kids and connecting them with professionals and recruiters so that they can learn more about what they would do every day, like on a day-to-day basis and what a future career would look like for them."
Ivy Shi, a junior in Questrom and club attendee, said she was interested in the BUAA because of their career networking events.
"They bring in business companies and have representatives come in and tell you about job openings, internships that they have," Shi said. "I wanted to give it a whirl."
Maggie Lau, a sophomore in Questrom and marketing chair of BUAA, said she has found networking opportunities from the club.
"I was able to get to know recruiters, people that worked there and it was just a really good networking experience," she said.
Lau said the group is looking for more event opportunities such as mock interviews and anything that would "help people get more involved in the recruitment process."
"In the future, I hope that we do grow bigger because we are a smaller, tight-knit organization," Lau said.
The changes, Matos said, are in a "revamping" effort to attract more club attendance, including a logo redesign and merchandise.
"We're just definitely trying to make it more modern but attract more people to come to our meetings," Matos said.
Agrawal said she hopes that the club has more events in the future as more members join.
"I want the Accounting Association after I graduate to still have the same opportunities as we do right now, if not more."