RAYE, a musician who has existed in the background of other singers' lyrics and sounds, has just released her debut studio album, "My 21st Century Blues."
The album begins with the ambient sounds of an old jazz club. Clinking glasses and scattered voices set the scene as RAYE is introduced by a man speaking over a piano playing in the background. The song fades into "Oscar Winning Tears," pulling the piano intro into a fully produced song with electric beats and a string orchestra. 
RAYE starts her album with the image of a glamorous Hollywood singer, singing about a lover who "put her through hell and then proceeded to cry about it," as she writes in her Spotify description.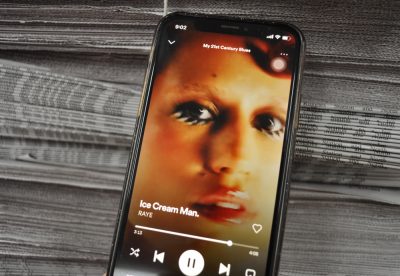 In an explanatory video on Spotify that accompanies the album, RAYE explains that the album touches on several vulnerable topics that leave her feeling blue. She provides her perspective on these topics as a woman in the 21st century, which explains the reasoning behind her album title. 
"Oscar Winning Tears" uses its sound to create glam and drama while its lyrics tell the story of pain and betrayal. This contrast is the perfect starting point for an album about a woman's 21st century blues.
The following three songs were previously released singles that reveal RAYE's struggles with being mistreated in the music industry and how she bounced back. According to The New York Times, RAYE was stuck in the cycle of doling out music for other artists, songs people wanted to hear that made money for her employers. 
"You wasn't trying, you were sitting on diamonds," she sings on "Hard Out Here." The sounds of these songs reflect what people are used to hearing from RAYE — dance tracks with synth backgrounds and electric beats.
RAYE's main focus with this album is to take her pain and turn it into something brand new that will serve her instead of others. She builds her anger over blood-pumping beats in "Black Mascara" and transforms this anger into dissociation in "Escapism."
These songs capture RAYE's experience with a greater collective. Her own mental and emotional struggles are brought to the forefront. In the following tracks, she focuses on acceptance and gaining the ability to move on and grow from her experiences. She uses the sound of her songs to reflect these phases.
The album turns from its previous pulsating pop sound to slow blues vocals over a western guitar in "Mary Jane." She sings about substance abuse and addiction and continues to slow down and reflect in "The Thrill Is Gone" and "Ice Cream Man."
"Ice Cream Man" is her most vulnerable track on the album. The track is slower, relies less on instrumentals and focuses more on uplifting RAYE's voice. She addresses sexual violence and the experiences that truly broke her. "Ice Cream Man" is her way of acknowledging these experiences and forging ahead. In its conclusion, the song explodes in electric synths and vocals — punching the listener right in the ear.
Similar to the sound switch in "Mary Jane," "Flip A Switch" changes the album to a different tone. From electric to bluesy, the album takes on trap beats and more experimental instrumentation. The switch in tone reflects RAYE's lyrics talking about changing her course and raising her standards for herself in the future.
The second half of the album takes on subjects that still hold RAYE back in her life. She underscores body dysmorphia, self-worth and environmental anxiety.
Her song "Environmental Anxiety" is the most experimental on the album, providing listeners with an almost sci-fi listening experience. The song emits pulsing vocals and a running percussion over lyrics depicting the fears of the climate crisis.
The album circles back to its starting sound of a dramatic piano but finishes with fun songs about self-worth and enjoying your life. "Five Star Hotels" and "Worth It" are more mellow and filled with independence. "Buss It Down" takes gospel piano and uses it as the background track to a song about bussing it down on the kitchen floor.
RAYE has successfully created a narrative through sound. Taking the pain of the piano in the beginning, she transforms her album debut into a powerful and playful melody that resonates in listeners' ears. "My 21st Century Blues" is worth a listen.