Within the first few weeks of her semester abroad, Boston University student Pamela Arjona, a sophomore in the College of Arts and Sciences, has already looked over Dubai from the Burj Khalifa, walked the streets of Mumbai, seen the Taj Mahal and gone on a safari in Kenya.
Before she heads home in the spring, Arjona will have sailed to port cities in India, Kenya, Jordan, Cyprus, Greece, Croatia, Spain, Morocco, Portugal and Germany — and taken 12 credits worth of classes — through a multi-country study abroad program called Semester at Sea.
"The ports I was most excited for were India, Kenya and Jordan," Arjona said. "They were all three places that I really…wanted to experience immersion in the culture."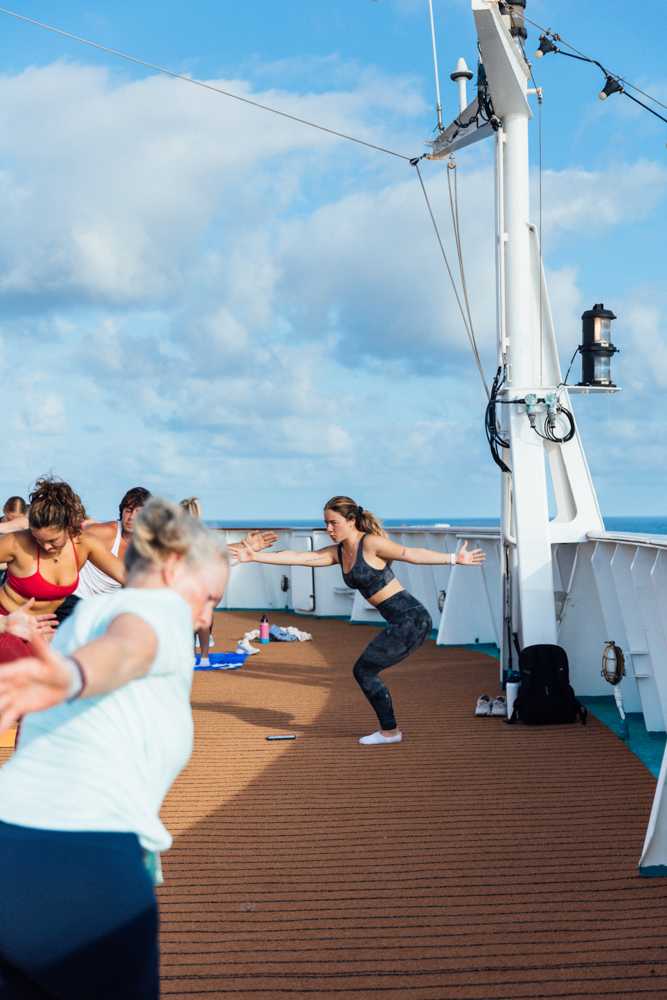 This semester's voyage is about 110 days and hosts about 500 students. Students attend classes while the ship sails between ports and experience each country hands-on when it docks.
BU alum Raja Bhattar, who graduated from CAS in 2005, is currently working on this semester's voyage as a Resident Director and the Sense of Belonging, Spirituality and Reflection Coordinator. Bhattar, whose doctoral work is in international education, said Semester at Sea poses an opportunity to "shape young people's minds and perspectives."
"I get to travel to 11 countries over a semester … and engage in cross-cultural, inter-cultural conversation with students from all around the world," they said.
Arjona said every student in Semester at Sea takes global studies, a class which covers the history and culture of each country the voyage stops in, and typically three other classes of their choosing. The course does not shy away from subjects of colonialism and economic disparity, which Arjona said are prevalent issues in many of the program's destinations.
Holly Tawil, Semester at Sea's Senior regional director of enrollment for the Northeast and Texas, said some students on Semester at Sea voyages have never left the United States before.
For many, she said, learning about cross-cultural experiences while being exposed to new cultures is a completely new experience. Tawil said global studies is what "ties the voyage together."
"They're learning… how these countries are intertwined in many ways through past events, whether it be colonialism, diasporas, different empires that have come and gone through these different countries," Tawil said.
In addition to global studies, students have three "field classes," which offer a hands-on learning experience that relates to course content in the voyage's port cities.
In addition to required field classes, Tawil said Semester at Sea also offers other trips through the program in each port, where students can learn about the social, environmental and economic concerns of that country.
In Kenya, students went to a sustainable farm to learn about their agricultural methods. In India, they visited a nonprofit that provides aid to families in the red light district and helps women and girls escape the cycle of prostitution.
"We really put students into these kind of uncomfortable situations so that they can really, really learn," Tawil said.
Students have access to optional conversations called "post-port reflections," where they can talk about their experiences, whether surface-level or in the context of their own lives.
"We're learning about, starting in 1500, European colonialism, and we just visited India and Kenya, which are places that were both colonized," said Arjona. "You're very much in this immersion of what you're learning."
While this non-traditional study abroad experience is what draws many students to Semester at Sea, the sense of community is another memorable aspect for voyagers.
Tawil sailed when she was an undergraduate at Texas State University, over 10 years ago. She said she attended the wedding of one of her former shipmates just a few months ago.
Arjona said that on her first night, she already felt "an overwhelming sense of love and community," adding that everyone aboard has quickly become a "huge family."
"That feeling every time we leave a port is always the same," she said. "All the students will go out back and watch the boat leave… It's not planned. It's not a club. It just is."