Boston University's "Choose to Reuse" program has received mixed reviews since its launch on Feb. 1. The program, which features reusable to-go containers, is part of BU Dining's sustainability program, which works to reach BU's zero waste goal.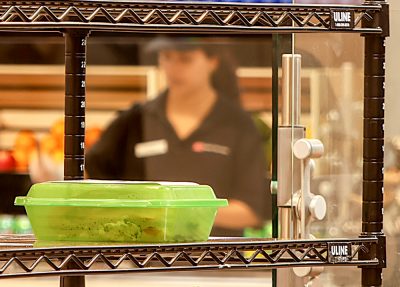 "We have had really great success with the first two weeks of the program," Lexi Raczka, sustainability director of BU Dining Service, said. "We issued more than 6,600 Choose to Reuse containers in the first two weeks to more than 3,000 different individuals, whether that be student, staff or faculty members."
Raczka added there also has been a "drastic increase" of orders in reusable containers in the first two weeks of the program, served on either dine in plates or in the "Choose to Reuse" containers.
"More than half of the orders in the GSU are now 'for-here' on a reusable plate, which is an increase from what it was last semester," she said. "Overall, it's about 73% of orders we're seeing in the first two weeks are on some type of reusable, which in the fall semester was a little over 40%."
Students like Cat Keane, a sophomore in the College of Arts and Sciences, said the $8 late fee when containers are not returned to the GSU within three days of the order makes students "scared."
"I think a lot of people were initially concerned about the fees, and I think a lot of people are still very confused about the QR codes on the containers," Keane said. "Rather than understanding this is something that's important that should be happening, I feel like there's a lot more focus on the charges."
Raczka said the fee is to be a "disincentive" to participate in not returning the containers, as well as to cover overhead costs. The program has seen a 96% container return rate since the program was put into effect according to her.
"Not only is that great to make sure the containers are reused from a sustainability standpoint, but it also just helps us keep them in flow and circulation," Raczka said. "The container fee will go back into the program helping to cover overhead costs, covering the costs of the containers and other programmatic fees and long term helping us expand the program to other locations."
According to Raczka, BU Dining Service is finalizing details regarding where the late fee will be charged at the end of the semester, but they will "communicate it out to the folks being charged so that they know what to expect."
Christopher Donatelli, a sophomore in the College of General Studies, said he was unaware of the late fee, and has kept the containers at home.
"First of all, they didn't make that clear. I don't feel they've made that clear," Donatelli said. "Unless if you're really committed to the program, most people are lazy, and they need an easy way to do it."
Emma Bogursky, a sophomore in the School of Hospitality Administration, added additional return stations around campus would be beneficial.
"If they're going to make a fee that expensive, they should put the [container return boxes] in other dining halls and residence halls because I don't come here every three days," Bogursky said. "I feel like it'd be hard for me to return it personally."
Additional return stations will be added as the program expands, but will require a lot of "labor and logistics" according to Raczka.
"We made sure to put them in the GSU in places that are available anytime the building is open, so you don't need to return it during our operating hours for the food locations," Raczka said. "As we expand the program, there'll be additional drop-off locations for those additional locations as well."
Yash Patel, a sophomore in CAS, said the current policy gives enough time for students to return the containers.
"I think three days is enough," Patel said. "It's not like it's not too much time, but you're going to be on campus anyways for most of the time, so I think it's fine."
The "Choose to Reuse" program is part of BU's Zero Waste Plan, which focuses on 21 different initiatives to reach a zero waste goal, "redesign, reduce, reuse, recycle and compost, culture change and market development," according to the BU Sustainability website.
"I think it is good in a way to get people to get into more sustainable habits and more reusable habits," Keane said. "But it definitely is going to be annoying at first for some people and also take a little bit of time for everyone to get entirely on board."