By Jennifer Small and Sangmin Song
The following article contains mention of suicide.
A man unaffiliated with Boston University died by suicide, jumping out of a window of the 26th floor of 33 Harry Agganis Way, a BU residence hall, on Wednesday evening, according to authorities.
The individual, a 33-year-old man from Cambridge, jumped out of a window in the study lounge on the top floor of StuVi II, according to a statement released by the University.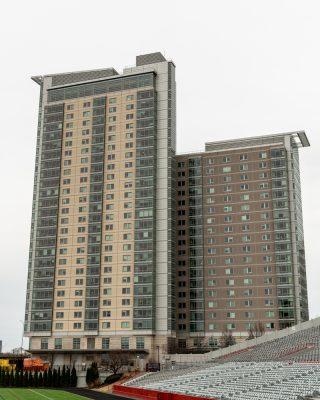 BUPD responded to the scene at 11:20 p.m, according to BU's statement.
A BU student living in StuVi II — who asked to remain anonymous — provided an eyewitness account of the incident, saying a man in a mustard-colored, blood-soaked shirt began "pacing" the 26th floor at approximately 11:30 p.m.
It still remains unclear when and how the man's shirt became stained with blood and how he got into the building, despite the security station on the first floor.
A photo obtained by The Daily Free Press shows an open, unbroken awning window smeared with blood stains on the 26th floor. It's unclear whether or not this was the window the man climbed out of.
"I was just so shocked," the student said. "I was like 'what's going on right now, someone has blood on their shirt, and they're just roaming around this floor.'"
The student said people on the 26th floor became increasingly concerned about the man's presence, and one student in the study lounge called the BU Police Department to report the man. They added that others, including them, hid behind a wall after realizing the situation.
"At that point, we thought that maybe he needed medical assistance, but we also were scared of getting close to him in case he was dangerous and in case he had a weapon," the anonymous student said. "So we just kind of hid, and then we were still in conversation with BUPD, we all wanted to leave terribly."
The student said about 10 minutes later, they heard a group of people coming in from the elevators, yelling "Don't do this," and "Stop this right now." They said the confrontation went on for a few minutes before "everything went silent."
"At that point, everyone was very scared," they said. "People were hugging each other [and] trying not to cry."
The anonymous student said they were unsure if the people that confronted the man were members of BUPD, residential security assistants or another party, as they could not see around the corner from where they were hiding.
Isabella Balian, a sophomore in the College of Engineering said she was in StuVi II studying with a group when her friend heard a "thump."
"We were all sitting on the first floor, and then we see all these cops parked outside … and then these cops start sprinting in the lobby," she said. "Cops were running with flashlights, and they're going [to the side] of StuVi II, looking for something."
In response to the incident, BU Residence Life sent an email the following day of the incident to StuVi II residents including incident updates and resources. Representatives from Behavioral Medicine and Crisis Counseling and the University Chaplains Office were available for students in need to talk to at 7 p.m., the same day.
BU Spokesperson Colin Riley confirmed the man was not affiliated with BU and added there is currently no threat to the BU community.
"We're very saddened by this. Counseling and support services are available to students at BU following the tragic death," Riley said. "Members of the BU community in need of counseling should reach out to the University's crisis response counselors at SARP [Sexual Assault Response and Prevention Center] to mental health counselors and resources at Behavioral Medicine."
Updates will follow with more information as it becomes available.
If you or a loved one are experiencing suicidal thoughts, call the National Suicide Prevention Lifeline at 1-800-273-8255. You can find a list of additional resources at SpeakingOfSuicide.com/resources.
Members of the BU community can also make an appointment with Student Health Services through Patient Connect, call their 24-hour line (617-353-3569) for mental health emergencies or get tips on addressing challenges at https://www.bu.edu/shs/behavioral-medicine/behavioral-resources/.
CORRECTION: An earlier version of this article featured the headline "Non-BU affiliated individual jumped from a window on the 26th floor study lounge at StuVi II," this was changed to the current headline "An update on Wednesday evening's reported death at StuVi II," to address the situation in a more sensitive manner.