TW: This article contains graphic content.
Following the death of a 33-year-old Cambridge man last Wednesday at 33 Harry Agganis Way, a Boston University residence hall, BU students voiced concerns about student safety and security in on-campus housing.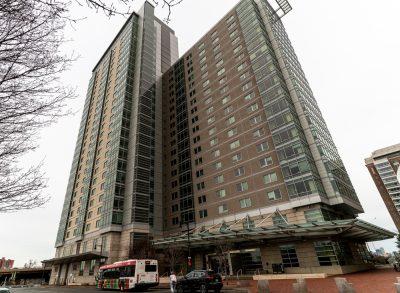 The man, who was not affiliated with the University, entered StuVi II Wednesday, Feb. 15 before 11:30 p.m. BU Police Department responded to the scene at 11:26 p.m. after receiving a call from a student, according to BUPD's crime logs.
BU Spokesperson Colin Riley wrote in an email that the 33-year-old man went by the StuVi II security station on the first floor, and took the elevator.
"The individual involved in the incident made his way into the student residence apparently without being noticed and took an elevator to the top floor," Riley wrote. "BUPD officers responded after a call from a student."
Riley also confirmed that two BU employees were placed on administrative leave as a result of the incident last Wednesday.
"The University is conducting a formal investigation, is reviewing and assessing residential security and two employees were placed on administrative leave after the initial investigation," he wrote. "Additional improvements and changes, both short and long-term, will be made as a result."
In Oct. 2015, two Massachusetts Institute of Technology students entered 11 unlocked rooms in StuVi II, The Daily Free Press reported in 2016. One of the MIT students sexually assaulted a sleeping resident who later sued the University, claiming that it failed to provide secure on-campus housing and did not protect her from sexual harassment.
Some current BU students shared their concerns and opinions about safety in on-campus housing following last Wednesday's incident.
Francise Au, a junior in the College of Communication, said her perspective on BU's campus safety has changed.
"I don't feel like it's pretty safe anymore," Au said. "If a random man is able to get into our buildings with a lot of students who currently live there, I just don't think that's really well secured."
Au said she thinks security in BU residences have room for improvement considering how much on-campus housing costs.
"We pay a lot of money every year to live here, especially in StuVi because it's one of the most expensive buildings on campus," she said. "You'd think [StuVi] security would be a lot better."
Reet Singh, a sophomore in the College of Arts and Sciences and resident of Myles Standish Hall, said she has noticed that some dorm security guards are more observant than others.
"I feel like there are so many inconsistencies with how security handles things," Singh said. "I started observing the guards' behaviors more ever since the situation because I just want to make sure — are these guards trustworthy enough, like are they actually ensuring our safety?"
Singh said although she has noticed that dorm security guards are more attentive recently, she thinks BU should strengthen its security protocols.
"The situation could have been avoided and it's sad that something like this had to happen for security guards to be more wary," she said.
Madeline Matonti, a junior in the CAS, said in her experience, BU dorm security has always been stricter regarding security than other colleges in Boston.
"BU security, in my opinion, has always been incredible," Matonti said. "The fact that [BU security is] so strict with it normally… it baffles me that this happened."
Matonti said what happened at StuVi II made her question how safe she and other students are in on-campus housing.
"What if this man had the intent of harming other people?" she said. "The whole instance, I feel, now shows everyone that this is possible if you think about it enough and that's what's frightening."
Matonti said she hopes BU increases dorm security to help students feel safe in their residences.
"The whole thing, it never should have happened," Matonti said. "None of it should have been possible from beginning to end."
CORRECTION: This article previously stated two unescorted MIT students entered StuVi II in 2015. The students were signed in by a resident.