Happy final week of February! We are so close to spring break. The non-stop Ubers to Logan Airport, Amtrak rides and Peter Pan bus excursions are about to begin. Soon you'll relax on a beach under the Florida sun, take in the fresh New Hampshire mountain air or frolic in your local hometown field. 
Before diving into the ocean or setting out on a hike, you have something else to deal with. We've all been thinking about it — so let me rip the band-aid off. It's midterm time.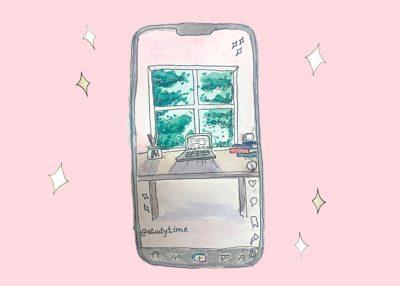 There is not a more miserable priority than studying. Studying is a demanding activity that can strip students of their social activity and creative freedom. It is a mental battle with inner strength. I couldn't get past opening my laptop and entering my password before I felt the need to give myself a break.
Last semester I encountered this problem — right before Thanksgiving break. Focusing on my studies was hard. The unforgiving root of my distraction was TikTok. You can laugh at it, saying, "that's so Gen-Z," but I was posting three or four times a day. When it came to likes, comments, follows and shares, I was logging back on with every minute that ticked by on my Pomodoro clock. 
I spent days trying to suppress this distraction, but I couldn't. One hour without opening TikTok made me feel like a desert traveler stranded in the Sahara without a drink. When I couldn't suppress it any longer, I started embracing my obsession. 
After another aimless scrolling session the day before my last midterm, I stumbled upon a video of a time-lapse study session. It was a simple video of a girl cleaning her desk, writing down notes and doing problem sets. It was oddly infectious. The video inspired me to be more productive. 
I followed this account and began chatting about how she makes her videos. Before I knew it, I had a tripod, saved audio on my phone and new stationery. There was a new spark about this new digital lifestyle I had never felt about my previous content.
Since returning this semester, I've kept up with my "StudyToks" by making day-in-the-life vlogs, study tips and positive mental health videos that keep students going. Having a personal portfolio consisting of all of my study sessions convinces me that maybe studying isn't so mundane. All you have to do is add a little romanticization and you have a more fulfilling task.
People often say that romanticization is for fools, but it has been the key to digging myself out of an academic slump. I am walking away with a new philosophy and community of creators who motivate each other in the comment section. 
It's been a long time since I've felt this balanced socially, academically and creatively. It all started with a compulsive addiction. Try StudyTok out! There's nothing more rewarding than turning two negatives into a positive journey.