Kenleigh Merritt, a senior in the College of Communication and previous president of the Boston University Treblemakers a cappella group, said the group didn't care about winning.
"We just wanted to feel our best," Merritt said. "And that's what Trebs does. And that's what we've been trying to grow on for the past few years."
Although they were more focused on growth than victory, the Treblemakers did win first place at the International Championship of Collegiate A Cappella (ICCA) quarterfinals on Feb. 18.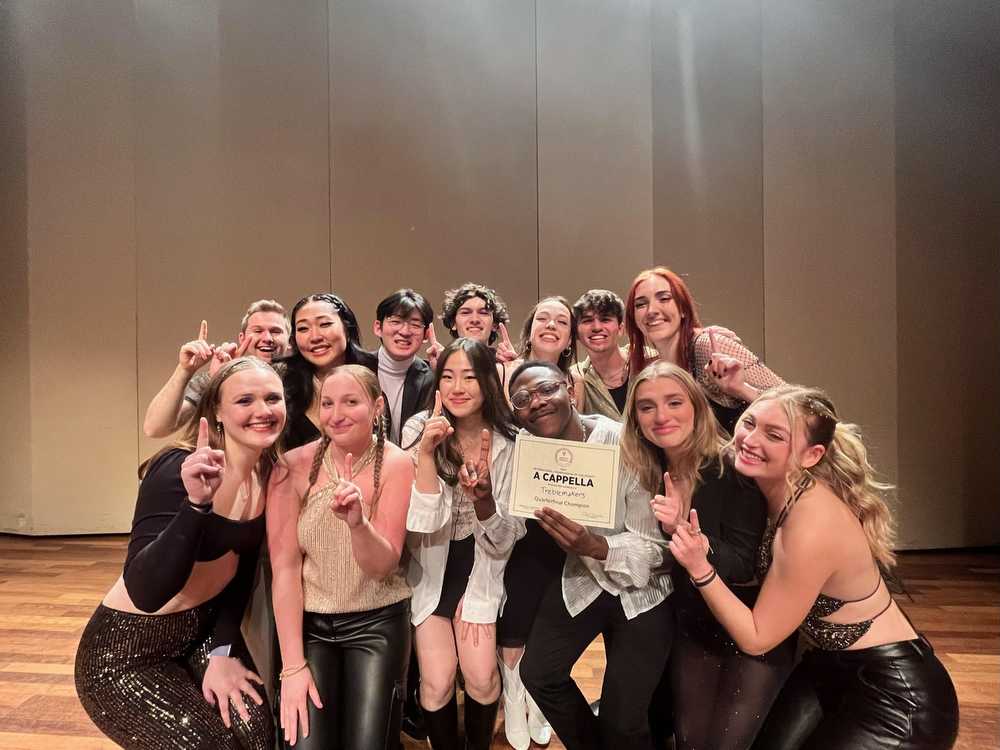 The group has been preparing for this competition since the fall of 2022. In October, the group submitted a video to the ICCA. After their submission was approved, the group moved on to the quarterfinals.
Last year, the group made it to the quarterfinals and initially placed second. However, a technicality resulted in them being pushed back to third place, meaning that they were not able to advance in the competition.
"This feels like a win that's been two years in the making," Merritt said. "It's so beyond the first place or the certificate. It's truly so affirming to feel like our hard work has been recognized."
Merritt said the group prioritizes fun and enthusiasm for its members. After the stress of the quarterfinals, she said, the group is "taking a breather" before starting preparation for the semifinals.
"We all recognize that we need a break from this music right now because we want to continue loving it," Merritt said. "Because at the end of the day, that's what Trebs does best. When we sing music that we care about, and that we can connect to, that's what comes forth toward the audience."
After their time off, Liz Reichman, a sophomore in the College of Fine Arts and a first year member of the Treblemakers, said the group will shift its focus to reviewing the notes from the judges at the quarterfinals and making changes based on that feedback. Reichman said she hopes the group will feel proud of their performance after the semifinals.
"I think for everyone to come offstage and be like, 'that was our best performance' would make me really happy," said Reichman.
The next stage of the competition will occur on March 26 at the Berklee College of Music Performance Center.
As the group prepares for this next step, current Treblemakers president Walter Nelson, a junior in COM, said he hopes that the BU community will come out to support them and to "give [a cappella] just a little bit more of a chance."
Nelson also said he wants the group to "feel genuinely happy."
"I just want to go into semifinals with competitive energy and excitement to go further," Nelson said.
Reichman said the Treblemakers truly are best friends.
"From the minute that I got into the group [it] has been the most supportive and wonderful community," Reichman said. "Just to be able to be surrounded by that amount of talent and that amount of love is something that I am grateful for every day."