Dave McDonald, Boston University's associate director of social media, said in a world where students are "going to social media first before they even go to a website," showcasing the BU community and student experience is "really important."
That's why BU launched its Terrier Creator program, in which students can get paid to upload videos that "amplify the BU experience," according to their website.
BU's official TikTok account published a video encouraging students who love to create videos on Instagram and TikTok to apply to their Terrier Creator Program and "get paid to do something they love to do."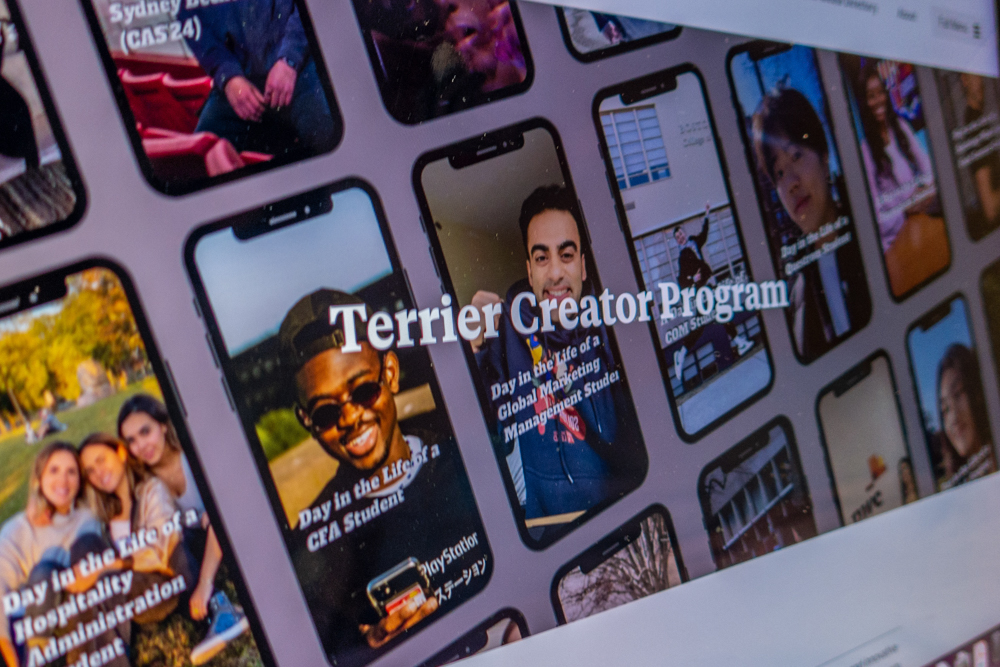 McDonald said he hopes the program will highlight "all the aspects of the BU experience," on social media — from student life to research to dining to the in-classroom experience.
"I think it's really important just to showcase that through the lens of the students," McDonald said.
McDonald said that while creators will be sent some guidelines for the content, the team wants creators to have their own voice.
BU's current social media presence includes 'Terrier Takeovers,' posted on Tuesdays, where a student logs a day in their life while answering questions on Instagram's story feature.
Irene Kim, a senior in the College of Communication said that not only does this program benefit BU in highlighting their program, but it allows students to "add to their resume."
"This is something that [students] can do to build on their skill set," Kim said. "And then also, it's just a great way for BU to expand its social media presence and just basically make more content."
Kim, who herself has 487,900 followers on TikTok, is also involved in selecting students for the program, which includes looking for students who are passionate, hardworking, organized and experienced.
"Social media is such a big part of our world nowadays," Kim said. "And so BU's social media presence is super important, especially because that's how a lot of people communicate."
As the program initially launches with a small group of students selected from over 40 applicants, McDonald said that they are looking to start with a range of students with different cultural backgrounds and majors.
"We really want to highlight a diverse range of students at BU," McDonald said.
The form the students have to fill in order to get selected for the program will require them to answer questions about their interests, the clubs that they are a part of, aspects of their life that make their BU experience unique and what makes them stand out as a content creator.
McDonald said students will be paid per video they produce for the program, which serves as an "incentive" to join the program.
Siddharth Valecha, a second-year graduate student in the Metropolitan College who has previously created content for BU's Instagram and TikTok accounts, said that people "don't understand the importance of marketing in every aspect of life."
"People don't understand the power behind storytelling, especially when it's coming from the person whose story it is," Valecha said.
Valecha also said the program will give students skills such as editing, video recording and voiceover, that are valuable nowadays.
To Valecha, the Terrier Creator Program will help set BU apart from other universities in the area and the nation.
"I believe that [the Terrier Creator Program] is just going to help students a lot as well because some people, they might be very shy, or they might think that they don't have the skills to ever be in front of the camera," Valecha said.