As I enter the dimly lit August Wilson Theatre, I am handed a playbill. Making my way to the side mezzanine, I observe the beautifully constructed set. I hear the gentle chatter of audience members anticipating the upcoming performance.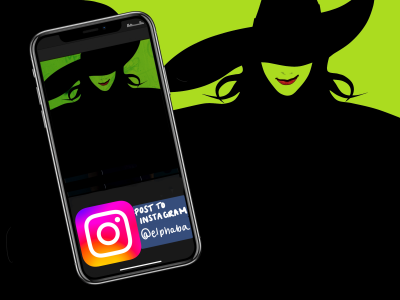 I prepare to immerse myself in the lives of Regina George and Cady Heron at North Shore High, expecting to be wowed by the amazing cast I've heard of through my phone.   
When the show begins, I am whisked away from my own life and completely submerged in those of the characters. That is until a familiar face walks onto the stage. 
From the first note he sings, I know this man is not someone from the Broadway community. No. This is Cameron Dallas, a popular Vine and YouTube personality who was cast as Aaron Samuels in Mean Girls on Broadway.  
Dallas is someone I am familiar with from his time on Vine, so I was very surprised to see him sharing the stage with Reneé Rapp, the winner of the Jimmy Awards in 2018 for Best Performance by an Actress. 
From my own standpoint, I could see that Dallas had only been brought on to boost the musical's publicity and ticket sales, which would then increase revenue.  
I'm in a state of pure shock as Dallas performs — and not in a good way. Dallas was consistently flat and lacked the ability to match pitch. It astounded me that this was acceptable to put on a stage to perform — he was clearly not trained for Broadway. 
I couldn't help but wonder how it was fair to pair a performer with so little training with one of the most talented Broadway actresses. 
Discrete differences in even the most well known songs like "Someone Gets Hurt," —which was intended to be a duet between Aaron Samuels and Regina George—was clearly changed to better suit Dallas' musical capabilities. Because he was unable to sing the notes corresponding with his part, Rapp was left to carry the ballad on her own. 
Twitter posts critical of Dallas prove the reception of his theatrical debut was less than subpar. One tweet reads, "Reneé Rapp rushed to hospital over broken back after carrying 'Someone Gets Hurt' on her back every night during Cameron Dallas' run in hit Broadway show 'Mean Girls.'" 
These hilariously painful posts have made it clear that many left the theater feeling utterly unsatisfied with Dallas' performance. 
This ticket boosting tactic is common amongst Broadway companies. For instance, Colleen Ballinger, a youtuber best known for creating the character "Miranda Sings" as a critical component of her Youtube comedy skit, was invited to New York City from her home in California to play Dawn in "Waitress the Musical."  
I adore Colleen and watched every single vlog she created during the COVID-19 quarantine. I even stood outside the "Waitress" stage door to get her autograph. Nobody can deny that she is a talented comedian and social media personality. However, I found her portrayal of Dawn to be mediocre at best.      
Although Ballinger does have a theatrical training background, there are thousands of aspiring actors who would not have to put their lives on hold and travel across the country to be hired, as Colleen did. 
Hundreds of audience members dressed in Miranda Sings costumes and "Haters Back Off" merchandise from Colleen's original Netflix series revealed she was clearly used to draw in ticket sales from adoring fans.   
I strongly oppose Broadway's use of social media influencers to bolster revenue —It takes away the allure of live theater. If I treat myself with tickets to a professional production, I anticipate being astounded by the talent of individuals who have dedicated time to honing their skills. It feels unnatural to watch social media influencers who have not been properly trained and detracts from the show as a whole.  
Broadway is merely denying opportunities to those who devote their entire lives to the performing arts by hiring social media influencers who are already very well-known. Competition with other aspiring performers is already fierce enough! 
Broadway, if you want to uphold the quality of live theater, stop casting inexperienced social media influencers in shows to generate attention and profit.