Despite an incredible late-game comeback, the Boston University women's basketball team lost the Patriot League championship game against the College of the Holy Cross 66-61 at Case Gym on Sunday.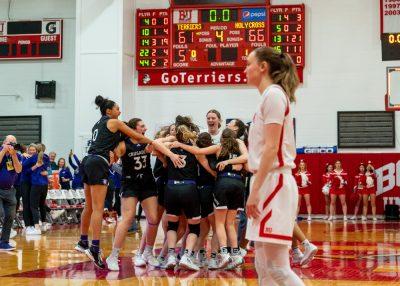 With the win over BU (24-8, 17-1 Patriot League), the Crusaders (24-8, 13-5 PL) became Patriot League champions for the first time since the 2006-07 season.
"[It's] an incredible day for our program," said Holy Cross head coach Maureen Magarity. "I can't say enough about this team. From the minute that we stepped foot on campus this summer, I just knew we had a really special group."
The Crusaders led by as many as 22 points late in the third quarter, but the Terriers were able to cut the deficit to one in the fourth. 
"We didn't come out great in the first half, but to be down 22 and to cut the lead, go on a 16-point run of our own, I thought it was tremendous," said BU head coach Melissa Graves. "I can't be upset with the fight in the team."
After trading buckets in the first few possessions, BU broke out to a 10-6 lead at the first media timeout. Stellar defense from junior forward Caitlin Weimar and senior forward Maren Durant helped the Terriers get out to a solid start. 
However, both Weimar and senior guard Sydney Johnson picked up two personal fouls in the first quarter. After 10 minutes of play, the Crusaders led 18-15. 
"When they picked up those two [fouls], I tried to get them out and save a little bit of time, but [we] can't really have those two off the floor that long," Graves said. "Those two are usually able to play with two fouls."
The second quarter began with each team's post players trading points in the paint.
At the media timeout in the second quarter, Holy Cross led 30-26. 
Junior guard Bronagh Power-Cassidy completed a three-point play the old-fashioned way to give the Crusaders a 37-29 lead with just under two minutes left in the first half.
The 5-foot-10 guard had 15 points in the first half. 
"I have to commend the rest of my team. They're the ones helping me get open," Power-Cassidy said. "Our whole team, anybody can step up any day, so it just makes my job, and all of our jobs, so much easier when anybody can be a threat."
Holy Cross led 39-30 heading into halftime.
The Crusaders opened up the third quarter with two jumpers from sophomore forward Lindsay Berger. She capped off her personal 7-0 run by rebounding her own miss and completing an and-one to give Holy Cross a 16-point lead.
"Those were tough shots," Magarity said. "We have so many different people and so many different weapons, but it just shows how much she's come from last year."
Weimar picked up her third foul of the game halfway through the third. Power-Cassidy converted both free throws to give the visitors a 52-35 lead. 
Durant picked up her fourth foul of the game after being called for a charge with just over three minutes to play in the third quarter. On the next defensive possession, Durant fouled out. 
"With [Durant] fouling out, that hurt us a little bit, but I thought [Lauren Davenport] really stepped up and played well at the four for us," Graves said. "Not just defensively, but she was able to score the ball today and she played really hard."
In the closing moments of the third quarter, the Terriers went on a run powered by full-court pressure on the defensive end and scoring from Johnson and Weimar.
Johnson opened up the fourth quarter with a pull up to cut BU's deficit to 12. Sophomore guard Lauren Davenport rebounded a miss from junior guard Cara McCormack, which led to a Johnson 3-pointer to cut the HC lead to nine. 
A block from Davenport led to another three from senior guard Maggie Pina, making it a two possession game. 
With 2 minutes left on the clock, a steal by freshman forward Sam Crispe led to a three from Johnson, making it a one-point game. Johnson finished the game with a team-high of 19 points.
"[Crispe] came in and gave some really good minutes too," Graves said. "I'm glad that she got the opportunity to play and get that experience."
On the ensuing Crusader possession,  Power-Cassidy made it a 64-61 game. 
Davenport failed to hit a coast-to-coast lay up after getting a stop on the defensive end, but she would pick up a defensive rebound on the other end of the floor. Graves called a timeout with 16.6 seconds left to draw up a play for the final possession.
Sophomore guard Alex Giannaros hoisted a three-pointer, but couldn't find the bottom of the net with 5.4 seconds left. 
Holy Cross advanced the ball with a timeout. Junior guard Sophie Beneventine and Davenport picked up fouls forcing Power-Cassidy to the line. She would hit both shots giving the Crusaders a 66-61 lead with 2.3 seconds left. 
The Terriers advanced the ball with a timeout of their own. However, they couldn't get anything to fall on the offensive end and the Crusaders pulled out the win. 
"I'm really proud of this team, but it's definitely disappointing to end on that note," Johnson said. "I'm proud of everything that we've accomplished this year as a team [and I'm] excited for the team going forward."
Since BU won the Patriot League regular season title, they await play in the National Invitational Tournament at the University of Rhode Island at 6 p.m. on Friday.