This past Saturday — just one day before the 95th Academy Awards, which aired on March 12 — I watched a film that was once a darling of the very same awards ceremony: "Jerry Maguire." 
The 1996 romantic comedy-sports-film-hybrid stars Tom Cruise, Renée Zellweger and — arguably — the cutest child actor of the late 90s, Jonathan Lipnicki. 
I started it, admittedly, with too high of hopes. I am a shameless user of Wikipedia, and before pressing play I mentally logged a few pieces of what I believed at the time to be helpful contextual information: "Jerry Maguire" had been nominated for five Academy Awards, including three within the major categories — Best Actor, Best Supporting Actor and the highly coveted Best Picture.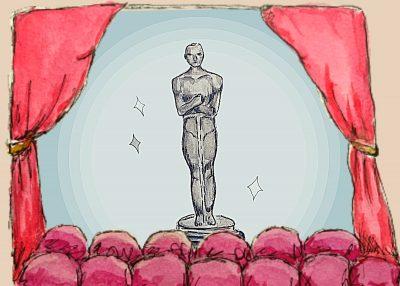 Yet, after Cuba Gooding Jr.'s fourth chant of "Show me the money!" I finally had to question — how on Earth was this discordant, jock-propelled film nominated for Best Picture? 
My dad, who was watching the movie with me, shrugged with the kind of nonchalance that only exists within a person who is not a victim of the relentless pop-culture hamster wheel. "Why does it matter that it was?" he asked. 
His question gave me something to reflect upon — long enough, luckily, to distract me through the rest of the movie. Three decades ago, one would argue that such a nomination determined the merit of any film worth knowing. In recent years, however, the answer would be exactly what his question intended to point out: an Oscar nomination means almost nothing artistically. 
Following the #OscarsSoWhite campaign — created in 2015 after the Academy of Motion Picture Arts and Sciences (AMPAS) granted all 20 major acting nominations to white actors — this dark, looming line of questioning has hung over the traditionally golden reputation of the Oscars. In an increasingly progressive artistic society, it seems that the public has begun to wonder: Is there any value in a ceremony so clearly rooted in a troubled pattern of behavior? 
It is a question that has reshaped the way in which many viewers characterize the importance of AMPAS — and the existence of the Oscars show entirely. In recent years, Oscars ratings have drastically declined, with only 18.7 million people tuning into the 2023 ceremony. That number is barely half that of pre-pandemic shows, demonstrating widespread disdain for an institution that the public largely views as antiquated and biased. 
But in the wake of the results of the 95th Oscars ceremony, it feels impossible to completely categorize the Academy Awards as an entirely worthless cause. 
This past weekend, Michelle Yeoh became the first Asian woman to nab the Best Actress trophy. Brendan Fraser and Ke Huy Quan, both actors who had largely been shunned by Hollywood executives after their youthful breakout roles, took home two of the other major acting awards, a rare moment of welcome not often seen within the traditionally cutthroat industry. 
"Everything Everywhere All At Once," took home the Best Picture win, triumphing over safer favorites such as Steven Spielberg's "The Fablemans" and the ultra-popular "Top Gun: Maverick" — another demonstration of the Academy attempting to honor a film praised by audiences and critics for its shameless eccentricities and diverse cast.
These historic wins have come in far too delayed of a fashion. With continued missteps — no women were nominated for Best Director, while "Nope," Jordan Peele's critically-lauded film criticizing the animalistic nature of the entertainment industry, was left out entirely — it is impossible to deny the emotional impact that they have had on both viewers and the actors themselves.
Quan phrased it perfectly in his acceptance speech for Best Supporting Actor: "They say stories like this only happen in the movies. This is the American dream." 
In the wake of such a ceremony, we must grapple with a new existential question: How can we appreciate the Oscars for the reward they offer to deserving filmmakers while removing ourselves from the erroneous weight of importance we place upon their outcome? 
It seems that the only way out of this maze is by taking an unlikely route: directly through it. 
It's perfectly acceptable to appreciate the popularity a film or actor acquires after receiving an Oscar nomination. It's pointless, however, to allow the existence of such a nomination to dictate our opinions of what is "good" or "bad" cinema — particularly as AMPAS continues to reconcile with its troubled history. 
Rather than rejecting the Oscars as an entire institution — which would eradicate such groundbreaking moments for actors of marginalized communities — we can rehabilitate the way we view the Academy Awards, shifting their existence from one of totalitarian importance to something more supplemental of our own beliefs.
In doing so, a new balance is cultivated — our opinions become entirely our own, bolstered by the Oscar nominations and wins rather than created by them. 
This revolution provides us as consumers with a new kind of freedom: We can both distantly appreciate the success of the deserving winners while doing what we most likely should have been all along — ignoring the self-righteous attitude of AMPAS.