Witty, mockumentary-style sitcom "Admitted" premiered in full glam with a red carpet, "dress to impress" dress code and photoshoot to boot at Agganis Dance Theater Saturday. Written, shot, acted and produced by Boston University students, "Admitted" follows new tour guide MC at the fictional Beacon Hill University's chaotic admissions office.
Maggie Borgen, a sophomore in the College of Communication, is the showrunner, co-head writer and actor playing MC. Borgen came up with the idea late one night in April 2022, inspired by her experiences as a BU admissions office employee. She pitched the idea to her friends later that month.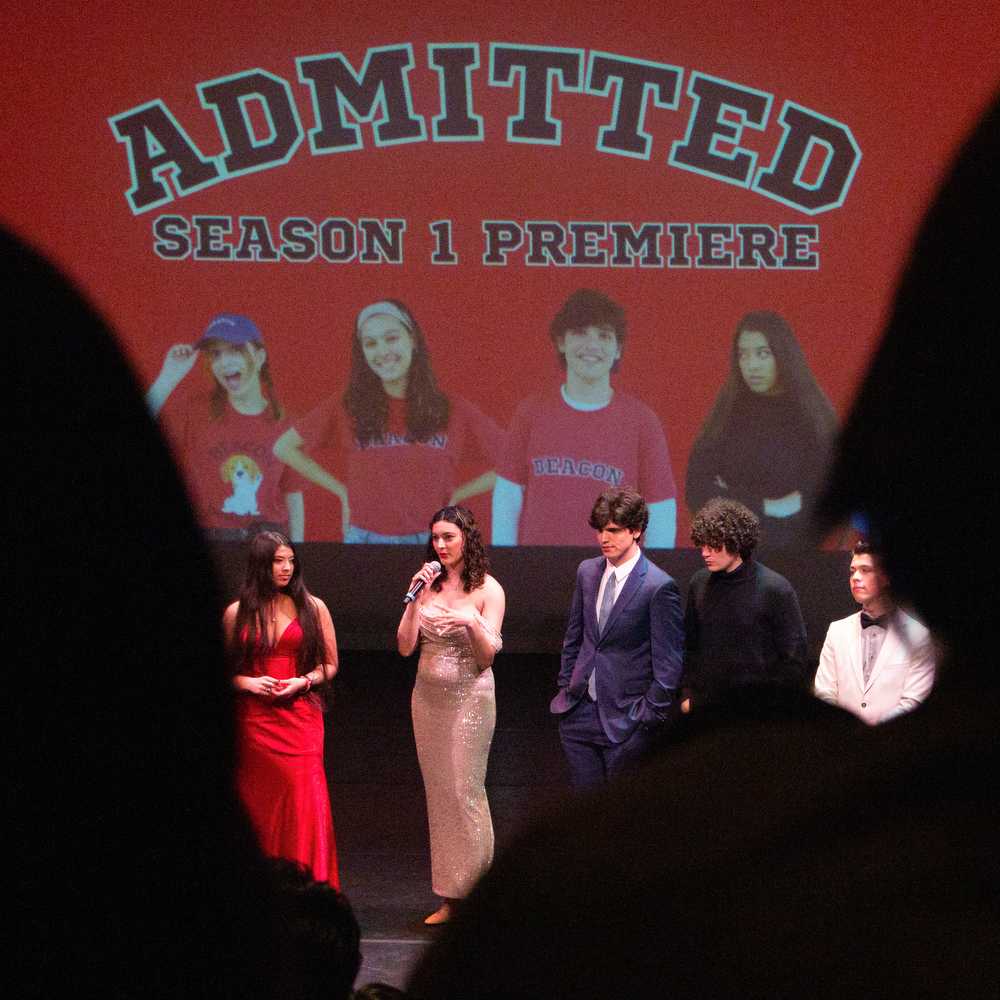 "'Admitted' is the type of show you would watch while eating too many chips," Borgen said in her opening speech at the premiere.
Borgen said she hoped to create a relatable comfort show that candidly represents college students. Serena Ata, a sophomore in COM and co-head writer, producer and actor on "Admitted," said the college experience is often romanticized on screen.
"The college shows that we see sometimes aren't true to the experience," Ata said. "Usually the actors are much older than we are and removed from us generationally."
Yet, Borgen said she "never thought it would happen this quickly." The entirety of the first five episodes was shot just over the course of a semester.
Dressed in sparkling gowns and snazzy suits, the team unanimously described watching their work come together as "surreal."
Co-director Elle Misko, a junior in CAS, said the show's authenticity and "complete freedom and creative control" was a top priority throughout the process. She said that is why the producers chose to remain independent, even though they could have received funding through other organizations.
She described the head production team — Borgen, Ata and Valeria Hernandez — as a "girl power trio."
"Watching them be so entrepreneurial was so inspiring for me," Misko said.
In addition to tackling a full length series alongside a busy college schedule, some crew members came on set with little to no previous experience in their field. Director of Photography Andy Bae, a sophomore in COM, said he had no prior knowledge of mockumentary-style cinematography.
"There was a lot of learning and researching and experimenting involved, but at the end of the day, it's the experiences and the memories that make it worth it," Bae said.
Co-director of "Admitted" Isabella Bremer, a sophomore in COM, said she was nervous coming into the project.
"We were figuring it all out together," Bremer said. "That's what we're here for. We are students. And I'm really glad that I gave myself that opportunity because I'm really proud of the work I did."
She said the team of over 20 people worked on the show one to four times a week, often filming late into the night.
The commitment to the series, according to the audience, paid off. Kirsty Ellison, Misko's mother, attended the premiere and said she was surprised by the mockumentary's "clever touches" and "beautiful" execution.
O-Sky Lochmandy said he flew to BU from California to attend the premiere to support his friend Ata.
"I just couldn't stop laughing," Lochmandy said. "You know, I didn't want to laugh too loud because I didn't want to drown out the sound of the screen."
Lucky for fans, there's more of "Admitted" to come — at the premiere, the crew revealed plans for a second season. The team of mostly sophomores hopes to release three seasons, one each spring until they graduate in 2025.
The writing room did not disclose much information about the next season, but co-producer Ata said they will continue to build character dynamics and relationships. Bremer promised "wacky" developments and "twists and turns."
Until then, Borgen hopes people tune into season one. The first episode is set to release March 30 on YouTube. Subsequent episodes will be released weekly, with a hiatus between episodes three and four.
Ata said she hopes the viewers "resonate with the story emotionally."
"Admitted at its heart is really about finding the right people, the right place when you least expect it," Ata said.
Serena Ata is a contributing writer at The Daily Free Press. She was not involved in the editing of this article.