Uber partnered with It's On Us and The International Association of Campus Law Enforcement Administrators to create safety tips for college-aged riders and discounts when they engaged with Uber's safety materials. BU was one of 10 colleges It's On Us distributed vouchers to until the end of February.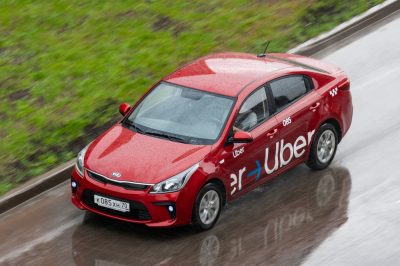 "This campaign will work to remind students to get familiar with Uber's safety features, stick together, check in with friends and loved ones before going out, stay vigilant at night, trust their gut if something seems out of the ordinary and call 911 in an emergency," an Uber press release stated.
BU's It's On Us chapter received $5,000 in vouchers from Uber to distribute to students. The vouchers were distributed through QR code on the chapter's Instagram Feb. 2, along with safety tips.
Uber donated $50,000 to the vouchers in total, but their work creating ridesharing tips and safety materials with both organizations reached over 2,000 campuses a year ago.
Tracey Vitchers, executive director of It's On Us — a national non-profit and student organizing program combatting campus sexual assault — said college students are the largest users of ridesharing services, but often don't know about safety features on the Uber app. They partnered with Uber to help students know tools they can use, especially in potentially unsafe situations.
"In those conversations with Uber, we thought it would be helpful to start creating different kinds of educational content and campaigns to help educate more students nationwide," Vitchers said.
Vitchers said she collaborated with the It's On Us Associate Director of Campus Organizing to select 10 colleges with the most active chapters that would benefit from distributing vouchers.
"We had to laugh because we knew that the vouchers were probably going to go pretty quickly," Vitchers said. "But at most schools, they were gone within a week if not the first 48 hours."
Sindhu Rayapaneni, a junior in College of Arts and Sciences and the vice president for BU It's On Us, said students at BU do not have the best transportation alternatives for moving around the city but many of them do not prefer to call an Uber and spend money.
"We want people to know there's safe options other than walking home and going home with a stranger or going home in an unsafe situation," Rayapaneni said. "So that they can rely on us as a resource but also be able to have that peace of mind living in the city."
Jesse Homer, a sophomore in the Wheelock College of Education and Human Development, said that the voucher is a "good incentive tool" to engage students in improving safety, but concerned they will only do it for the incentive.
"I think maybe not an issue but something they need to keep in mind is that with an incentive, some people are going to see the incentive and only do this for the incentive," Homer said. "That's not what really matters, what matters is the safety training."
Vitchers said Uber and It's On Us also collaborated to distribute posters and online content across campus that offered advice on how to rideshare safely, utilizing the app's built-in safety features.
"We want all students to have a safe and happy and healthy college experience," Vitchers said. "One of the ways that we can do that is by making sure that they not only have a safe rideshare experience, they also know how to use rideshare as a tool for safety."
Paul Dean, president-elect of the IACLEA, wrote in an email that the IACLEA and Uber partnered in 2019 and have created a comprehensive toolkit for student safety. They also have urged college law enforcement and public safety officials to spread ridesharing safety awareness.
"Campus safety is paramount to a healthy campus experience," Dean said. "IACLEA is the international leading authority on campus public safety and is committed to supporting college and university law enforcement and public safety agencies meet this important mission."
Gabriella Arica, a sophomore in the College of Communications, said safety is a significant priority for her on campus, especially at night.
"As a film student, we always shoot at late hours anyway," Arica said. "So that would very much help us."
Avery Forster, a sophomore in Sargent College of Health and Rehabilitation Services, said discounts and promotional safety materials are beneficial to students.
"Students get educated on what it means to be safe and ways that they can improve their own safety," Forster said. "But then also have a safer means of transportation to get home that they can afford."
The vouchers at BU expired Feb. 27, but Vitchers said It's On Us is currently in the process of working with Uber to decide what to do for the fall. She added she looks forward to doing more work with campuses.
"We were really excited to get to work with Boston," Vitchers said. "Hopefully, we'll be able to replicate this campaign or something similar at other schools in the future."