A newly 19 year old sits on the edge of her bed, her hands neatly folded in her lap. She stares around the average room. It's filled with minimal decor, leaving the white-painted cinder blocks of the unremarkable dorm room exposed.
Different aspects of the room stick out against the typical scenery. A ring light hovers in the corner beside a desk. On the bed beside her sits a white pillow, the OnlyFans logo printed across in bright blue lettering.
The room belongs to a young woman with the pseudonym Soapy Shayna, an OnlyFans content creator who sells suggestive pictures of herself online through subscriptions.
"I always heard about OnlyFans, but I didn't really know anything about it," Shayna said. "I knew that this was something I could do from a dorm room … So I did a little bit of research, and I decided to just see what I could do on this platform."
Despite the nature of her job, Shayna actively disputes the idea that OnlyFans creators are "sex workers."
"In reality, what I do is no different than modeling," she said.
A Boston University Presidential Scholar, and a freshman in the Questrom School of Business, Shayna started to explore unconventional ways to earn money, although her family pays for her schooling.
"[OnlyFans] enabled me to be able to invest … and take responsibility to have financial freedom," Shayna said.
Last summer, Shayna's monthly income from OnlyFans averaged at about $40,000. In comparison, the median monthly household income in Boston is roughly $6,812, according to the U.S. Census Bureau.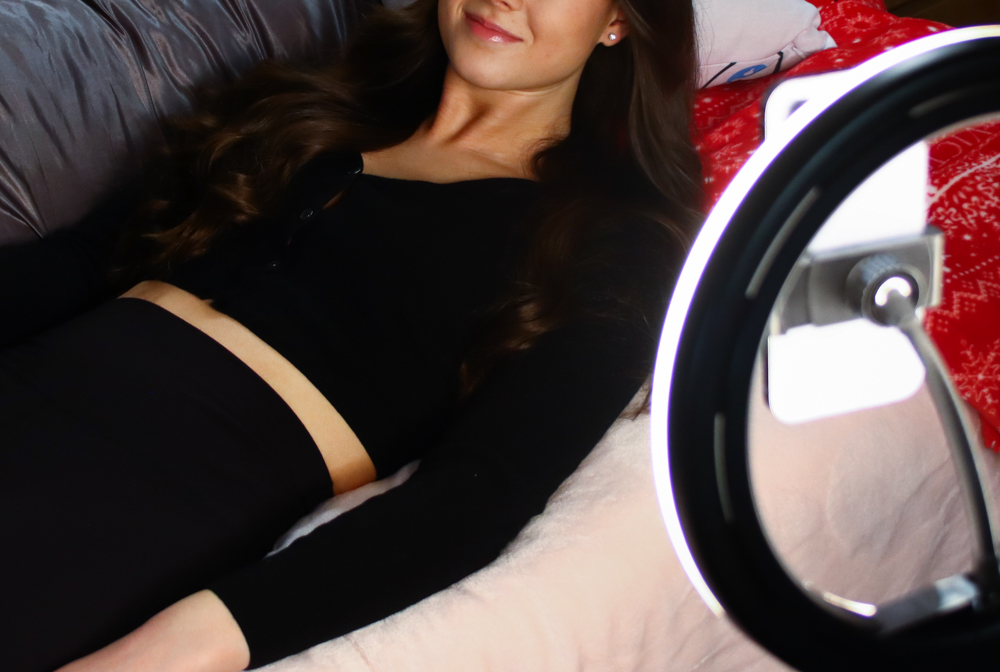 On Instagram, Shayna has over 20,000 followers, as of March 18.
Many of her followers are, seemingly, middle aged men.
One user, @captbry_2000, commented, "I know [you're] 18 and I'm a dirty old man but you are absolutely gorgeous," on July 5.
College students can also be found in her following list. One account belongs to her friend, Nick DeMarco, a freshman with an undeclared major.
DeMarco first became aware of Shayna through her professional account before their friendship began.
"She requested to follow me on her actual business account, not personal. And I was like, wait, what?" DeMarco said. "But then I actually met her with a friend of mine and … from there, we became friends."
Although she gained a friendship through her business account, Shayna said she recognizes that her internet persona may lead the public to misconceive her true self.
"People will always make you be whatever they want to believe," Shayna said. "Obviously, if I'm putting out a character that's what people will believe, and I don't blame them for that."
Shayna said her job does not harm her interpersonal relationships at BU.
"There are so many more supporters than I would have ever believed," Shayna said. "Just because someone else wouldn't be comfortable doing [OnlyFans] doesn't mean they can't realize how empowering and creative it is."
Shayna said she is "proud" to be an OnlyFans creator and share that with others. Though, she also says there are potential risks to the platform and social media more broadly.
Thao Nguyen, a doctoral candidate in Sociology at BU, studies social inequalities in the context of labor forces and sexual commerce.
Nguyen explains the risks of websites such as OnlyFans in her master's degree thesis paper at the University of Chicago, "Affordances and Risks of Digital Technology in the United States Indie Porn Market."
Nguyen wrote that with the digital age, sex workers are vulnerable to online harassment.
"[Social media] platforms don't provide protection for the people who are actually putting themselves out there," Nguyen said. "You can block someone but… [it's] so easy to create account after account."
Nguyen said OnlyFans is "not a very user-centric kind of platform."
She said while most content creators "use social media for leverage in terms of advertising" and cannot monetize content as other creators would on platforms like Facebook and YouTube, social media allows them to connect directly with their customers.
Despite the risk of content creation and promotion through social media, Shayna said she feels safe at BU.
"I've had people approach me in public and ask to take pictures … but it doesn't make me feel uncomfortable," she said.
Shayna said that after graduating from BU, she hopes to continue pursuing business with a focus on management and "helping others grow their platform," as she thinks she won't want to be on OnlyFans long term.
The BU student behind the Soapy Shayna facade said she hopes to change the social narrative of OnlyFans models like her.
"I wanted it to be empowering for everyone and … to show that girls can be both smart and successful and beautiful," Shayna said. "Because I always hear about girls in the media … being told that they're either smart or pretty. And it's just not that simple."