From arriving in Gloucester around 3 a.m. to being on a boat for another 12 consecutive hours, Seonghoon Eric Park and Rapheael Edwards went through a great deal to film their now award-winning movie.  
Park and Edwards, both seniors in the College of Communication, have won in the nonfiction category in the Sony Future Filmmaker competition. 
"I just remember sitting on my couch," Edwards said. "And I got a text from [Park] saying we won."
"In Cod We Trust," co-directed by the two, was originally part of a project in their film class taught by Professor Tatyana Bronstein. 
Park said the inspiration for the film's title struck when he heard the phrase from a scientist they were interviewing.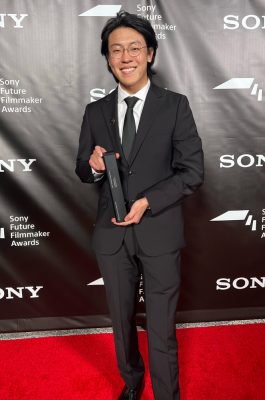 "[The scientist] said people used to say 'in cod we trust," Park said. "So when we heard that and we were editing [the movie], we were like, we have to make this the title."
Winners, along with being awarded a vast range of Sony camera equipment, also receive an opportunity to travel to the Sony Pictures Studio in Culver City, California to meet film experts and learn more about the inner workings of the industry. The objective of the competition is to highlight young and independent filmmakers globally. 
The film centered around one of the oldest and largest fishing communities in the United States, where generations of Sicilian immigrants have been operating the industry since the late 1600s. However, climate change poses a major threat to their sacred practice, putting the livelihoods of the many fishermen at stake. 
The filming process started with detailed interviews, with the settings of the interviews determining how they would film. The general look of the town also was highlighted by filming historic locations.
"Some of the interviews we did indoors, like those are the ones we had time to plan lighting and make them look good," Park said. "For outdoors … it was just on location, run-and-gun type of filming." 
Edwards said one of the hardest parts of filming a movie was meeting the fishermen at their extraordinarily early start times to the day. 
"[One fisherman told us] 'The weather is good, so you guys can come out on the boat with me, so meet me at the dock at 3 a.m. tomorrow morning,'" he said. "So we had no time to prepare. [Edwards and I] didn't sleep at all, maybe like an hour or two."
Park said he aimed to show how hardworking the people of Gloucester were within their industry. 
"They're out on a boat for 12 hours a day alone," he said. "Like, there's no one else on their boat … it's a really hard lifestyle." 
In discussing the filmmaking process, Park explained how the film evolved from a simple, broad idea to something more complex.
"As we interviewed more people, [the film took] a different, unexpected turn," he said. "There are problems within the fishing and commercial fishing industry in Gloucester. There's this ongoing conflict between fishers and government and also environmentalists." 
Bronstein, a film and TV professor in COM, told Park and Edwards to submit their film to the Sony Competition. 
"I encouraged it very much," she said.  "I always receive a lot of [contacts from] festivals, and that's what I did when I was a student."
Both Park and Edwards said they are excited about making use of the prize and are splitting the prizes. Although only one recipient was allowed to go to Los Angeles, the two will be dividing the camera equipment fairly. 
"LA was where most of the events happened at the Sony Studio lot and it was amazing," Park said. "It was great to see [other filmmakers' work], and I learned a lot from them." 
Edwards talked about what he has in mind as he approaches the end of his college experience. 
"So I'm finishing my last year at BU right now, and I have this class called Social Purpose," Edwards said. "We're shooting a short narrative film in a couple of weeks, which I'm super excited about."
Park also talked about a movie idea he is already working on, which has social, political and environmental themes. Park aspires to work for a production company, and his past and future works "will really determine what the future holds," he said.