Boston University is introducing several new classes within study abroad programs in upcoming semesters, opening opportunities for STEM students to learn overseas.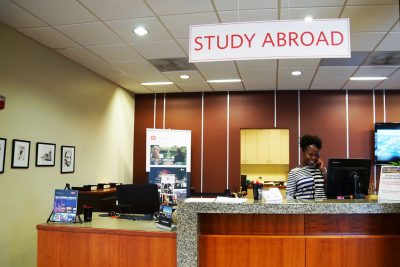 BU Study Abroad will offer multiple new computer science (CS) classes in Sydney, Australia and London, England starting this fall, according to an email from BU Study Abroad.
Owen Mariani, a freshman in the College of Arts and Sciences, said he first got excited about studying abroad last semester during a study abroad fair he attended. He said that as a computer science major, however, he thinks studying abroad might be difficult to accomplish. 
"I haven't heard many computer science majors talk about studying abroad," Mariani said. "This might be something that opens that up as a path for CS students at BU."
Mariani said it is nice that CS 330: Introduction to Analysis of Algorithms and CS 411: Software Engineering, two vital courses in the computer science curriculum at BU, will now be offered in Sydney and London for the Fall semester. 
David Lamitie, BU Study Abroad's associate director for program development and external programs, said the new CS study abroad classes will also be open to non-CS students in Sydney and London, which already host a wide variety of courses and Hub units from the BU course list. 
"[The CS courses] aren't necessarily computer science programs," Lamitie said. "They're more like computer science options."
The Grenoble Science Program will also be returning in Fall 2023 for the first time since the COVID-19 pandemic according to BU Study Abroad. This program, which partners with Université Grenoble Alps, combines French language study with a pre-health course load.
The Grenoble Science Program is designed specifically for biology, chemistry and science majors and allows pre-med students to experience studying abroad while staying on track for their major.
"We hadn't been able to bring that program back for a variety of reasons having to do with changes in institutional policies that partner institutions and those kinds of things," Lamitie said. "So we brought them back as quickly as we could."
Lamitie said that although there have been a few slight changes to study abroad programs since pre-pandemic times "the curriculum remains the same and the partner university remains the same."
Lina Hinostroza, a freshman in CAS, said that BU's expansive study abroad program was a contributing factor in her decision to attend, however, her major requirements limit her options.
"Pre-med adds classes on to the credits that you already need," Hinostroza added. 
While BU's study abroad options for STEM might not be as robust as some students would like, the study abroad office has noticed the uptick in STEM majors in recent years and is aiming to respond by offering more options, Lamitie said.
Lamitie said including more STEM options can become complicated, as these courses require certain facilities and partnering universities. However, he said these newer programs will "[allow] students to study on a BU curriculum and a BU calendar, while also having the opportunity to experience a different learning environment location."
Mariani said that he is reconsidering studying abroad now that BU is offering more computer science classes.
"This opportunity, especially with Sydney and London opening up, has pushed me in the direction to study abroad," Mariani said. "And [the courses offered] look very interesting."