The city of Boston is known for many things: academic excellence, successful sports teams, rich history, clam chowder.
What is it not known for? A vibrant, exhilarating — or sometimes even existent — nightlife. 
As such, Mayor Wu recently announced a new position within her cabinet: Director of Nightlife Economy for the City of Boston. Corean Reynolds assumed the role in early March, and her to-do list is long. 
Not only is Director Reynolds tasked with revamping the bar and club scene, she is also planning more long-term, meaningful measures to help increase racial equity and economic stability within the city.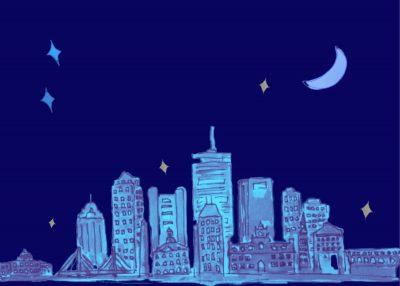 These changes couldn't come soon enough. 
Boston has a massive student population, housing hundreds of thousands of young people from all across the country — and world — who want to let loose and have fun amidst their dull classes and hectic internships. 
It seems extremely counterintuitive, both socially and economically, for this city to close down restaurants, nightclubs and bars early at night. Perhaps most egregiously, public transportation in Boston stops service at around 1 a.m. 
If Boston wants to revitalize the economy, especially after COVID, it would only make sense to create more late-night dining options for hungry young people — we'll certainly use them! 
Even Boston University itself fails at this, as most on-campus dining options (outside of Late Nite at Warren and West dining halls and Bay State Underground) close before 9 p.m., leaving students that rely on dining points/meal swipes in the lurch. 
Young people hoping to enjoy the city's clubs and bars also can't expect too much. Most clubs in Boston right now are overpriced and homogenous, while bars often cater to the Millenial and Gen-X crowd, leaving few opportunities for young revelers to hit the town without breaking the bank or inevitably yawning. 
To complete this depressing trifecta, we all know the struggle of leaving a house party in Allston and having to trek all the way back to East because the T shut down before the party even got going. Or worse, having to spend money on an Uber. Subzero temperatures and cocktail dresses aren't a great combination for a half-hour walk. 
The T issue encompasses more than just bacchanalian woes. Families traveling from the airport, healthcare workers heading home after a night shift, young women worried about walking alone in the dark — they are also affected by the early shutdown of the MBTA, making it an issue of public safety and classism as well. 
Thankfully, Director Reynolds seems cognizant of these issues, even highlighting the T's erratic, inadequate schedule as a prominent obstacle towards creating a "24-hour city." According to Segun Idowu, Mayor Wu's chief of economic opportunity, Wu is hoping to increase Boston's population by 150,000 people. Creating — and sustaining — a "24-hour city" is undeniably paramount to that goal. 
Of course, this process will be anything but easy. 
Post-COVID worker shortages, especially in the service and transportation industries, are a major roadblock to implementing longer and more consistent hours. 
Additionally, even though Boston is a relatively quiet city, it's a city nonetheless — and 650,000 people means roughly 650,000 opinions. 
For every college student who wants a wild, lawless downtown, there is a 9-to-5 professional looking for classy lounges or hipster breweries. For every 9-to-5 professional, there are long-lasting locals — older people and families especially — who want nighttime options outside of drinks and dancing. 
Nonetheless, although compromises will have to be made, Mayor Wu and Director Reynolds will at least create more: more options, more vibrancy, more safety, more accessibility, more connection. Even just formulating this new position — colloquially known as the "czar of the night" — proves that Wu's administration does care about this issue and is looking to actually solve it. 
Boston is a beautiful, beloved city that all of us are lucky to enjoy — during the day, at least. In the not-too-distant future, we might be able to say the same thing after the sun sets. 
This editorial was written by Opinion Editor Caroline McCord.