As the 2022 awards season finally comes to a close with last week's historic 95th Academy Awards, we can begin to turn our attention towards the new films of 2023. After careful deliberation, here are my top 10 most anticipated films of the year so far.
"Beau is Afraid" (April 21, 2023)
"Midsommar" and "Hereditary" director Ari Aster returns this year with his third feature film. Described as an epic tale of a lonely man trying to get home to his mother, the film promises a surreal journey that will both terrify and dazzle audiences (shown in the excellent trailer and R-rating). Starring Joaquin Phoenix, this unpredictable film is one to keep your eye on.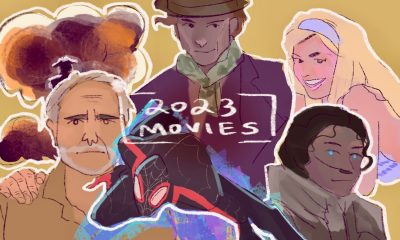 "Spider-Man: Across the Spider-Verse" (June 2, 2023)
After years of anticipation, the next installment of Sony's animated Spider-Verse is almost here. Miles Morales's story continues in a new multiversal adventure. This time, Miles is joined by a group of interdimensional web slingers called the Spider-Force, which includes Miguel O' Hara as Spider-Man 2099 (Oscar Isaac), Jessica Drew as Spider-Woman (Issa Rae), and many other new characters I'm excited to meet.
"Asteroid City" (June 16, 2023)
Wes Anderson has proven that he can create entirely new worlds full of clever quips and broken people. "Asteroid City" is set against the backdrop of a small desert town circa 1955, where the children and parents at a Junior Stargazer/Space Cadet convention find their itineraries interrupted by portentous events.
"Oppenheimer" (July 21, 2023)
Telling the story of the father of the atomic bomb, Christopher Nolan's massive biography of physicist J. Robert Oppenheimer has set social media on fire. With Nolan's affinity for practical effects and an impossibly large cast featuring Cillian Murphy, Emily Blunt, Robert Downey Jr. and Florence Pugh, this theater must-see will surely be the most explosive production of the year.
"Barbie" (July 21, 2023)
If you haven't heard of this movie, you desperately need to don a pair of pantone-tinged vintage cat-eyes, and prepare yourself to enter the sunkissed, musical affair that is Greta Gerwig's "Barbie." After the widespread success of "Ladybird" and "Little Women," Gerwig returns with an original story chronicling the adventures of America's favorite plastic heroine in the real world. Starring Margot Robbie and Ryan Gosling as Barbie and Ken, this future box-office smash will take the world (and awards season) by storm.
"Challengers" (September 15, 2023)
Luca Guadagnino's next feature appears to be tonally divergent from his last few films. Described as a romantic sports comedy, Zendaya stars as Tashi, a former tennis star-turned-coach who registers her husband Art (Mike Faist) for a low level tournament. There, he unexpectedly faces off against Patrick (Josh O'Connor), his former friend and Tashi's former lover. This story of queerness, passion, and deception is sure to stun audiences.
"Dune: Part 2" (November 3, 2023)
The next installment of Denis Villenueve's adaptation of Frank Herbert's literary opus arrives this fall. The journey of Timothee Chalamet's Paul Atreides continues across the sandy dunes of Arrakis as he vows to avenge the destruction of his family house. A world-bounding story," Dune: Part 2" ensures the return of Lady Jessica (Rebecca Ferguson) and Fremen warrior Chani (Zendaya). The introduction of new characters include the Imperial Princess Irulan (Florence Pugh) and Harkonnen heir Feyd-Rautha (Austin Butler).
"Wonka" (December 15, 2023)
When this film was first announced, I thought the voices in my head had finally won. The idea of a Willy Wonka musical origin story starring Timothee Chalamet, cane in hand, around England, begs immediate curiosity. It first reads as another studio reboot in an oversaturated landscape. However, with "Paddington" director Paul King at the helm and a cast of British acting legends (Sally Hawkins, Olivia Colman, and Rowan Atkinson), I can't wait to marvel at this film in theaters.
"How Do You Live?" (TBA)
Ten years after his retirement announcement, legendary director Hayao Miyazaki's next film is confirmed to release this year. It will allegedly tell an original story related to the 1937 book of the same title. The novel follows the personal growth of 15-year-old Cooper after moving to a new neighborhood with his uncle. Miyazaki's genius ensures unique characters, stunning animation, and an unforgettable story.
"Poor Things" (TBA)
Yorgos Lanthimos' film stars Emma Stone in yet another collaboration. Little is known about the plot, but the book the film is adapting concerns a woman named Bella who after committing suicide, has her brain replaced with a baby brain. If the film is half as odd as Lanthimos' other features, it will undoubtedly disturb and entertain theatergoers with his dark themes.