The history of indigenous cultures extends back thousands of years, but Célia Bianconi and María Datel feel it is not always addressed in education.
"I grew up in Brazil, and in school in Brazil we never learned about indigenous [cultures]," Bianconi said. "There is a celebration and what did you do? You just sit in a circle and make noises with your mouth."
Now, along with some associates, Bianconi and Datel, Boston University master lecturers and coordinators of the Spanish and Portuguese programs respectively, are taking educational matters into their own hands with Indigenous Languages and Cultures Week.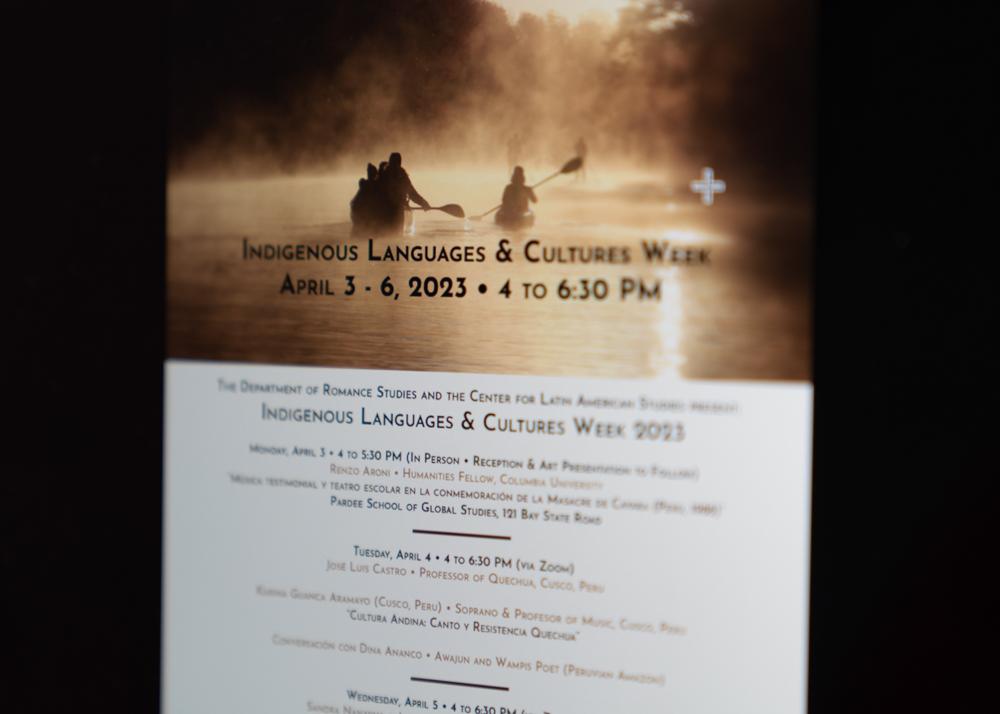 From April 3 to April 6, BU's Department of Romance Studies and the Center for Latin American Studies is hosting a series of speakers including academics, actors and artists as part of its Indigenous Languages and Cultures Week.
Last year, the two self-proclaimed "partners in crime," came up with the event when visiting a museum centered around languages.
"What we learned in school is not the reality," Bianconi said. "The idea is actually to bring this reality and really erasing the image that we had in the past, and bringing the new one that is more real."
Datel said the week of events is part of a larger project to decolonize language curricula. Spanish and Portuguese are colonial languages, Datel said, which coexist in Latin America with hundreds of indigenous ones.
"Those languages are not just languages," Datel said. "[Indigenous languages] are connected to very specific knowledge, knowledge that has been left outside the main narratives."
Speakers at this week's events will include actress Sandra Nanayna, writer and activist Edson Kayapó and professor of Quechua at the Universidad de Cusco José Luis Castro. Topics of discussion will include decolonizing the Amazon, indigenous education and new Latin American music.
Renzo Aroni, a humanities fellow at Columbia University and an indigenous Quechua scholar visiting Boston University to speak at the event, said he was excited to share his expertise and discuss an indigenous perspective.
"We urgently need to incorporate this kind of, as we say in Spanish 'otros saberes,' different knowledge systems," Aroni said. "It's not really about competing perspectives or positionality, it's about dialogue, it's about the compliment, it's about the interactions, to accept and recognize diversities."
Aroni's part of the event focused on the recent history of Peru, specifically the Cayara massacre of indigenous people by Peruvian government and military forces.
"Decolonization is something we have to practice," Aroni said. "It's not only about theory … we need to know to start debating, using us as a way of living, as a way of thinking, as a way of practicing."
Rady Roldán-Figueroa, an associate professor of the history of Christianity and the director of the Center of Latin American Studies, wrote in an email interview that the importance of the week's events "cannot be overstated."
"Certainly, there is a growing interest in different fields in the humanities in decolonial approaches and methodologies," Roldán-Figueroa wrote. "Institutions like Boston University stand in a unique position to contribute to this effort."
Poliana Alarcón, a graduate student in the Romance Studies department, was part of another piece of Monday's event: a multimedia presentation about current political violence in Peru, raising money for the victims.
Alarcón said the recent denial of Professor Rodrigo Lopes de Barros' tenure has shaken her confidence in the school's efforts towards decolonization. Lopes de Barros is a Black, Brazilian assistant professor of Romance Studies and current interim director of the Cinema and Media Studies Department who is suing BU after his tenure was rejected without explanation.
"How are we going to decolonize academia if we are not accepting excellent professionals, as Professor Rodrigo Lopes de Barros," Alarcón said. "We're talking about decolonization, inclusiveness, like how are we going to talk about that if we don't have proper practices?"
Bianconi said she hopes that Indigenous Cultures and Languages Week will make students compare the history of colonialism in other countries and know "this is also happening here."
While she doesn't expect them to be activists, Bianconi said she wants attendees to engage in critical thinking and to lose the approach of "everything is so well and so neat."
"They can advocate for changes in the community," Datel said. "They can realize that these people produce knowledge, it's valuable knowledge, it's beautiful knowledge, and so they can bring that to their small communities, even to their group of friends."