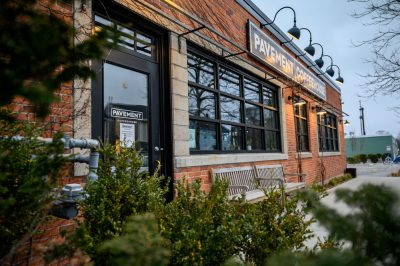 Former workers of Brighton Pavement Coffeehouse have come forward with allegations of mistreatment and intimidation by management towards queer and transgender workers.
Former Pavement employee Ari Swift was one of five workers suspended March 18 after they called out of work for fear of their "immediate safety" between themselves and a colleague the day prior. 
Of the five workers suspended, four were fired, all of whom were trans. 
"I think Pavement, overall, is very proud of its publicly queer and trans image and the kind of customer base that brings in for them, but I don't think they actually will take any steps to protect us in many situations," Swift said.
Swift said those at the managerial level were trying to "intimidate" employees into not calling out of work and that the location has had a history of enacting similar tactics.
"In my experience, Pavement has a habit of kind of dragging their feet on things, and so they kind of messed up the situation even more by doing so," Swift said.
Pavement UNITED was formed in June 2021 in a letter addressed to Pavement Founder and Chairman Larry Margulies stating their intention to unionize. Their union contract, formally ratified in August 2022, made Pavement employees the first coffee workers to unionize in Massachusetts.
The union is legally represented by the New England Joint Board, a union that represents workers in the industries like hospitality, human services and manufacturing across the Northeast. 
"At Pavement, we are proud to stand with the trans community," Margulies wrote in an email. "We have never fired or taken disciplinary action against an employee for their LGBTQ+ identity, nor will we ever. That being said, every employee deserves a fair investigation and must be held equally accountable." 
According to Margulies, the involved employees were fired for "explicitly and knowingly violating" the provisions of the union contract.
Marco de Laforcade, a shift supervisor and former union shop steward at the Symphony Pavement location, said management did not provide a response on the situation during a meeting on April 3 with union workers, and maintained that the workers engaged in a work stoppage.  
"The reason that the employees did what they did in the first place, which was call out of work, is because they didn't feel safe at work, which is indicative that Pavement was violating the zero-tolerance policy for gender-based discrimination that is in our contract," de Laforcade said.
They said there is an overemphasis on "legal and bureaucratic approach to unions" as a primary reason for the lack of coffee shop unions. 
"These employees were punished for violating the contract, but Pavement sort of got away with doing whatever they wanted," de Laforcade said. "This whole situation is sort of a perfect little microcosm of some of the really big issues that are facing the coffee union wave as it is right now."