They didn't have a drum set for Eli, but they did have $12 bloody marys.
"Clubs are annoying," Eli said. "I'm used to this shit."
Eli, Alessa, Ben and Matt stood awkwardly in the back of The Bebop. Their entourage — two guitar cases, a circular case holding cymbals, a black rectangular bag carrying amplifiers and their manager Sophie — flanked them.
The music-pub and restaurant on Boylston Street buzzed with guests while a singer droned away on the small stage, but no one was listening.
Eli, Alessa, Ben and Matt are in a band, and at The Bebop on a sweltering Thursday night they had their first gig. Ever.
Forty-five minutes earlier, the band chose a second-floor table, with a view of Fenway Park just a long neck stretch away, in Marciano Commons to eat their pre-show meal.
Matt Lott, a freshman in the College of General Studies, munched on a yellow pear. His bandmates laughed as he scrawled down the chords of the three songs the band planned to perform — "Canopy," "orange and blue" and "For The Plot!" — on a crumpled piece of paper. He had forgotten them since Tuesday's rehearsal.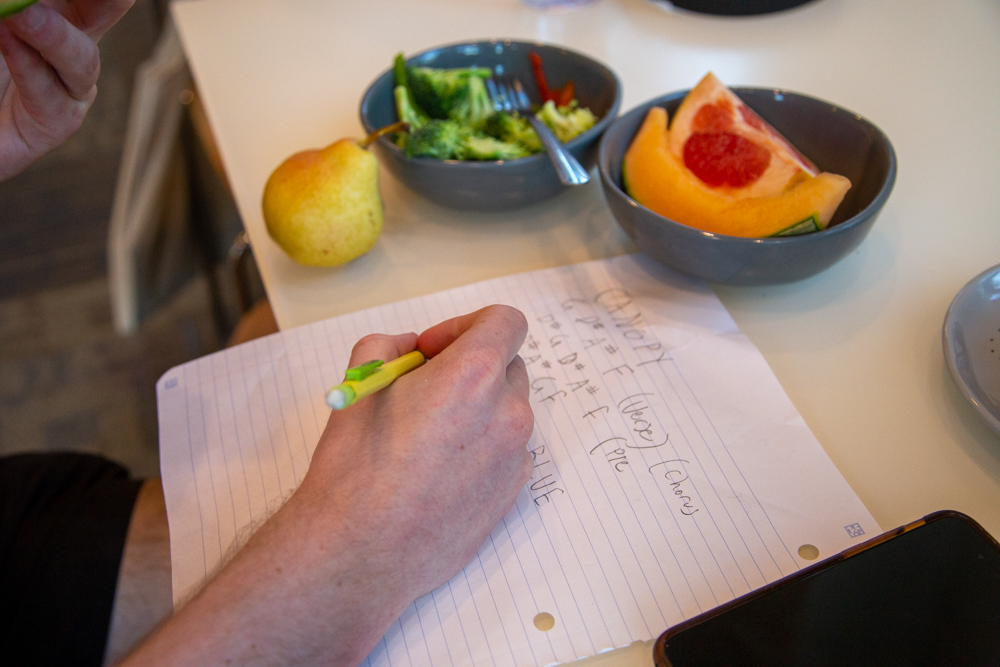 "Pears always remind me of the Renaissance," the New Zealand-native said.
The conversation quickly shifted to Sophie Eye, a sophomore in the College of Communication who started as the band manager a week and a half ago. Unprompted, she asked the table if they knew that 14 seconds into "September" by Earth, Wind, & Fire the bass is "fucked up."
She pulled out her phone to prove her point, but she didn't need to. The rest of the band was already nodding their heads. The bandmates "just…jammed" as Eli said.
"Music is like a language of its own," said Alessa Bennardo, a freshman in COM.
Alessa is the band's lead singer and songwriter. She goes by the stage name "Lessa" and she writes all the songs. She released her first song, "orange and blue," on March 31. She plans to release her second song, "For The Plot!" on May 19.
For now, at least, she's the band's namesake, though Matt, Eli and Ben joked that the real band name is "Lessa and the Lessers."
"That's not official," Lessa said.
The five Boston University students giggled and joked their way through dinner. If it weren't for the abnormally large band equipment blocking a clear path through the dining hall, they would be mistaken as any other group of students. But, their tour bus — the Green Line B train — was waiting for them at Blandford Street.
Eli Gately, a freshman in CGS, took the time to explain the origins of the word "Bebop" on the way over to the stop. Bebop is a type of jazz that originated in the 1940s, but The Bebop doesn't actually do much jazz, Eli said. After all, the band's style of music is, as Eli likes to put it, girl punk.
Eli, the drummer, said he's the "rhythmic specialist." Eli is fluent in German after living in Germany for only one semester and he owns more than one Beatles shirt, enough said.
"As a drummer, to make people dance and to make people feel emotion is such a cool thing to have," Eli said. "I don't really understand a lot of it, like why music is so powerful. It is, because I feel it."
En route to the T, Matt trailed behind the group.
"I don't think I'm really in the band," he said. "I'm just a bassist for hire."
From up ahead, Ben turned around and said "get over here, man."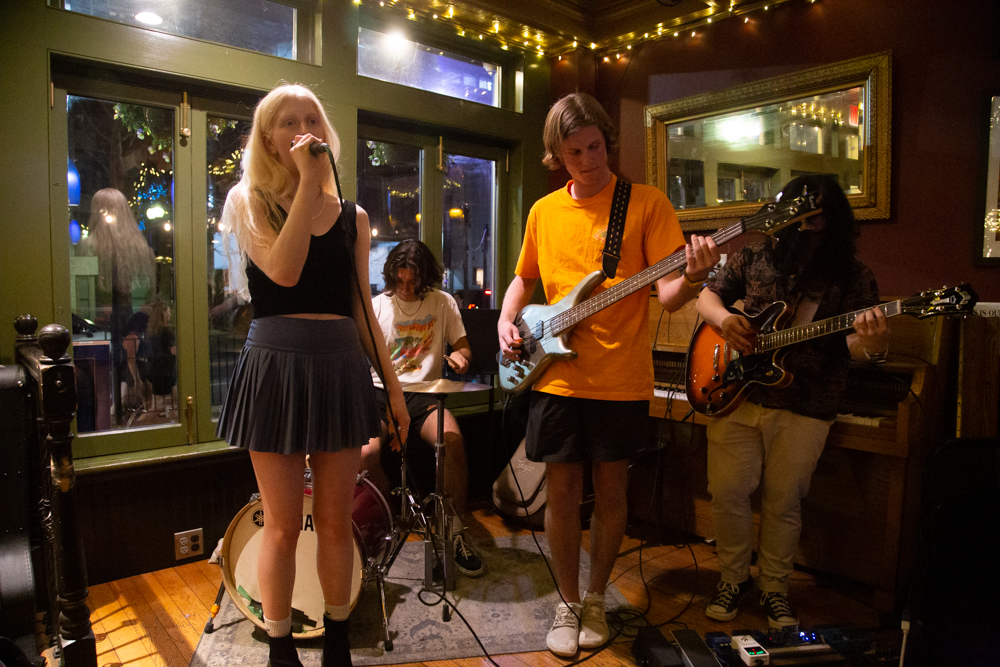 Ben McEwen, a freshman in CGS, plays the guitar. Ben wore a button down black shirt with old-timey train cars and carriages etched into the fabric. With a seemingly soft demeanor, Ben is a man of few words, but he does want the band to play at Madison Square Garden.
"He's insane at guitar," Sophie said. "I could literally be like, 'here's this cool song,' and then he'll figure it out and start playing it."
It was a skin-stick-to-the-seat kind of day on the T. Even at 7 p.m., it was 86 degrees in Boston. The band rode the B Line to Hynes Convention Center where there were no elevators, so they carried their equipment up two flights of stairs.
Everyone was calm. When asked why they weren't nervous, Eli laughed.
"It's music for God's sake," he said. "It's not like we're performing open heart surgery."
The mood didn't shift until they walked into The Bebop. Immediately, "this is a little too intimate for me," Matt said.
Fairy lights mixed with blue hanging orbs and a sparkling chandelier lit The Bebop with an orangey glow. A mix of college-aged and middle-aged guests filled every seat and barstool.
Morale was low after the band realized the stage could only fit one performer, lacked a full drum set and that they had actually arrived late to their 15-minute time slot.
"I feel bad that I dragged everyone here," Lessa said.
Sophie immediately hopped in, at least the band will gain experience, she said.
"Don't sell yourself short," she said.
Sophie had the same positive demeanor even at 300 Babcock Street in room 148, the "Medium Ensemble Room" where the band practiced the Tuesday before the show.
The average-sized room was true to its poetic description with faded blue walls, a multicolored carpet and band stands spread throughout.
The band ran through their set list two times. When Alessa messed up, Eli said, "we're going to follow you, like we always do."
When they messed up again, Matt said, "it was shit overall."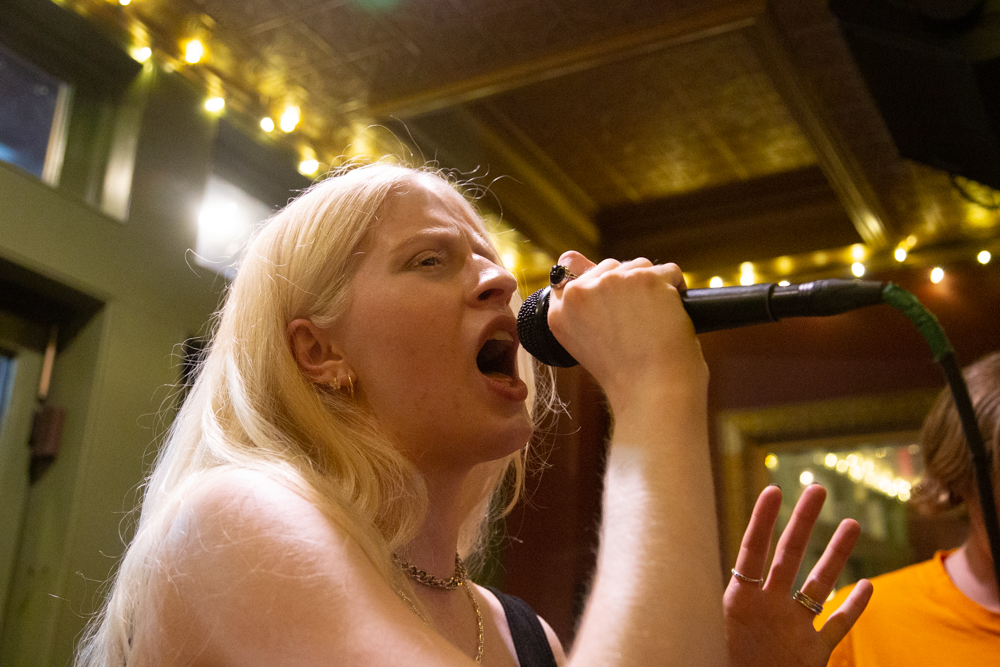 At The Bebop, the band played their three songs again for about 15 minutes. This time, people were watching. They didn't have a drum set for Eli, but he still played with a bass drum and a cymbal. When they were done, two people approached Lessa to congratulate her.
Ben said it "was pretty bad," but Alessa protested.
"We played together, we did it, and it went okay," she said.
After a two-minute debrief and a photo in front of The Bebop, the band lugged their equipment back to the T.
They had class the next day.