Every morning around 5:30 a.m., Anna Gruesen, a freshman in Sargent College of Health and Rehabilitation Sciences, wakes up before the sun rises and hits the road. Not your typical traffic-jammed morning, slow-moving highways, work-commute type of road — Gruesen hits the racetrack with some neon-colored Hokas strapped to her feet.
This week's Monday morning was different, though. Unlike the usual two hours along the Charles River, Gruesen hit her stride from Hopkinton to Copley Square, joining over 30,000 other competitors in the 127th Boston Marathon.
From start to finish, she endured chilly rainfall and the Boston course's notorious hills before the final moment of relief — crossing the infamous bend around Boylston Street with the finish line in sight.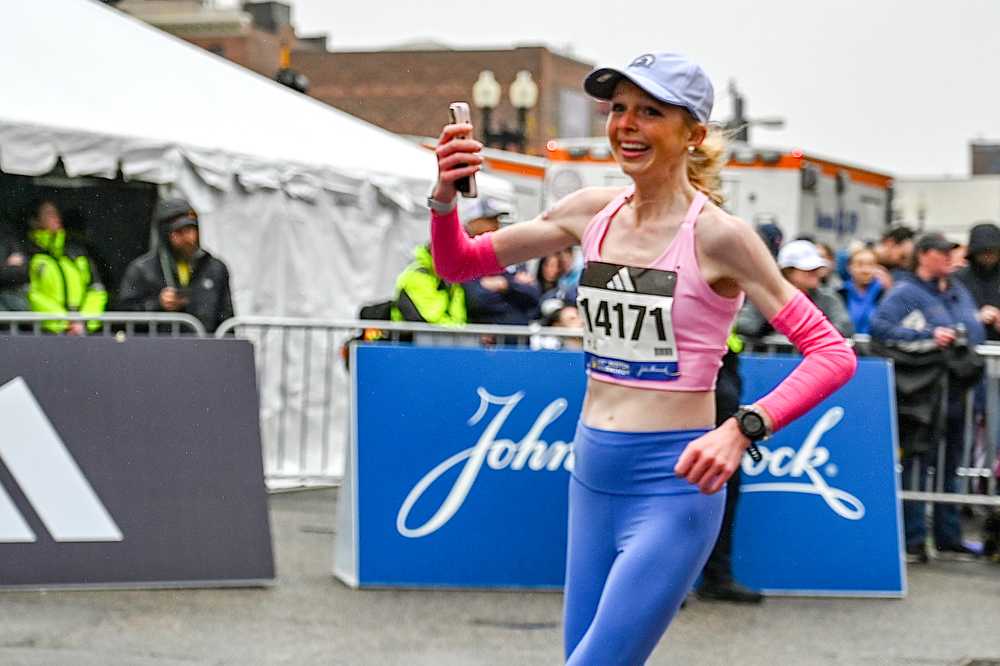 Gruesen's mother, Angela Wright, flew into Boston to watch her daughter run.
"Right where they turned on Boylston Street, I saw her come up that hill and make that turn, and I got all choked up," Wright said.
Gruesen said she was emotional when she saw her friends and her mom at the finish line.
Grinning from ear to ear, Gruesen called her brother and dad, who were working in the hospital, in the last stretch of the course so they could finish the race with her. Crossing the finish line with a 3:22:48, Gruesen was able to qualify for next year's marathon with her speedy time.
"I want[ed] to share this experience with them," Gruesen said. "That was the most iconic. Definitely going to be top 10 moments of my life."
Wright followed Gruesen's progress throughout the race, whether through the Boston Athletic Association phone app or taking Ubers to catch a sight of her daughter running. The two reunited after the race.
"When I finally met her in the family meeting area, which is several blocks away from the finish area, we both just started to cry," Wright said. "It was really exciting."
The Boston Marathon is the country's oldest annual marathon. Qualifying is no easy feat. Competitor-hopefuls must either fundraise at least $5,000 for a Boston Marathon Official Charity of their choice to qualify or go the old-fashioned route: hitting beneath the time stamp.
In May of 2022, Gruesen ran the Cellcom Green Bay Marathon in her hometown of Green Bay, Wisconsin. In her age category, 18 to 34-year-old female runners must complete the marathon in three-and-a-half hours, around an eight-minute mile average pace. Gruesen began preparing for her second marathon in Boston with a time of three hours and 22 minutes.
Gruesen began marathon training in her senior year of high school. Before her long-distance running career, she was a cross-country skier, track and field runner and competitive dancer. When the pandemic hit, Gruesen turned to long-distance running.
She has not stopped since.
"[Running] was kind of her outlet during the pandemic, and she really never gave it up," Wright said. "It became almost a healthy outlet for any kind of stress or anxiety she had."
So, how does a marathon runner prepare herself for the race?
Being in Sargent on a nutrition science track, Gruesen knows firsthand the importance of nutrition and sleep. She also keeps a wide collection of sports nutrition books to fuel both her sports and academic interests.
"She really has so much self-motivation and discipline. She puts in a ton of training, not just in running, but in her academics, too," said Theo Kamperides, a freshman in the College of Arts and Sciences and close friend, who raised money for a charity to qualify for running in the marathon.
Molly French, Gruesen's track and field coach in high school, noted that maintaining enough calories to replenish the amount burned during long-distance running is a difficult task, "especially for young women." Yet, French noticed that Gruesen always embraced weight training and proper nutrition throughout high school.
"I just naturally love running, so I didn't really see it as training or like a chore which definitely helped me in the long run," Gruesen said. "The best runners are the happiest runners."
There are days when Gruesen doesn't feel like getting up to train. One of the most difficult aspects of maintaining her training is remembering how to balance it with being a full-time college student. As a student on the pre-medical track, doing everything she plans to during the day often proves overwhelming.
"Anna is … a perfectionist and a hard worker and a goal setter, and sometimes that can be hard and that can be anxiety-provoking," Wright said.
Endurance and "mental toughness" are also vital factors. Gruesen said most marathon runners pick up the speed as they progress. Around mile 20, most runners start to "bonk," runners' terminology for losing energy.
"I just kept telling myself, 'Okay, I'm almost at BU, this is exciting, my friends will be there soon,'" Gruesen said. "That's when the cheering really helps."
Gruesen said her experience as a cross-country skier parallelled running and helped build her endurance.
"Cross-country skiing is one of the most grueling sports because it's like a whole body workout to get up the hills," Gruesen said. "It's like a marathon but on skis."
French regards Gruesen as a "phenomenal" student. In the 17 years of her coaching career, Gruesen is French's first student to complete a marathon in college. French said that running the marathon isn't the most challenging part — the training is.
"Her biggest strength is her work ethic," French said. "She'll set her goals, and then she's very good about working to reach those goals."
In the future, Gruesen hopes to run more marathons. Though she qualified to run in the race next year, the spot itself is never a guarantee. Out of all the qualifiers, the Boston Athletic Association then creates a lottery to determine who gets to participate.
"The whole experience, I feel like, was just so thrilling," Gruesen said. "Hopefully, my whole family will be able to come next year."