Most freshmen enter institutions like Boston University with a very fixed expectation of what their college experience will entail. Parties, freedom, hookups, time away from suffocating parents — what more could a freshly 18 year old want?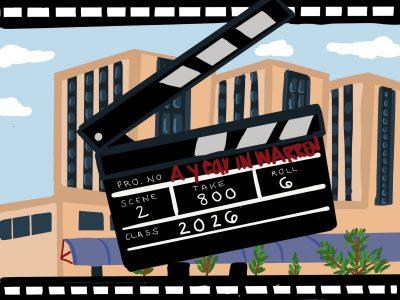 Perceptions likely get a little skewed by the movies, because these highly exaggerated depictions focus primarily on the fun that occurs when the restrictions get turned off. Take films like "Spring Breakers" or "Pitch Perfect" for example — each perfectly captures the wild college party scenes, crazy social lives, heavy drinking and casually intertwined romances. 
While these portrayals aren't too far off from emulating the classic college experience — there's a lot they get wrong or miss. The reality is: the college experience also gets intertwined with high stress levels and the struggle that comes with living on your own for the first time. 
After two semesters at Warren Towers and experiencing all four seasons on my walk to class, I think it's easy to say that not everything is like how it appears in the movies. 
The massive building with three budding towers that sits aptly at 700 Commonwealth Ave. has had its fair share of trials and tribulations these past few months starkly contrasting the experiences we see in the college-infused film plots like "Neighbors" and "Life of the Party."
Students did not enter spacious, beautifully decorated suites that look like they came straight out of a Pottery Barn as in "Gilmore Girls" — instead, most were welcomed into a shoebox with two beds, two desks and an attached communal bathroom. 
And with the summer weather still lingering long into the months of September and October students' next harsh taste of reality was the lack of air conditioning. As temperatures teetered between 70-80 degrees, many were left to rely on miniature box fans to keep cool — so not exactly living up to the very romanticized standard cultivated by movie magic. 
But there's more to reminisce on: floodings, and utilities breaking and moldings — oh my! This semester also saw its fair share of less-than-subpar living conditions, and each week seemed to bring something new. From the out-of-service escalators to water dispensers flooding whole common rooms, students were certainly not living their best life as seen in most film plots.
There's also no forgetting the countless times the ascending escalators that led up to the internal entrance of Warren were broken — forcing students to take an additional hike back up to their dorm after a long day's trek between classes. But hey, who needs the FitRec when you have your own stair-master attached to your residence!
And who could deny the social imprint left by a semester in the towers? When you place a bunch of 18-20 year olds in one living space, interesting things are bound to occur. Between purposefully misplacing common room furniture in places like the bathroom, or wheeling friends up and down the halls on desk chairs — the inner corners of Warren could seldom be described as a tame environment. 
Generally speaking, a day in the life outside of Warren Towers very rarely mirrored the picture-perfect life of Harvard Law attendee Elle Woods in "Legally Blonde." While I could relate to the hours she spent hitting the books in her dorm or library, I am certainly not showing up to class in a hot pink blazer everyday. I should add that it's also practically impossible to maintain a 4.0 GPA and get a near-perfect score on the LSAT while balancing multiple clubs and involvement in greek life — freshman year will not leave you with the same amount of hours in a day as Elle. 
Despite all my complaints, I would be remiss to not discuss the good that came out of freshman year in Warren Towers. Although interior conditions failed to improve, there were still plenty of good times to be had and memories to be made. 
Warren Towers fostered a sense of community — a crazy one at that — but connected nonetheless. Students rallied together to host events like a listening party for the album drop of Taylor Swift's "Midnights," and even the dining hall staff got together to create a "Stranger Things" themed menu to commemorate Halloween. There were also sporadic group watch parties of annual events like the Oscars, or of more recurring series like HBO's "Succession."
Movie plots are perfectly crafted to only highlight the most crazy, fun and exciting parts of college — strategically leaving out the many hours of studying and gross communal living facilities — for a reason. Treasured films like "Monsters University" exist to merely offer us a funny and inflated perspective on what college living is really like — and perhaps this is a necessity given the true adversities of college life. 
Although a year in Warren Towers shaped my freshmen experience in a way completely different from classic film portrayals, it was a movie of its own, and a special experience nonetheless.