On April 5, a Boston University student walked into a particularly chaotic office to pitch himself to The Daily Free Press editors as a story.
In his two years of learning, Questrom School of Business sophomore Samson Abrams — the creator of the Instagram account @financewithsamson — found a disconnect between what the real world demanded and school taught.
"I learn more than I could in an entire semester of just sitting in a class learning the theory," Abrams said. "Because I'm in the real world, experiencing real losses, which should be more emphasized, especially in schools."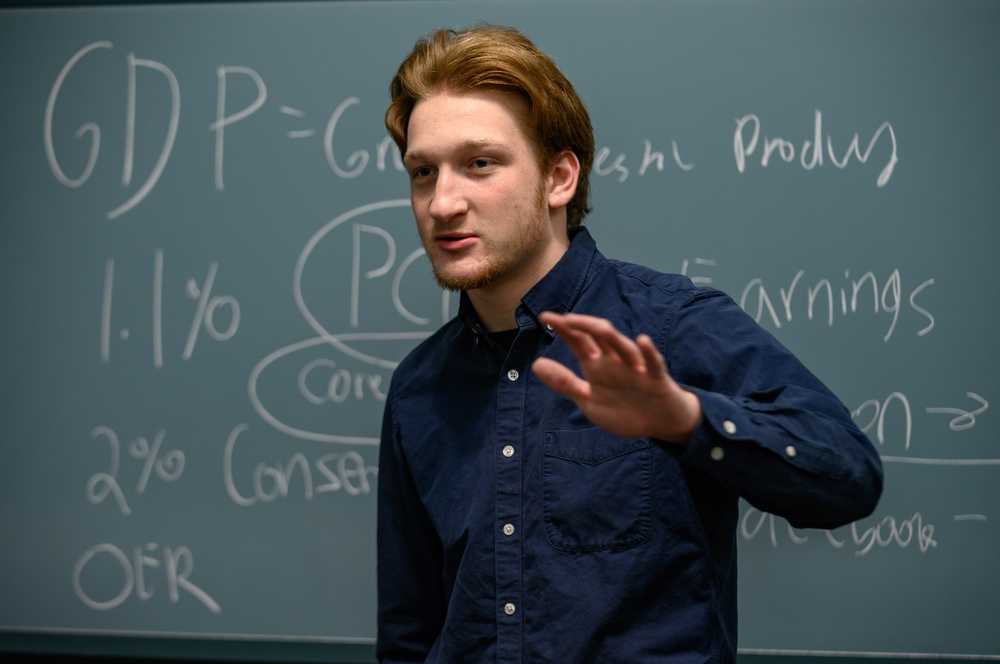 Abram's "mentor" in stock trading, Sami Khatib, a Questrom junior studying investment management, is on the board for the BU stock trading club, where he met Abrams. He shares Abrams' philosophy that Questrom does not prepare students to successfully trade stocks. To Khatib, the prerequisite courses from Questrom "don't offer much" when it comes to helping students become independent thinkers.
"If anything, they try to put you into a box and force you to conform," Khatib said. "If you don't, you get a low grade."
Khatib said that the financial industry is often inaccessible to the public due to its "complicated jargon." He finds it discourages people from understanding what goes on within companies — and confuses retail investors.
"A stock represents a share in the ownership of a company," according to the Charles Schwab website, a financial services company. When the value of the business rises and falls, so does the stock. Stock trading is buying and selling these investments with the intent to make a profit, according to Fidelity investments.
"If you learn how to use [stocks] and you learn literacy, you can really free yourself from having to go the traditional path of getting a job and working nine to five until you're 65," Khatib said. "That is my philosophy, gaining control over your life."
Abrams said he felt it would be inappropriate to comment on his financial state from trading stocks.
"Right now my responsibilities are very small," Abrams said. "I'm paying for personal things that are kind of useless. But later on, as I grow my income, I hope to pay for groceries, maybe even rent."
Abrams is a graduate from LaGuardia High School of Music and Performing Arts, a famous performing arts high school in New York City.
Piano was Abrams' musical niche in his time at LaGuardia. He even played at Carnegie Hall. Abrams handles his emotions when playing jazz music similarly to when he invests, by adapting to change while staying calm.
"When playing music with other people, someone will get off rhythm, you'll play a wrong note," Abrams said. "You have to know how to go with that flow, and investing is similar to that."
Abrams isn't a fan of the idea of "conventional standards." He'd rather break societal expectation than conform to its mold.
"I feel like everybody is trying extremely hard to fit this pattern, to get this look, to work here, to get these grades, to say, by conventional standards, I'm smart, I'm good looking or I'm stylish," Abrams said. "But I think that definition can be changed in many ways."
And, at least for Khatib, Abrams' commitment to being unique has proved successful.
"After all these 1,000 kids who've come up to me saying they want to learn, 'teach me,' [Samson] is the one that stands out," Khatib said.
Abrams' dedication made him the clear choice as a mentee.
"I saw that hunger in his voice and in his eyes," Khatib said. "I've taken the time to really let him into my mind and also empower him to make his own conclusions. And he's done so well."
Abrams stresses the importance of having a life outside of the classroom. Many people focus everything around school or their career, Abrams said, but it's important to maintain individuality.
"You're a person outside of [school]," Abrams said. "There's other things outside of that."
Cat Tibbetts, a Questrom junior and teaching assistant for SM131 — Business, Ethics and the Creation of Value — said Questrom expects students to teach themselves the basics of personal finance and stock trading.
"Most people's financial literacy just has to come from themselves and what they choose to teach themselves," Tibbetts said. "Questrom … kind of just assumes that you have all that [background], no one really told me what a stock was."
Sarah Weinreich, a sophomore in Questrom, does not share Abrams' perspective on Questrom's lack of real world application. In SM 131, for instance, students complete an extensive presentation, which Weinreich used in her internship experiences.
"It's such a great learning experience," Weinreich said. "Whether that's applying what you've learned to the project, or also just learning the best ways to work with the group, you learn a lot about yourself and your peers."
Rachel Reiser, assistant dean for Undergraduate Student Experiences and Services, said Questrom seeks to "launch adulthood" and has worked hard to ensure the classroom prepares students for the real world.
"We are always working to improve our curriculum, the student learning experience inside the classroom, but also outside of the classroom," Reiser said. "We do have a concentration in finance and it is one of our bigger concentrations … but that's not something everyone wants or even needs to do."
Neither Khatib nor Abrams pay for their schooling, but Abrams said learning how to invest in stock is important, especially for those who may be grappling with student debt.
"It's not like you can magically make that disappear through investing," Abrams said. "But at least you could start compounding now so your kids don't have to go through that."