Academic institution or film set? Boston University has been both. Over the past 15 years, BU's campus has been featured in several movies — as itself, other colleges and even a haunted house. 
Charles Merzbacher, an associate professor of film production at BU, said that production crews consider two factors when choosing locations for their films: appearance and practicality. But these factors can be contradictory—a location that provides the perfect setting may not have enough surrounding space for the cast, crew, and equipment needed to shoot the scene. 
As a result BU, has earned screen time in a few feature films.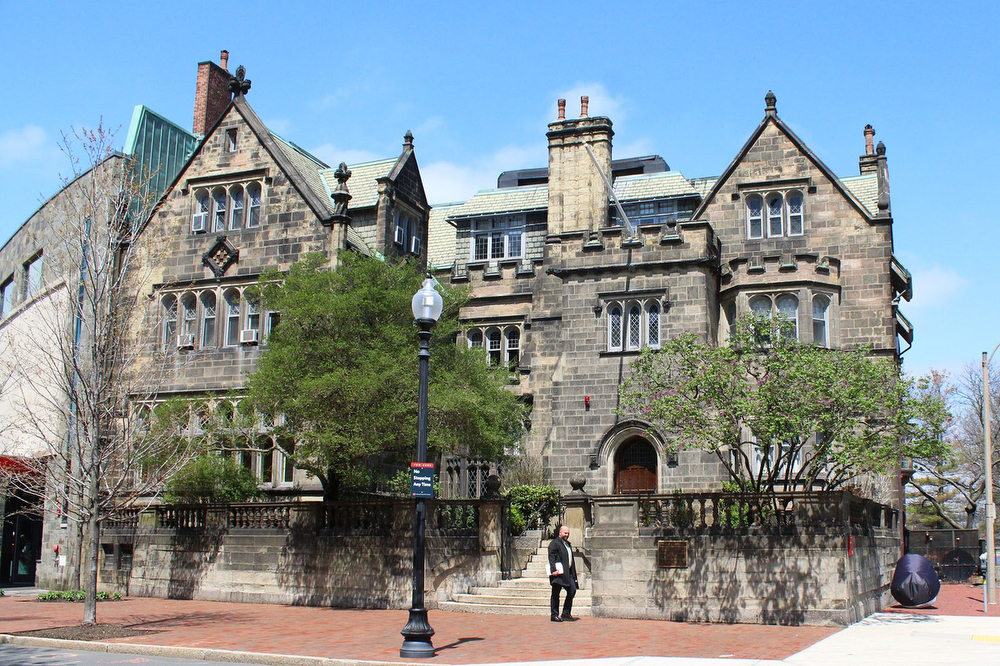 "21" (2008)
"21," which follows six Massachusetts Institute of Technology students who become card-counters in blackjack and take on several Las Vegas casinos, was not actually filmed at MIT, but across the Charles River at BU. 
"Ironically, it was easier to shoot in the casinos in Las Vegas than it was to shoot at MIT," Merzbacher said.
According to Merzbacher, who conducted a Q&A with two of the film's producers while they were at BU, MIT felt that the film's focus on gambling did not adequately reflect the school's values as an educational institution and did not permit "21" shoot on campus. 
As a result, the MIT scenes in the film actually take place at BU. Merzbacher said that BU's proximity to the Charles River and urban Boston campus made it a good double for MIT.
"21" shows plenty of campus hotspots that BU students may recognize — from classrooms to the Castle and the newly built FitRec. 
Sara LaFever, a junior in the College of Communication, said she sees the appeal of BU as a filming location.
"Campus honestly has a lot of good areas [to film], because you get open green space versus city areas right next to each other," she said.
"The Social Network" (2010)
After mishaps during the filming of "Love Story" (1970) moved Harvard University to prohibit any film crews on its campus, directors have had to search elsewhere for locations to depict the university. This includes the 2011 Academy Award for Best Picture nominee "The Social Network," a biodrama about Mark Zuckerberg and the legally controversial origins of Facebook. 
Director David Fincher and his crew filmed at multiple schools to stand in as Harvard. One of these schools was Wheelock College, which BU absorbed in a 2018 merger between the two colleges. Some Harvard scenes in "The Social Network" were filmed outside 200 Riverway, which houses an administrative building in what is now the heart of BU's Fenway Campus. 
"Spotlight" (2015)
There are no glimpses of BU's official campus in "Spotlight," a movie based on the Boston Globe's 2002 investigation of abuses by local Catholic priests. However, this 2016 Academy Award for Best Motion Picture winner features scenes of the interior and exterior of the Boston Public Library. Just four T stops from BU East, the library is a popular workspace for many BU students, according to LaFever.
"So many BU students go to BPL," said LaFever. "It feels like an extension of campus, honestly."
In the film, journalist Sacha Pfeiffer, played by Rachel McAdams, pours over her research in an empty Bates Hall, the silent study room on the BPL's second floor, until closing time. The experience is familiar to any BU student who has lost track of time while working among Bates' recognizable green lamps, high rounded ceilings and dated wooden tables. 
"Ghostbusters" (2016)
In August 2015, the BU Castle diverted from its usual job as an event space. The "Ghostbusters" crew sectioned off the Tudor-style mansion for a one-day shoot to transform it into the run-down Aldridge Mansion Museum, where the Ghostbusters face their first ghost, according to a 2015 BU Today article. 
The Castle's cameo is limited to its exterior, though—the interior that appears in the film was shot at the Ames Mansion in Easton, Massachusetts, according to Architectural Digest. 
Across the street from the Castle, bits of Bay State Road made the cut as well, according to Patrick Browne, a history lecturer at BU. Upon watching "Ghostbusters," he noticed a familiar sight: his own office. 
"Right across the street from the Castle is the history department, where my office is and where, at the time when ["Ghostbusters"] came out, I was doing my graduate work getting my PhD in history at BU," Browne said. "It was very funny to see the history department right in that shot."
Some "Ghostbusters" scenes also took place at Emmanuel College in Fenway, which borders BU's own Fenway Campus. Emmanuel College's campus was set up to resemble Columbia University, according to a 2015 People Magazine article. Kristen Wiig and Melissa McCarthy filmed scenes at Emmanuel's quad and outside the Yawkey Center at 400 Fenway—a short walk from Fenway campus. 
"Mr. Church" (2016)
2015 was a big year for filming on campus — not long after "Ghostbusters" took over the Castle, production for "Mr. Church" took place at other locations on campus, according to a 2016 BU Today article. 
"Mr. Church" is about the bond that forms between a young girl named Charlie, played by Britt Robertson, and the family cook, played by Eddie Murphy, who cares for her while her mother has cancer. 
Charlie ends up going to college at BU, so the end of the film features glimpses of Bay State Road and Marsh Chapel. Of these films, "Mr. Church" is the only major motion picture in which BU plays itself.
"There's definitely a sense of pride with it," said LaFever about seeing BU on screen. "Especially as a film major, it's cool to know that these massive movies have shot there."