From Board Games Club to BU Beekeeping, Boston University's 450 student organizations will adorn Nickerson Field this September, eager to recruit new members. 
Thousands of BU students attend the club fair each year to learn more about how they can get involved on campus.  
Come with both some knowledge of BU's club offerings and an open mind.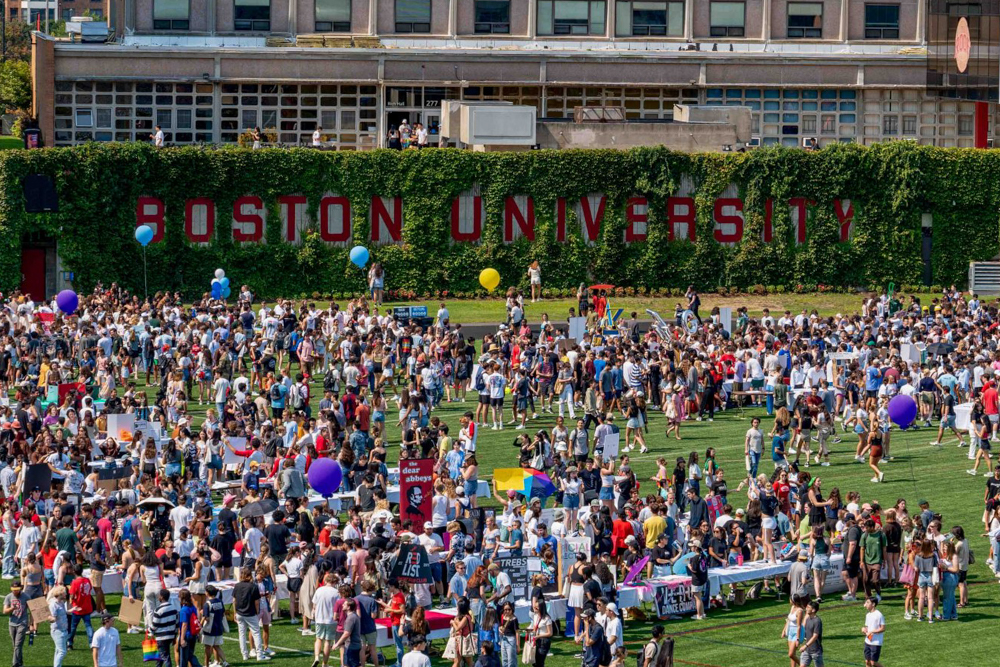 Professional
CleanTech Club
CleanTech Club aims to bring engineering students together to promote sustainable technology. The club seeks to teach its members about clean technology and encourage them to take action by inspiring environmental innovation. 
Pre-Medical Society 
BUPMS's mission is to support students in their path to medical school and their future in the field.
The club gives premedical students exposure to the medical profession, offering lectures, volunteering opportunities and MCAT strategy sessions.
Political
Boston Political Review
Founded in 2014, the BPR is a non-partisan political publication. The BPR produces articles that incorporate elements of traditional news and academic research across five sections: global politics, health and science, U.S. politics, social and business and local politics.
BU also has many political groups, including BU College Democrats, BU College Republicans, Young Americans for Liberty and Young Democratic Socialists of America. Each group focuses on a similar topic, but some work to find common ground, while others engage in civic action. 
Performance
Boston University On Broadway
Founded in 1994, OB is a musical theater organization that strives to bring musical productions and theater events to campus. There are many different roles members can take on, including acting, singing, dancing, directing, choreographing and producing.
Allegrettos
The Allegrettos, one of BU's 13 a cappella groups, is an all-gender a cappella group. They perform alternative pop music with R&B influences and perform both on and off campus. The 'Grettos, like many other a cappella groups on campus, releases its own music. 
Liquid Fun
Liquid Fun is an improv comedy troupe performing free shows on campus each month. The group also hosts weekly open practices where participants can learn and perform improv. 
Media 
WTBU
WTBU, founded in the 1950s, is a student-run radio station broadcasting 20 hours a day. Students produce shows about a variety of topics including arts and culture, entertainment, sports and music. 
BUTV10
One of the largest student groups on campus, BUTV10 is a student-run content distribution network. Students produce news, sports, drama and comedy programs and have access to the College of Communication's production studios. 
Cultural 
BU offers many clubs — including Russian Speaking Society, French Club and Italian Students Association — that give students the opportunity to learn about different cultures and practice their language speaking skills.
There are also many dance groups at BU — Jalwa, Chankaar, Sabor Latino and Step About Boston — many of which compete and perform in Boston and across the country. Students who want to expose themselves to various cultural dance styles can participate in Amplifiers of Cultural Dance's free biweekly workshops.
Service
Alzheimer's Buddies
Members of Alzheimer's Buddies work with residents at a local memory care facility and participate in group discussions reflecting on these experiences and talk about the latest in Alzheimer's research. 
Alpha Phi Omega
BU's APO chapter is a gender-inclusive community service organization, committed to addressing social justice issues in Boston. APO partners with the Sexual Assault and Response and Prevention Center on campus to pack safe sex kits for the BU community. APO also works with local organizations like the American Red Cross, Cradles to Crayons and Boston Rescue Mission where active members can complete their minimum requirement of 20 community service hours. 
Recreational
BU Beekeeping
BU Beekeeping aims to promote sustainability at BU through the numerous honeybee hives it tends to on campus. Members learn about bees' role in restoring ecosystems and pollination. 
Board Games Club
Board Games Club provides a space where participants can play non-digital games like Codenames, Spyfall or Betrayal. General meetings are open to all BU community members. The club also hosts card game events periodically, including tournaments. 
Greek Life
BU offers 10 Panhellenic sororities and seven fraternities recognized by the Inter Fraternity Council. Co-educational fraternities — including Alpha Chi Sigma, Alpha Kappa Psi, Beta Psi Omega and Delta Kappa Alpha — focus on chemistry, business, biology and cinema respectively and offer members leadership and professional development opportunities. 
Student Government
There are many ways to get involved with student government at BU. Boston University Student Government represents all undergraduates and is composed of three branches: executive with the executive board and the cabinet, judicial with the judicial commission and the student elections commission and legislative with the senate and senate standing committees. The executive advisory commission oversees BU Student Government archives.
Each college within the larger university has its own governmental body advocating for the interests of the students in each respective school.