"Let's…play…hockey!" are words that devout Boston University hockey fans are waiting patiently until fall to hear, hoping that the new season will bring the same excitement and talent witnessed on the ice last season. The legacy and success of the 2022-23 season have left a profound impact on the fans who geared up in their pristine replica jerseys to join the scarlet tide that brought life to every single game.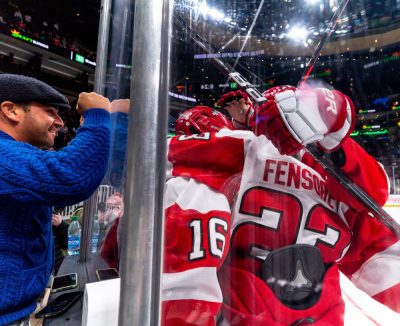 After a successful season that included a trip to the Frozen Four and the program's first Hockey East Tournament title since 2018, it's hard not to feel pride for the team and all of their accomplishments — at least for those who gave their time throughout the school year to watch their Terriers in action. 
Rafael Perron was the president — before graduating this year — of the BU Dog Pound, the student section at Terrier sporting events. Perron represented the enthusiasm of all BU hockey fans with his dedication to making the fan experience one of a kind. From making and displaying posters, leading chants and sharing gameday information on the official Dog Pound Instagram page, the student section would not have been as astounding as it was without his dedication.
"I've been part of the Dog Pound for all four years that I've been at BU," Perron wrote in a statement to the Daily Free Press. "In that time we've been crazy fans, but we've also worked incredibly hard behind the scenes planning events for fans, trips for students and making the atmosphere the best that it can be. I've seen the community thrive, fracture due to the pandemic and build itself back up through our hard work."
Despite the reduced and restricted capacity at Agganis the past few seasons, fans this year got to experience BU hockey in its full glory.
"Nothing can beat the feeling of setting up posters along the glass one hour before the game, losing your voice in the first period from endless screaming and chanting or the elation when [the Terriers] finally score a goal to win the game," Perron wrote. 
Despite losing one of its most valued supporters for next season, the Dog Pound has many young students who have just begun their journey as fans of the nationally-ranked team. They have learned what it means to be a BU hockey fan in just their first season of cheering the Terriers on.  
"Gearing up and sitting through the stress and excitement of the game is so thrilling," College of Communication sophomore Ali Cook said.
One of her favorite memories from the season was when BU beat Cornell University in the NCAA Division I Manchester Regional Final.
"Everyone had so much energy," Cook said. "It was amazing."
Some fans have found that rooting for BU hockey developed a sense of camaraderie and belonging. College of Engineering sophomore Madison McDonald compared watching games at Agganis to attending her hometown's high school football games.
"I was really glad that I was able to find that piece of home here at BU and [be] able to hang out with a group of my peers and go crazy and root for a really great team," McDonald said.
Her favorite aspect of the season was seeing the Terriers make a deep postseason run.
"It was really cool, being a freshman coming into [BU] and having it be such a great hockey season," McDonald said. "Being able to go to more games for a longer period of time was really great."
The passion students have for hockey is remarkable and has arguably become an identity for many. However, being a BU hockey fan means so much more knowing that it positively impacts the players, who have acknowledged the supporters who cheer them on behind the glass.   
 "We've been fortunate to play in front of the best fans all year long," junior goaltender Drew Commesso said in a press conference following the Manchester Regional Semifinal victory over Western Michigan University. "We definitely feed off of that, we definitely feel the energy and we definitely appreciate all of it." 
Award-winning and highly-accomplished freshman defenseman Lane Hutson echoed this sentiment in an Instagram post which confirmed his return to Terrier Hockey for the upcoming season. In the post, he stated how he is "looking forward to another great season playing in front of the best fans in college hockey." 
While key players are leaving BU to advance their careers by signing entry-level contracts with the National Hockey League, there is still plenty of talent for fans to watch and celebrate in the season to come.
"I will always be able to look back on the games and say, 'I was there,'" Perron wrote. "I will always be able to follow the Dog Pound community and everything they do going forward and be able to proudly say, 'We helped build that,' and I think that's amazing."