Fitting in has always been a difficult thing for me. 
Whether it be out in the streets, in school or even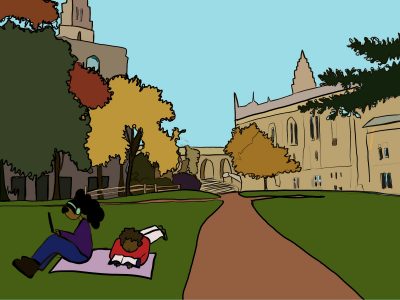 with my family, it always felt like I was a circular puzzle piece being forced into a jigsaw with nothing but sharp corners in each end. The result is a strange sense of loneliness — one where you can actively see tons of people around you, but still feel isolated from each and every one of them. 
When I got accepted into BU, I expected that feeling to continue and perhaps transform into something new and more powerful. Surprisingly though, I was wrong and have had the privilege of feeling so welcomed and accepted by all the people I have met.
Coming to college, I knew so little about myself and what I was really looking for — I tended to be a loner and barely connected to the people around me. I traveled with a sense of caution whenever I did reach out to others, often imagining the worst possible outcome. So when I came across people who not only looked like me but also thought in similar ways, I was hopeful. At the same time, I was also scared about the possibility that they would morph into people I would seldom interact with the more they began to see all sides of me. 
And yet that didn't happen. 
As time went on, I grew closer and closer to those same people and more. To not only have people that could understand my struggles both personally and academically as a black and hispanic woman, but also people I could trust and rely on felt incredibly profound
It's not very often I meet other people of color, or people in general, that like to consider themselves "nerds," so forming friendships with people who proudly play video games, rant about their special interests and could make up needlessly complicated stories seems like such a simple joy — but is still so meaningful to me. We are able to display our interest in each other's happiness even if we may not know what exactly is being talked about. 
More importantly, I feel like I can display the most unfiltered versions of myself, to let the stress that I became conditioned to just roll off my shoulders has given me a kind of pleasure I never experienced before.
Of course my experience won't be universal — it can take months to grow that close with the people around you. It may even take a bit longer to simply find those who share the same interests.
I will admit, I got very lucky the day I met them — as one may not expect to make lifelong friends in the dining halls or in the FitRec pool, of all places. But, there comes a sense of fun and security one gets when they are able to establish those life-changing connections. 
With the new school year starting up, I am personally excited to continue on this journey and see what the near future might hold for me. 
Whether it be keeping the same group of friends or making new ones, I've come to the conclusion that instead of shying away, I'm ready to tackle it head on as should anyone else. You never know if someone you'll  meet along the way will become a focal point in the rest of your story — hopefully for the better.