Boston University's College of Communication completed major renovations on its journalism broadcast television studios over the summer.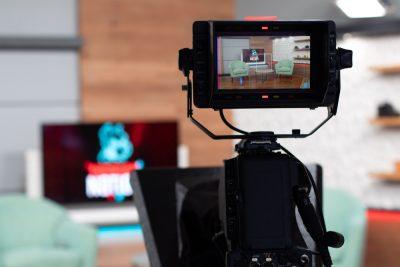 The broadcast studios in COM host journalism classes and are the filming locations for BUTV, BU's student-run television station formerly known as BUTV10. The two studios, known as Studio East and Studio West, underwent a nine-month renovation that ended this July. 
Studio West received the majority of the upgrades during the renovation. 
"Almost everything is brand new," Jake Kassen, manager of Technical Operations at COM,  wrote in an email regarding the studio renovations. "The new set has three major components: A traditional anchor desk for breaking news, a standing position which replaces the [green screen] for weather and story introductions, and a more relaxed interview set for longer discussions with guests."
Kassen wrote that the goal of the half-million dollar project is to make the school's television studios "have the same quality facilities and resources found at the national broadcast networks."
"It's an investment," said Tina McDuffie, BUTV advisor and associate professor in COM who teaches broadcast journalism in the studios. "We are trying to fill newsrooms with knowledgeable, confident journalists and you can't do that if you have outdated equipment."
In addition to changing the layout of the space, Studio West received a new intercom and audio system that, according to Kassen, creates "flexibility and crystal clear audio." In addition to this, Kassen wrote that Studio East was also upgraded and had new electric camera controls, a new switcher, refurbished studio pedals and new studio cameras installed.
"The space that's there now really mimics a real newsroom that you'll see at national networks and all the local affiliates," BUTV advisor Adam Boyajy said. "So when [students] do begin their careers as young adults, they will be way more prepared to not only get their first job but once they are in the newsroom working their first job, they'll be in a much better position to succeed and excel."
McDuffie hopes the renovation "invigorates" her students and others who want to learn the craft. 
"All of my classes are full because students want to learn this," McDuffie said. "They want to learn how to be a better broadcast journalist. They want to learn how to be a better reporter, a better anchor, a better editor, a better producer. We can help them more with this new studio."
Students have expressed positive feelings towards the new renovations. 
Eloise Lushina, a junior in COM, is a producer for the BUTV show "The Wire" and said she did a walkthrough of the new studio before filming began for the semester.

"Everything is just exceptionally better," said Lushina. "All the technology is updated and it looks like something you would see leaving college and actually working in a professional newsroom."
Lushina said last year, she faced a lot of technical difficulties working on "The Wire" due to the equipment being "outdated and had been used for many years."
Alex Dowd, a senior in COM and the producer for BUTV's "Good Morning Boston University,"  said she thinks the renovations will broaden the scope of what students can do in the studios. 
"We have so much more diversity of where we can shoot," said Dowd. 
Dowd said the increased varieties of shots that the upgrades provide means more people can be involved in the studios.
"There's going to be multiple people that we can now fit in the studio," said Dowd. "They don't join to wait three years as a writer and then get their five minutes of fame. They join to get the live TV experience and with this studio, we're going to be able to accommodate so many more people in that."
Now that the renovations are complete, McDuffie is optimistic about the future of the studios. 
"I definitely think it's going to pay off and it has paid off," said McDuffie. "We were winning awards for journalism in an older studio. [Imagine] what we can do with a new, upgraded studio."