When The Glorious Sons come to Boston, it's not just so they can eat at Regina Pizzeria and enjoy cigars in Little Italy: it's a chance to rebuild the American audience they lost during the COVID-19 pandemic.
The group earned their first radio hit with the 2017 release "S.O.S. (Sawed Off Shotgun)." But just after The Glorious Sons reached the height of their popularity, the pandemic forced the group to park their tour bus for the next three years, costing them crucial money and momentum.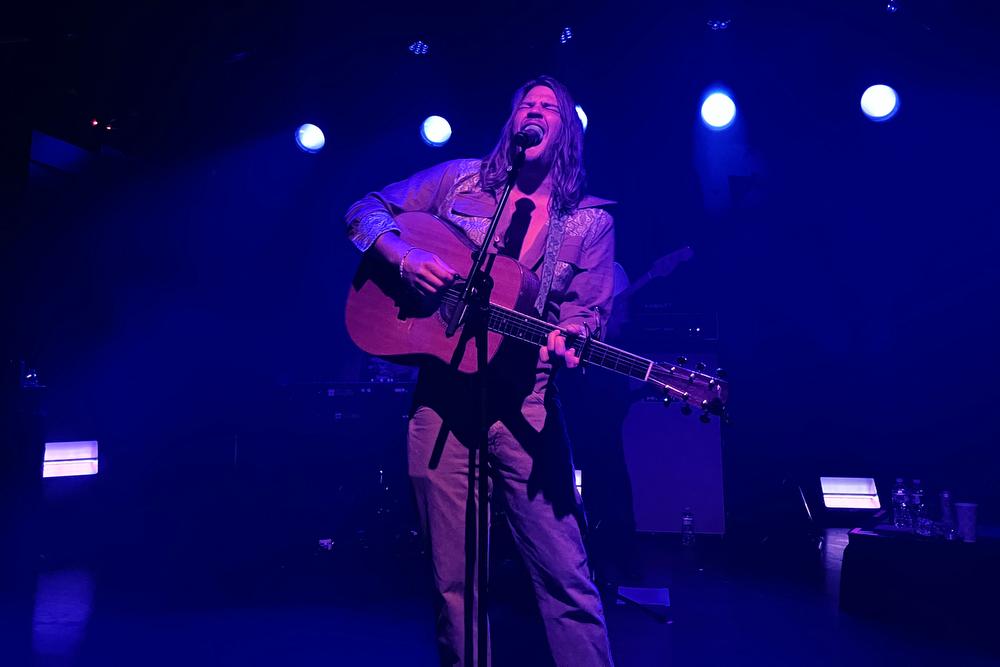 Their new tour brought the band back to Boston, and they settled in on Boston University's campus — shopping at Goodwill and grabbing food from Raising Cane's on Commonwealth Ave. — before taking over Paradise Rock Club on Sept. 14.
"This band loves Boston a lot," Brett Emmons, the band's lead singer, shouted on stage that night. Thursday's gig, he claimed, was the best of the Glory Tour thus far.
The band hails from Kingston, Canada, where brothers Jay and Brett Emmons grew up and cultivated the rock 'n' roll roots that define their sound today. After guitarist Jay met drummer Adam Paquette at a jam session, the two musicians decided to form a band.
Jay recruited his brother Brett, who ended up quitting school to be the frontman for what would become The Glorious Sons. Brett started writing songs reminiscent of classic rock, and the fledgling group maneuvered their way out of the radio pop scene. The band cemented themselves as rock 'n' roll musicians with their debut album, "The Union" in 2014.
"[We're] playing like real musicians out there," Paquette said, on The Sons' messy, crowded tour bus. "No tracks. No foolery."
Following their 2017 JUNO Award-winning sophomore album "Young Beauties and Fools," the band earned a spot opening for The Rolling Stones' No Filter Tour in 2018. They stuck around in the United States, joining the tours of other rock acts, including Greta Van Fleet, The Struts and Twenty-One Pilots.
The Sons' follow-up album in 2019 featured singles like "Panic Attack," their second consecutive U.S. no. 1 rock song, and hard-hitting power ballad "Pink Motel." Their third top rock song "A War On Everything" won them their second Rock Album of the Year JUNO Award.
Although their notoriety in Canada was soaring, the band said they encountered a greater market for their music in the American rock scene.
"You could definitely see the crowds growing bigger and everything," said Jay. "We have really, really good fans."
But in March 2020, the group suffered a major blow when the live music scene shut down indefinitely.
In a recent press release, Brett admitted the band found themselves at a crossroads: "It was one of those classic times in a band's career where you have that awkward choice either to let go, or hold on as tightly as you can."
The Glorious Sons released their fourth studio album, "Glory," on Sept. 6 — the same day they embarked on their first North American tour since the pandemic shutdown. The ongoing Glory Tour is set to visit over 50 cities in the United States and Canada between now and February 2024.
"Unfortunately, it almost feels like we're kind of having to start over again," Paquette said. "All that success of 'Shotgun'…it's not gone, but the shows are smaller than before COVID."
In the spirit of overcoming challenges, The Sons were forced to frantically find a new guitarist a week before the start of the tour. Brett announced on the band's official Instagram page that longtime guitarist Chris Koster would be leaving the band. The news came shortly after Koster released his own solo album in July.
Setbacks aside, the group is optimistic about their future: "It feels like a new chapter in our career," said Jay. "I think we're all going to be a lot happier, satisfied, as we continue down this path."
Paquette said that he believes that the band's cult following contributes to their success on tour. Their loyal fanbase continues to buy merchandise, pay up for VIP access and even attend multiple shows for each set of dates. Some people can make it to ten of them, Paquette said.
This new album, Brett said in the press release, is about growth. He said "Glory" is "gritty as f**k" and is a representation of The Glorious Sons in the truest form possible.
"['Glory'] is kind of the true new beginning with new music, a new member and I would say a new sound," Jay said. "It's kind of like a turning of the page for us."