By Molly Farrar and Lydia Evans
Boston University hired Ibram X. Kendi to lead its new Center for Antiracist Research in 2020, a year marked by a global pandemic and nationwide racial tension.
Three years later, after at least $43 million in grants and gifts and what sources say has been an underwhelming output of research, the Center for Antiracist Research laid off almost all of its staff last week.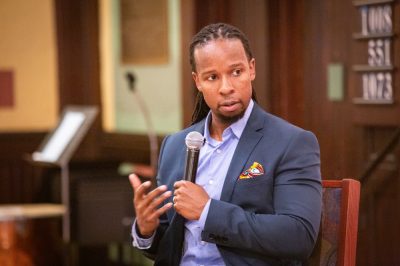 Multiple former staff members allege that a mismanagement of funds, high turnover rate and general disorganization have plagued the Center since its inception.
The $43 million, according to 2021 budget records obtained by The Daily Free Press, includes general support, such as the $10 million from Twitter co-founder Jack Dorsey, as well as donations for specific projects.
The document, which is not an all-inclusive list of donors, also lists TJ Maxx's foundation, Stop & Shop and Peloton as donating over a million dollars.
Kendi, National Book Award-winning author of "How to Be an Antiracist," Andrew W. Mellon Professor in the Humanities and a history professor at BU, founded the Center three years after he founded the Antiracist Research and Policy Center at American University. 
Kendi talked to BU Today when BU's Center first launched in 2020. 
"My hope is that it becomes a premier research center for researchers and for practitioners to really solve these intractable racial problems of our time," Kendi said to BU Today. "Not only will the center seek to make that level of impact, but also work to transform how racial research is done."
A week after the layoffs, BU announced Wednesday that they received complaints "focused on the center's culture and its grant management practices." 
"We are expanding our inquiry to include the Center's management culture and the faculty and staff's experience with it," BU spokesperson Colin Riley said. "Boston University and Dr. Kendi believe strongly in the Center's mission, and … he takes strong exception to the allegations made in recent complaints and media reports."
The Compliance Services Office received an anonymous complaint in 2021 about the Center from Saida Grundy, an associate professor of sociology at BU and former CAR employee.
The complaint detailed multiple high-level employees leaving suddenly and allegations of a workplace culture that included fear of retaliation and discrimination.
After submitting the complaint, Grundy then personally went to then-Provost Jean Morrison in 2021 to discuss the alleged toxic work culture and grant mismanagement, among other significant concerns. Grundy said she sent a follow-up email after the meeting, and Morrison did not reply. 
As Provost, Morrison was instrumental in Kendi's hiring, according to Grundy and BU Today.
"The pattern of amassing grants without any commitment to producing the research obligated to them continues to be standard operating procedure at CAR," Grundy wrote to Morrison. "This is not a matter of slow launch. To the best of my knowledge, there is no good faith commitment to fulfilling funded research projects at CAR."
Grundy said the Center ceased communication when her year-long contract came to an end in June 2021, which she said was retaliation for speaking up about the Center's underwhelming work and impact on campus. 
BU notes an 8% increase in Black enrollment over the past five years as of 2020-2021. The Boston Globe reported in 2021 that out of BU's 3,030 faculty members, there were 71 Black female instructors, including seven tenured instructors in 2019.
The University reported the Black undergraduate student population as about 4.8% in the 2021-2022 academic year. Kendi's hiring and the founding of the Center were BU's way to address their "race problem," Grundy said.
"They don't want to address Black enrollment because they don't want to be seen as a school that's getting Blacker, because they want to raise their prestige," Grundy said. "That's the real racism."
Phillipe Copeland, a clinical associate professor in the School of Social Work and former assistant director of the Narrative office at CAR, spent two years developing educational programming for the Center. He left his role in June.
"The narrative that seems to be coming from CAR and from BU is that this is some innovative, organizational pivot or redesign rather than an institutional failure, for which people need to be accountable," he said before the inquiry was launched. "There needs to actually be an explanation to people who invested time and energy in the Center."
Two emails sent to Kendi's chief of staff requesting comment from CAR and Kendi were not answered. 
"It's a real mess," Copeland said. "There's just no winners here."
LAYOFFS AND FUNDING
The University would not confirm the number of affected staff, but sources familiar with the matter say at least 20 to 30 staff members have been let go as the Center "evolves" toward a nine-month fellowship model. 
"The University and Center are committed to working with and supporting affected employees as they look for their next opportunities," Riley wrote in an email. 
Riley wrote that The Emancipator, CAR's digital publication that previously partnered with the Boston Globe, is not affected by the layoffs, and Kendi will remain the Center's director.
Copeland said, to his knowledge, these massive layoffs are unheard of at BU.
"It does damage to this area of work because there are already people out there that are trying to discredit antiracism," Copeland said. "To have such a high-profile person be associated with leading an organization that fails so spectacularly, that has a ripple effect."
A CAR manager, who requested to remain anonymous, was laid off on Sept. 13. In several Zoom meetings, groups of four to five employees were let go in each meeting. The manager described the layoffs as "rehearsed." 
"We felt disposable," they said before the inquiry announcement. "I'm surprised that there's still no official statement. Actually, it adds to the disrespect, in my opinion, almost as if it can be kept under wraps."
They said much of the work at the Center was being postponed until Kendi, who was on leave as of July 31, returned to work. His return to work coincided with the layoffs to make room for "CAR 2.0," according to emails obtained by The Daily Free Press.
The manager said staff were informed of a hiring freeze in June, and it was communicated to staff that a restructuring would occur when Kendi returned from his leave.
"We have been hearing for weeks or months about a new vision for the Center, and how that would be communicated when he came back," they said. "A lot of the reason why a lot of projects were on pause [was] because we didn't know what that vision was going to look like."
Former staff members said the Center appeared to prioritize fundraising and revenue over research.
"If something was not sufficiently revenue-producing, then it wasn't for CAR's time," Copeland said.
BU is not commenting on the reason for the layoffs, but according to multiple people familiar with the matter, Kendi told staff that the model of the Center is not currently financially sustainable.
Copeland said that earlier this year, the Center's staff were told at least one funder would not continue investing in the Center because they were unhappy with the work being done.
"People started to get nervous," Copeland said. "A funder, or more than one funder was like, basically, 'we're seeing the same thing that your staff are seeing, which is that the Center is having a problem, and we're not going to keep giving you money.'"
Spencer Piston, an associate professor of political science, who works as the faculty lead in the Policy office at the Center, said the layoffs are surprising given that the new fellowship model "will involve hiring new people." He said he is unsure if his job is secure at the Center.
"It's pretty hard for me to imagine they blew through $30 million in two years," Piston said. "There's been a lack of transparency about how much money comes in and how it's spent from the beginning, which comports with a larger culture of secrecy."
Multiple CAR staff members said the Center was disorganized, and Kendi was ill-equipped to lead. The Center hired an executive director to run operations in Jan. 2022, who left after 14 months. 
"Just because you're a good scholar in your field doesn't mean that you know how to run an organization, and that's why lots of people don't do that," Copeland said about Kendi. "I don't know if it's a disciplinary issue as much as just a leadership ability issue."
Copeland said the Center seemed disconnected from the University community, and that "it could've been a separate thing." Research institutions do not need to be affiliated with a university, he said.
"From my perspective, the University allowed this to happen. They invited him to come. They gave him this power and money. They gave him public support, and now we're in a situation where mass layoffs are happening," Copeland said. "That didn't happen in a vacuum."
CAR'S WORK SO FAR
The Center is split into four offices: Research, Narrative, Policy and Advocacy.
A former CAR employee involved in research leadership at the Center in 2020 said many investors were interested in quantitative research about racial disparities. Specific grant funding  ranged from funding the COVID Racial Data Tracker to health and food disparity research, summing hundreds of thousands of dollars. 
With tens of millions of dollars total, the Center was well-funded to meet those goals, the anonymous source said.
"There's a mismatch between the amount of money that CAR has received from these grants and what they've actually produced," they said. "You can juxtapose that with other research centers either at BU or other universities that have received a tiny fraction of what CAR has received and has produced a lot more."
Kendi told the Boston Globe in 2020 that the Center's goals included data science-based research. 
"Data science is going to be one of the pillars of our new center and the University's investments in data science were attractive," he told the Globe.
The Racial Data Lab and the Antiracist Tech Initiative make up the extent of the Center's data-based output under their Research category, according to CAR's website. 
The COVID Racial Data Tracker, a collaboration with The Atlantic that started during Kendi's time at AU, is the Racial Data Lab's sole project, according to CAR's website. The tracker stopped collecting data a year later in March of 2021.
The Racial Data Lab only includes the now-defunct tracker.
"The Center has very, very much failed to deliver on its promise. It's been a colossal waste of millions of dollars," said Piston, noting that individual staff members did make progress on specific projects while facing high turnover and lack of support from management. 
Of the five CAR contributors who worked on the COVID Racial Data Tracker, only two are still with the Center as of July: Kendi's chief of staff, Adeline Guttierez-Ñunez, and Kendi. 
The final category in research, which has been missing an associate director since 2021, is the Antiracist Tech Initiative. The tech initiative lists three priorities, based on the materials listed on CAR's website: to co-create research agendas, conduct antiracist research and engage with communities. No other details or deliverables were listed.
A former CAR employee involved in research leadership, who also asked to remain anonymous, said the Center was not able to hire a qualified senior social scientist, and it seemed like Kendi was not "interested in bringing [one] on, or seemingly couldn't," they said.
In addition to the alleged lack of research output, CAR's 2020-2021 Donor Impact Report presented several projects planned to launch within the next two years, including the American Antiracist Society and the third National Antiracist Book Festival. 
The CAR budget included a $170,000 grant from the Raikes Foundation to appoint an assistant director of Advocacy. The Donor Impact Report stated that the assistant director of Advocacy would be appointed specifically to develop the American Antiracist Society.
Though the society was planned to launch publicly in early 2022 and appointed an assistant director of Advocacy in November 2021, no mention of the American Antiracist Society currently appears on CAR's website. 
The first National Antiracist Book Festival took place in person at AU, where Kendi led their antiracist research center. The second festival was held virtually in 2022 with CAR, featuring guests such as Angela Davis, former The Emancipator co-editor-in-chief Deborah Douglas, and 50 other authors, including Kendi. 
Copeland, who worked with authors, was told the National Antiracist Book Festival was canceled, and little explanation was offered to staff members who worked on the event, he said.
"This is the biggest event that we have that engages the most people, so to decide that you're just not going to do that anymore seemed odd to me," Copeland said. "This is not indicative of a healthy organization when you're just canceling your biggest draw." 
Inspired by a Boston-based abolitionist newspaper from the 1830s, CAR and the Boston Globe launched The Emancipator in 2021 and began publishing in 2022. 
"If there was ever a body of people who should be arguing out the definition of a term, particularly a seemingly politically charged term like 'racism,' why would it not be journalists?" Kendi told the New York Times in 2021 about The Emancipator. "They should define the term based on evidence."
The Emancipator, while still active with a bostonglobe.com domain, is no longer associated with the Boston Globe after a two-year partnership, according to internal emails obtained by The Daily Free Press. The paper is currently searching for a new editor-in-chief to replace the two former editors-in-chief.
"The move to BU will streamline its operations and fundraising efforts and will unite the editorial team under one organization," Linda Henry, the CEO of Boston Globe Media, and editorial page editor James Dao wrote to the Boston Globe newsroom. The email went on to thank those involved, including The Emancipator co-founder Bina Venkataraman and former editor-in-chief Amber Payne, who transitioned to publisher. The note did not mention co-founder Kendi.
Copeland, who was involved with the Narrative office, said the decision to cut ties with the Boston Globe was confusing, much like the decision to cancel the book festival.
"The Globe has much more legitimacy and reach than a little startup publication that nobody's heard of yet," Copeland said while acknowledging The Emancipator's work so far.
Copeland also said none of his work came to fruition, which included developing coursework for a graduate degree and an undergraduate minor in Antiracist Studies.
"The whole thing has been abandoned in part because I just think CAR was not able to generate sufficient support from the faculty to pull it off," he said.
CAR's Policy office lists multiple public comments and amicus briefs about racial and ethnic data, civil rights and mass criminalization and incarceration on the website.
The manager who was laid off last Wednesday said while progress was made, work completed across the sectors, especially in the Policy office, was not highlighted.
"It was mostly about him, rather than the work, and it was just very difficult to highlight the work over the founder," said the anonymous manager.
The 2021-2022 Antibigotry Convening, a Policy project mentioned in the Donor Impact Report, brought together 35 scholars for an output of short essays regarding different intersections of identity, all funded by a $200,000 grant from the Ford Foundation, according to the CAR budget document.
The Convening was an academic-year-long virtual fellowship culminating in a report of collected essays that contributed "to public conversations about bigotry by focusing particularly on its structural aspects," according to the Center's website. 
Grundy said several faculty affiliates who participated in the Convening "walked away from the project soured by what they feel was not only an exploitative ask, but also a deeply anti-intellectual endeavor," anti-intellectual because the project solely promoted Kendi's work, "not a scholarly dialogue." 
Heron Greenesmith, a fellow for the Convening who focused on anti-trans and anti-LGBT activity, said Grundy's complaint was a "strange critique."
"It was phenomenal, being in conversation with other experts in their areas of research," Greenesmith said.
Jason Stanley, a philosophy professor at Yale University, wrote in an email that he participated in about two to three Zoom calls for the Convening and gave a short talk. Stanley is credited as a fellow on CAR's webpage. 
WHAT'S NEXT
Riley, BU spokesperson, said a previous examination of the Center's grant management practices will continue while new information comes to light about the Center's culture.
"We recognize the importance of Dr. Kendi's work and the significant impact it has had on antiracist thinking and policy," Riley said. 
Now, amid BU's inquiry, Piston calls for accountability.

"We complained in writing years ago to the Provost, who did not even bother to respond to us," Piston wrote in a statement. "A more appropriate response would be to remove Dr. Kendi from the directorship and hand governance over to the fired staff, who have been working intensely with deep commitment to the cause of racial justice."
Molly and Lydia started the investigation in December 2022 while Molly was the editor-in-chief of The Daily Free Press. Molly has since graduated and Lydia works part time for Boston.com which is owned by Boston Globe Media.