The Front Bottoms have, since 2006, been the outlet for Brian Sella's evocative songwriting and characteristic whining vocals, and last Thursday they parked their tour bus outside Boston's Roadrunner. In tow came their opener, Vundabar, Bosstown locals and indie rock radio standouts. 
They all had their pants on forwards. 
I've seen Vundabar before, a year and a half ago at Baltimore's Ottobar as the headliner, and most of my takeaways haven't changed. Vundabar in their studio releases are a little thin in the mix, not very much bass and without much layering on the guitar parts. This concert didn't change it much.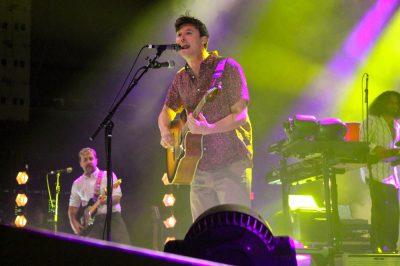 From their opening track the characteristic "pew pew" guitar tone and British-pilfered vocals push through, with a stronger guitar sound than they bring to the radio. I think it suits them. 
Brandon Hagen, the guitarist and lead singer, seems American enough to me, but he clearly wants to be Morrissey. He borrows some silly little stage mannerisms and the hushed mumbling that isn't particularly coherent but does seem to be bemoaning something or another. I hate the Smiths, but Vundabar impressed me enough. 
Gimmicky vocals aside, they sound good live. Most songs climaxed at the finish when Hagen would click on a (Gain? Overdrive?) pedal and bump the treble on his guitar, which was the most exciting part of the track — at least based on the crowd. Why not keep that bad boy on the whole time, Brandon? It adds so much depth to a slightly lean guitar sound, even with the benefit of being live. 
The drummer had a lot of nice little double kick moves, and there were some cowbells at the end of "Heatwave." 
I freaking love cowbells. 
Their set dragged belly a bit in the middle — a lot of tracks sound very similar — but they ended a tidy set strong, with their two big songs, "Alien Blues" and "Oulala." Both songs rely on a lyric free chorus — just chanting — and have strong guitar riffs. 
Vundabar were an effective and exciting opener with mumbled lyrics reminiscent of The Smiths and a plucky high end guitar sound like a less sonically-dense Vampire Weekend. You could ask more from them, but they did everything an opener needs to and did it with style stolen from the British, for a little twist of history. 
The Front Bottoms are an indie-rock band that fit nicely into the Midwest emo realm, despite being from New Jersey. They're more lyrically interesting than American Football (I think), but with less complex guitar parts and lots of acoustic-driven songs about ex-girlfriends and unrequited desires and girls you'll never see again and girls and girls and girls. They fit perfectly in the canon of emo rock. I must preface, I love their music and I have for years, so my review might be skewed. Who cares? 
Another vital caveat: the sound mixer must have woken up on the wrong side of the futon this morning, as lead singer Brian Sella's guitar smothered everything but his vocals. The vocals are the story here. I love his whiny little warble — it makes the band and helped create fourth wave emo, but 2011 was a while ago. I think his voice has lost the angst of youth and gained the strain of two divorces. Either way. 
The Bottoms opened with "Au Revoir (Adios)," a song that emblemizes the charm of Sella's writing and vocal performance. He paints an image of himself as a condescending loser and makes fun of himself in the same verse, all in his unique vocal amalgam of So-Cal pop punk accent and nasal Jersey. He twists "I'm" into "Oim."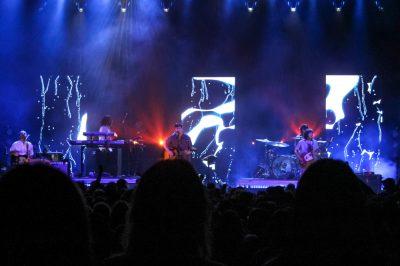 The touring bassist, Natalie Newbold, added a nice harmony with her backing vocals. Within five notes a kid was up and crowd surfing. The crowd was electric, and constantly in motion – a mosh pit with so much surfing I might as well have been on the beach. Most of the crowd was yelling the lyrics with almost more passion than Sella. Each member of the audience clearly had deep connections with the music. 
The Bottoms played their hits and a lot of their new album, a fair enough mix considering their most popular songs are from three to four albums ago. My other highlights include "Peach," "Batman," "Maps" and "Lone Star," which he mentioned was about his first wife which implies that he's on #3. 
Sella was not super chatty between songs, and some felt rushed. At least twice the lead guitarist was not done tuning up when the drummer counted in to start. This plays into my ill feeling towards their sound, which I am trying my best to look past because I know it's nitpicky. 
I really wanted to love The Front Bottoms live, but it felt like something was missing. I was a little underwhelmed. The question is begged, how long can something good like them last? Especially in music, how many years do you get before the Secret Stuff dries up? Music seems almost impervious to this, but not live. Live music happens once and not again, not the same as last time, never the same again. That's where the difference comes in. 
A studio mix with weeks spent pouring over it will always be a clearer instruction of the artists, but live music is ephemeral, it's something more viscerally human. A flash of light or a cloud out the window. A room full of people performing the chorus without ever meeting to practice. Go see a band, this weekend or next or the one after. Whatever they play will never happen again. 
Piper Hope contributed to the reporting of this article.