I became coffee-dependent in college — I couldn't recall the day when I didn't hold an iced latte in my hand on the way to class. The taste of bitterness alarms my senses, and the caffeine wakes my brain. I just cannot abstain from a quick energy booster to my morning class. 
But the coffee is not only for my 8 a.m., it's for everyday classes and even the weekends. I may have pretended to be the lady boss walking down Commonwealth Ave. holding a Starbucks cup, and that's when I knew coffee was a lifestyle — a quite expensive one.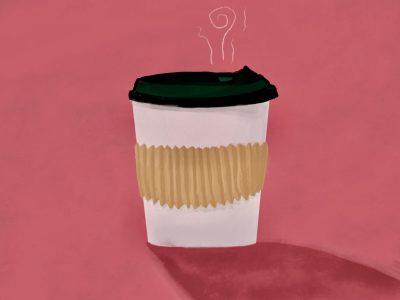 Girl math: one grande iced caffè latte is $4.95 plus tax (so we round it up to $5), meaning drinking it daily for a month would result in $150, approximately the equivalent of a pair of Nike Air Jordan 1. So I sought ways to reduce my spending on coffee. 
Loyalty Programs
Many chained coffee shops have loyalty programs that encourage customers to return by offering various incentives and discounts. For example, Starbucks Rewards operates in a points-based system. With each purchase, customers accumulate stars that correlate with the amount spent. These stars can be redeemed for complimentary beverages, food items, add-ons and merchandise. Dunkin' employs a similar approach, awarding 10 points for every dollar spent, and these points can translate into various free drink and food options.  
My personal favorite is Caffé Nero's stamp card. It is a straightforward reward scheme that renders a free drink for every nine stamps.
Pre-made 
A time-saving alternative to consuming coffee is to store brewed bottles of your trusted brands. One bottle of Cold Brew Coffee Concentrate from Trader Joe's can support the caffeine needs of my roommate and me for two weeks — and it's only $8.99. You can easily make up your preference with the diverse flavors and sizes in the espresso beverage market. 
Still, bottled beverages can barely match up the taste of hand-crafted coffee in-store. That's when you can opt for instant coffee.
Brands like Blue Bottle and Chamberlain Coffee pushed out single-serve instant coffee for an effortless fresh brew just in seconds — just mix it with water. But there's a trade-off for the price: Blue Bottle would cost $15 for five sticks and Chamberlain Coffee would cost $12.50 for 10 sticks.  
Homemade
Coffee lovers who seek immersive drinking experiences will eventually end up brewing coffee themselves — I'm talking about Moka pot, french press and steeped bags. The various ways of brewing allow for so many options in the purchase, yet economic brewing relies on tools. 
During my sophomore year, I invested $9.99 for a 12 oz Bodum Coffee Maker and $19.99 for an electric water kettle, which I use to French press grounded coffee beans from places I've traveled to, such as Peru and Mexico. 
Now, I'm a senior, and the coffee maker and water kettle are still sitting in my kitchen, and so are the bags of grinded beans — there are more than half left. Having a brewing tool can expand your tasting experience from the commonplace coffee shops if you put it to use.