Trading suburban fields for city skylines is the ultimate decision I accredit to being the "best of my life." However, no one warned me about a devastating separation that would come to fruition in an urban setting — the estrangement between me and chain restaurants.
I'll be the first to admit, it does sound dramatic, but the heart wants what it wants — and in Boston, the heart wants a bacon cheeseburger from Applebee's washed down with a frosty from Wendy's.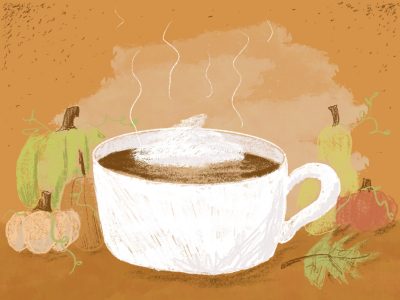 Naturally, when my mother called and asked if I had any special requests over Indigenous Peoples' weekend, the only right answer was to order a limited edition pumpkin spice frosty. As she walked in with my request in hand, it was met with my father's baffled confusion.
He seemed almost puzzled as to why everything was suddenly made of pumpkin spice.
The obvious answer would be because it's fall. However, the more accurate answer would be because it's Fall 2023. Looking back on his own childhood, he had only ever heard of pumpkin pie.
Alas, the 'a-ha' moment: we are in the middle of a pumpkin spice epidemic. I'm here to break down this flavor frenzy from its inception to its current peak.
The story starts on Pulau Ay, one of the Banda Islands in Indonesia, where archaeologists encountered ancient nutmeg remnants on pottery fragments that they guessed to be 3,500 years old. As popularity for this spice grew throughout millenia, the Dutch demand skyrocketed in the late 1600s. Eventually, they traded their entire colony of New Amsterdam, now New York, to Great Britain for Pulau Run, a Banda island that produced the treasured spice.
Through the 1930s, pumpkin spice took its form as an amalgamation of spices including cinnamon, nutmeg, ginger, allspice and cloves, primarily to flavor pumpkin pie. In the late 1930s, Thompson & Taylor Spice Co. and McCormick & Company released an innovative pre-blended mix, making the spice more convenient to obtain.
In decades since, the most notable pumpkin spice product would be Starbucks' pumpkin spice latte, or the "PSL" as Gen-Z likes to call it. Peter Dukes is the Starbucks employee acclaimed for this autumnal concoction, originally introduced in 2003. Dukes, who then became the director of espresso at Starbucks, also whipped up the proposals behind other prominent seasonal drinks, such as the eggnog latte and peppermint mocha.
According to the ratings company Nielsen, nearly a half-billion dollars in pumpkin-flavored products were sold in 2018. Three years later, Starbucks was estimated to have sold more than 424 million pumpkin spice lattes since its debut. As the now iconic fall staple continues to circulate rapidly across social media platforms, it's safe to assume that sales have only catapulted in 2023.
In our present day, our market is increasingly saturated with pumpkin spice and everything nice. Hummus, spam, protein shakes, Jell-O, hot chocolate, hard seltzers, marshmallows and even mac and cheese have sprung from this feverous frenzy.
Oh, and that pumpkin spice frosty? I am obliged to echo the sentiment shared by all the mom bloggers my mother follows on Instagram: It tastes exactly like a fall candle.
Yet, the question lingers: What ever happened to that classic pumpkin pie? Well, that's up for you to decide! Pumpkin pie still remains a signature symbol of my extended families' fall festivities, which we all enjoy, particularly à la mode. But, I don't think my great aunts and uncles are exhausting their taste buds with pumpkin spice lattes and marshmallows.
As the autumn season continues, enjoy the evolution of pumpkin spice! But not too much to the point where traditions begin to fade. It's perfectly fine to be "in with the new" without going "out with the old" — especially when the old is as good, if not better, than the new. Just make sure there's a tiny scoop of vanilla ice cream on top.