A distant echo, something that touches the sublime, has guided world-renowned director Werner Herzog throughout his lifelong quest of finding stories in the most curious places. 
Herzog spoke about his new memoir, "Every Man for Himself and God Against All" at WBUR's CitySpace on Thursday evening. He engaged in a Q&A session with Robin Young, co-host of "Here and Now," during which he discussed the inspiration for his book.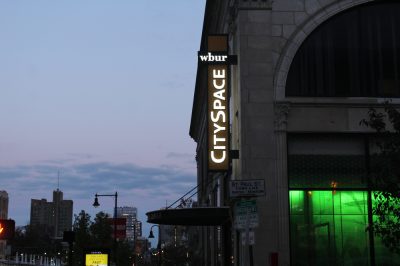 Herzog explained how his upbringing informed his filmmaking career, a principal topic of his memoir. Born near the end of World War II, Herzog grew up in a small Bavarian village with no running water, according to his website. At age 11, he saw his first film — now, his career spans decades during which he directed more than 40 films and wrote over a dozen books. 
During the Q&A, Herzog spoke about the necessity of departing from reality in order to convey the truth. He said that a book or film "starts to illuminate you and only because you are departing from fact, fact, fact, fact, fact." 
"We have to be cautious because nobody of us knows what truth is," he said. "We are human beings. We have it in us a quest for truth, and somehow we know vaguely it must be somewhere out there."
He cited as an example the phone book for all of Manhattan, which contains millions of correct entries and represents an extremely factual book. However, he said, "we cannot read it" because its pure facts do not "touch deep into our sense of language, deep into something that echoes all poetry of human beings."
Through all the hardships he's endured, he said this "quest for truth" gives added meaning to his work.
Herzog continuously mentioned the presence of a greater force connecting humanity together, notably present in film and literature: "The films I've made have a different inner light that shines in the audience for a long time afterwards." 
Amy Macdonald, director of WBUR's CitySpace, said she was "incredibly excited" that CitySpace was included in Herzog's book tour because she "knew that it would be a fascinating conversation." 
"I'm a huge fan," Macdonald said. "He's probably one of the most famous, iconic film directors in the world."
Sharing just one of many unbelievable movie-making experiences, Herzog told a story from the production of his 1982 film "Fitzcarraldo," when he assisted in an operation on a kitchen table in the jungle. He recalled holding a torch light to a woman's abdominal cavity in one hand, and using his other hand to ward away mosquitos, all while the woman was being operated on. 
He credits his unique approach to filmmaking with these outlandish experiences, which include his claims that he was kidnapped by a witch as a young boy, accompanied a troupe of child soldiers under attack and even saved Joaquin Phoenix from a car accident minutes after being shot. 
Herzog said his incredulous tales have led critics to question his credibility.
"People think I must be mad doing things that others don't do," he said. "But in the film business, in the film industry, I truly am the only one who is clinically sane."
Rather than take offense to these objections, Herzog embraces them. 
"That's the beauty of it, that I lived a life like no one else," he said. "The way I write is also different because it is informed by a worldview and the worldview is informed by events in my life."
Herzog discussed his film career at length, but he described an intimate connection between his filmmaking and his writing. 
"My prose is probably going to outlive my films," he said.
Owen Logan, a junior in the College of Communication, gained last-minute attendance to Herzog's sold-out Q&A. 
"He's living this wild life, so it's really interesting to hear," Logan said. "He's a storyteller, I'd say, in every single medium you can think of, and obviously for storytelling, you need experiences, and he truly embodies that idea."
Herzog closed the event describing his relationship with writing and filmmaking.
"I absorb the world with intensity and curiosity and awe, and in a way, sometimes a decade later, it returns … in a different shape," Herzog said. "I've always been a writer, and people are puzzled here. How do I reconcile it? Very easy. I have a simple answer, a simple formula now, and nothing beyond it. Films are my voyage and writing is home."