When it comes to performance, many argue the art of subtlety and that less is more. But subtlety has never been less apparent — or necessary — than in Boston University on Broadway's "Something Rotten!"
BUOB, one of BU's student theater organizations, made the stage of Tsai Performance Center, their home from Nov. 9 to Nov. 11, with a show that was simply too good to miss. Directed by Ava Ascher, a junior in the College of Arts and Sciences and the College of Communication, the musical is a rollercoaster ride of over-the-top musical numbers, hilarious caricatures of Renaissance writers and unadulterated comedy, proving that sometimes more is more.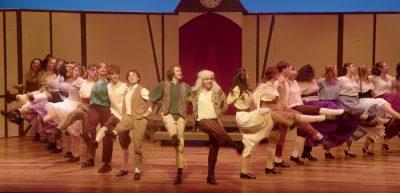 A unique combination of setting and tone makes "Something Rotten!" an outlier among musicals. The play is set in the Renaissance era and follows two aspiring playwright brothers Nick and Nigel Bottom, played by Christian Hoffmeister and Joey Russoniello respectively, as they attempt to come up with a big hit to compete with William Shakespeare.
The show begins with a minstrel, played by Tobi Ajelabi, and the entire ensemble in an elaborately choreographed performance of "Welcome to the Renaissance," a wonderfully fun number about leaving behind the feudal period.
Next we meet our two protagonists, Nick and Nigel. Shakespeare's rampantly popular plays interfere with the Bottoms' attempts to simply make a living as writers, and Nick proclaims his utter contempt toward him.
After the brothers fail to impress a patron, we meet Nick's wife: Bea, played by Lauren SanFanAndre. In "Right Hand Man," she attempts to convince Nick to let her get a job so she can help support the three of them. I was blown away by SanFanAndre's singing ability. Belting out lines about sharing the financial burden while moving around the stage is no easy feat — and SanFanAndre does it without breaking a sweat.
"Something Rotten!" expertly balances humor and exposition. At no point during the first four numbers did I feel like I was inundated with information, yet almost all the key information of the show has been completely established.
In a desperate attempt to brainstorm a brilliant idea for a play, Nick visits a soothsayer: Nostradamus, played by Daniel Ulrich, who envisions a future in which plays rely on both spoken lines and song, called … musicals!
In the fifth number, "A Musical," back-up dancers line the stage while Nostradamus attempts to convince Nick of his visions. The song pokes fun at modern musicals and culminates in an extravagant tap dance break, which furthers the show's absurdity and campy self-awareness.
After Nigel and Portia, played by Skylar Sherman, bond over their love of Shakespeare and decide to go to a gig in the park, we finally meet the legendary Shakespeare. Emma Garner's Shakespeare is not your English teacher's Shakespeare. Garner is Mick Jagger ostentatiously strutting across the stage, leaning into the swooning damsels that make up his entourage. She emanates pure charisma and zeal with every appearance.
As Act I draws to a close, Nick finds his brother rubbing elbows with Shakespeare. Portia's father — the city magistrate, Brother Jeremiah — finds his daughter cavorting with sinners. The pair of brothers are now furious at one another, which drives Nick to visit Nostradamus one more time. This is the first hint we get to the undercurrents between the brothers' relationship. While the rest of the play may be gaudy and over the top, many of the more serious moments tend to remain understated, which definitely allows them to stand out.
Nick asks Nostradamus to foresee Shakespeare's greatest play so he may steal the idea for himself. Nostradamus' powers aren't perfect, which causes him to see an amalgamation of many of the biggest plays of all time: "Cats," "The Lion King" and many more. Nostradamus claims Shakespeare's greatest play will be called "Omelette."
Before transitioning to Act II, I have to spotlight the incredible orchestra who are just out of view but never out of earshot, helping to make every musical number extravagant and beautifully composed.
Act II begins with Shakespeare receiving word about Nick's plan to steal his future play. He joins Nick's troupe, disguised as an actor named Toby. Meanwhile, Nigel once again meets with Portia against their respective families' wishes. This point marks what I consider the peak of the musical.
As Portia tries to convince Nigel to confront her father and his brother about their love, they break into song with a fictitious version of each person keeping them apart being convinced that their love is pure. This climaxes as an imaginary version of Brother Jeremiah, played by Nat Pagliocco, tears off his preacher's outfit to reveal a sequined suit as he gives the two his blessing.
Pagliocco has been a hilarious fixture in every scene he's in, thanks to his character's over-the-top flamboyance and accidental innuendos that contrast his rigid role as magistrate. The number had the entire audience roaring with laughter. But once Jeremiah discovers his daughter with Nigel, he is furious and decides to send her away for good.
Portia's exile inspires Nigel to write what we know to be Hamlet, not the Omelette nonsense his brother wants — and Nick is less than pleased. As the two quarreled on stage, the two leads' skills as they played off one another were clear. Russionello and Hoffmeister play an extremely convincing pair of brothers: the elder who wants to protect his younger brother and the younger trying to show him that he can be dependable, too.
After Bea pushes them to reconcile, we find out that the Bottom brothers' play is in high demand. However, on opening night, which can only be described as a hilarious hodgepodge of Shakespeare's greatest hits, Toby reveals himself as Shakespeare and sues the two brothers.
Luckily before anyone loses their head, Shakespeare, thanks to Bea's intervention, convinces the judge at the trial to merely exile the brothers to the new world: America, "where nothing rhymes with America," according to the finale.
As the Bottom brothers, Portia and Bea sang of their prospects in the new world, bidding England adieu, I was left with only one thought: Parting really is such sweet sorrow.