Will Danoff, manager of Fidelity's $140 billion Contrafund, and Steve Kaye, former portfolio manager of the $50 billion Fidelity Growth and Income Fund, offered the young investors of Boston University advice on the elusive finance industry on Nov. 9. 
The BU Finance and Investment Club event was planned with the help of the club's faculty advisor, Questrom School of Business finance lecturer Louis Salemy, who previously worked at Fidelity as an equity analyst and assistant fund manager of the Growth and Income Fund. 
"What we've tried to do with a lot of the speakers this semester is having attendees really thinking about the different careers inside finance," said Nicholas Glomski, a junior in Questrom and BUFC's vice president of investment management. "The main idea is having everybody exposed to different pieces of the finance world so they can see what they're interested in long term."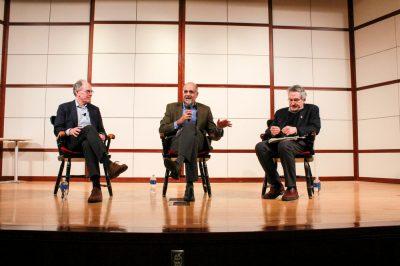 Danoff, the manager of the single largest U.S. mutual fund run by one manager, certainly qualifies as one of the best. He started off his presentation by showing letters he received in 1993 from a family who had put money into Contrafund, thanking him for his work on the fund. 
"Wherever you end up at your job, think about the customers," Danoff said during the presentation. "You can make a difference if you do a good job for them." 
Throughout his presentation, Danoff shared advice with attendees — advice that applies both to investing and life in general. One idea he continuously emphasized was the importance of showing up, even if an opportunity does not seem promising. 
"That's another lesson," Danoff said. "Your luck improves the more times you show up." 
Kaye's comments during the lecture reflected similar themes of investment advice that doubles as life advice. 
"You have got to be able to deal with adversity," Kaye said during the presentation. "That's true in life with everything." 
All of these comments culminated in a reflection from Danoff about the nature of the stock market, describing it as "a mirror on life."
After the presentation and a panel discussion, the floor was given to students to ask the questions of the experienced investors. One student asked Kaye and Danoff to reflect on their biggest mistakes in their careers, and what they learned from these experiences. 
"The biggest mistake is, 'the stock has doubled or tripled, I missed it,'" Danoff said. "You have got to have mental whiteout and say, 'Who cares?'"
This piece of advice in particular struck a chord with members of the BUFC executive board. 
"One bit that stuck with me … is whiting out the past and just thinking from the future," Glomski said. "We've at least tried to talk about [this], but could definitely do it better."
BUFC is responsible for managing approximately $1.1 million of BU's endowment, giving the club members first-hand experience at investment management. 
"It's really a whole different learning process when you're implementing the stuff that you're learning in classes, and then learning through the club itself," Glomski said. 
Beyond frequent speaker events, BUFC creates a community for its members, helping them form connections and build upon their passion for finance. 
"I think when I joined college, I didn't want to do finance," said Mihir Bhuptani, a junior in the College of Arts and Sciences and BUFC's co-vice president of investment research. "But then joining the club, meeting everyone, seeing everyone happy, seeing these big career aspirations, I got inspired by them to take that sort of path." 
Danoff and Kaye are the last speakers in BUFC's speaker series for this semester. The series will pick up again in the upcoming semester.
"It's been pretty fun, and hopefully rewarding for students," said Atharva Mhatre, BUFC's president and a senior in Questrom and CAS. "[We hope] it helps them make a decision on what career path they want to take by the end of this semester."