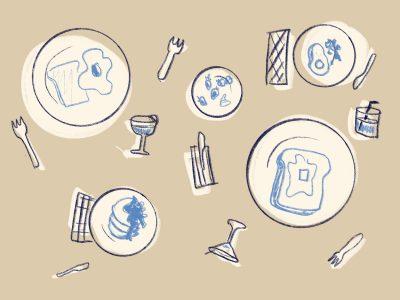 A few days ago, I was making plans to meet with a group of my hometown friends, unsure of what we could do. 
As I'm originally from a more suburban area, I knew that there would be plenty of options to keep us occupied in Boston, like shopping on Newbury or walking around the Boston Common. However, considering that I hadn't seen my friends in a while, I sought for an atmosphere that would allow us to all catch up with one another, while simultaneously immersing ourselves in an exciting pursuit. 
That's when I ultimately decided that getting brunch was the perfect venture for this occasion. 
Brunch is typically served from around 11 a.m. to 4 p.m., serving as the perfect meal in between the ordinary breakfast and lunch times. One of my favorite parts of going to a restaurant in this time range is looking at their brunch menus, as they combine both the breakfast and lunch options –– providing you with a larger variety of dishes to choose from.
My friends and I chose to go to a nearby restaurant on Newbury Street called "Sonsie." Observing the entertaining music and creative menus, I'd say that the overall ambience throughout the restaurant was classy and lively, ultimately creating the perfect atmosphere for me and my friends. 
My go-to meal to order at brunch is scrambled eggs, bacon and home fries, and so of course, I had to order that. They also had numerous brunch options, like belgian waffles, avocado toast and an interesting take on brunch pizza. Additionally, a few of my favorite brunch spots that I recommend in the Boston area include: Cafe Landwer, Rochambeau and Joe's on Newbury. 
Sure, brunch can be overrated, but there are some exciting aspects of it. Brunch overall is intended to be a bubbly and cheerful meal, as it occurs during a more relaxed part of the day. 
What I cherish most about brunch isn't its large array of food options — but rather the feeling of getting together with friends or family, and being able to casually converse with one another. 
When going out to eat with friends and family, one of the most important aspects that should be considered is the overall atmosphere of the restaurant. Without good ambience, it becomes almost impossible to initiate meaningful conversation. 
However, at brunch, almost everyone is there for the same purpose: to meet with people and converse over good food, ultimately creating the perfect atmosphere for catching up with family and friends. 
When my friends and I attempt to make plans, one of our most difficult obstacles is deciding the times in which we should meet. Whether one of my friend's isn't a morning person, or the other is busy later during the day, aligning plans with each other's schedules has always been tough. 
But one option that has always been suitable for our schedules is brunch, as it occurs at a more convenient time of the day. If you were out all night, and you have plans the following day, you can both sleep-in and get brunch. If you don't want to get an intimate dinner with your friends, the answer? Brunch. 
I will admit, there are some downsides to brunch, especially if you're a college student, like me, with a tight budget and horrible saving habits. Brunch is not a cheap expense, especially within the greater Boston area. 
Still, the occasion in which you can both fit brunch within your schedule, and be able to afford it, brings you with one of the most rewarding, yet filling, feelings.