Boston University College Democrats and other organizations launched a national effort at BU in solidarity with union workers on Red Cup Day, one of the busiest days of the year for Starbucks, to remove the chain from college campuses.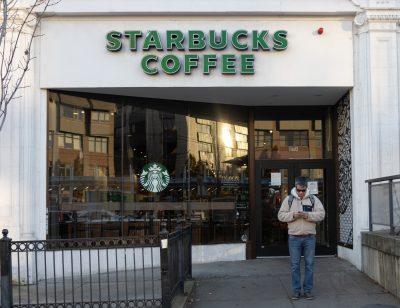 The workers of United Union chose Red Cup Day to strike because it's "Starbucks's biggest sales event of the season — and also one of the most infamously hard, understaffed days for the baristas that work them," according to their website. 
Sean Waddington, a junior in the College of Arts and Sciences and president of BU College Democrats, launched a petition Wednesday, on the eve of Red Cup Day, to demand BU administration end its contract with Starbucks in favor of supporting student-run and local businesses, committing to improving working conditions and cooperating with unions.
"I've always wanted to come to support the union," Waddington said. "When I had this opportunity to sign some petitions and do some volunteering, I thought it was great and I thought it was good to get the club involved."
Waddington said Aramark, a third party company — and not Starbucks — owns and operates the locations on campus located in the George Sherman Union, Questrom School of Business and Warren Towers.
"But as their primary target audience is young people, trying to have us be consumers for life, we are trying to leverage that as students and as a university to get them to respect their union," Waddington said.
After Starbucks Workers United contacted their organization, Waddington, who is also an undergraduate senator representing CAS 2025, said the campaign to remove the chain "snowballed" into a larger effort involving other colleges and universities.
Hundreds of college students from dozens of campuses across the country, including BU, gathered on a strategy Zoom call on Nov. 9 with United States Representative Maxwell Frost who said local union efforts can have an effect nationwide.
"The work that they're doing isn't necessarily about that specific struggle, at that specific place of work," Frost said. "It's about that, but also has [an] impact that changes the entire country."
Waddington said Congressman Frost's involvement "helped boost morale for the campaign" and was thrilled to hear from the first Gen Z member of congress.
"We're all folks who are just trying to do some good in this world and to get the support of Congressman Frost to get … that push of 'you guys are doing something and keep going,'" Waddington said. "I think we're really set in for a longer-term push."
In an effort to demonstrate their solidarity with workers, petition organizers also showed up at the picket line for their version of the day, Red Cup Rebellion Day. 
Willa Bandler, a researcher from Walpole and strike volunteer, supports workers' rights and said the stores are underemployed and lack decent working conditions. 
"We really need customers to support the workers, there aren't enough workers at any one store because the way the laws work, the stores have to unionize one by one," Bandler said.
BU spokesperson Colin Riley wrote in an email that BU does not support a strike against a business. 
"Boston University, as an institution of higher learning, supports teaching, research, scholarship, and dialogue, and not a boycott or cancellation of a business," Riley wrote. "Individuals can act on their own accord whether they wish to be a customer, or choose not to be."
BU Dining Services declined to comment. 
Waddington, a CAS 2025 senator, said the campaign to remove Starbucks is currently in the "planning stages," with a presentation being made at the start of the semester to enlist the support of other senators.
Nathaniel Wilcox, a sophomore in Questrom School of Business and undergraduate senator who joined Waddington in the effort, said Starbucks is a company that is "taking advantage" of students and disregards their employees.
"When Sean presented what he was doing and what it really meant for changes on campus … it felt really compelling to me," Wilcox said. "I feel like people working at Starbucks on campus aren't getting the benefits that they could be."
Wilcox said they are trying to get BU to be "more transparent about the contract between the Aramark and Starbucks."
"I think BU needs to do its part in removing that corporation from campus," Wilcox said.
Wilcox said this campaign will not affect the convenience of students using their dining and convenience points. 
"What I think this would change is it would allow students and people who decide to work at Starbucks to receive the benefits that they deserve," Wilcox said.
Keeghan Bauer, a senior in CAS and a Starbucks worker on campus, said she is not a part of the union but supports the workers. She said replacing the Starbucks on campus would be "ideal."
"I don't think it would have much of an impact if it's replaced with something very similar," Bauer said. "I imagine it would be just as busy and generate just as much revenue because people are still going to drink coffee."
Skyler Piltch, a senior in the College of Communication, said he "stands in solidarity" with Starbucks employees and believes employees as well as union workers deserve basic rights.
"Overall, I think that this is a larger issue than just what coffee you drink in the morning," Piltch said. "I think it's more important to support that issue than for us to get our venti cold chai latte with a pump of cinnamon." 
Katrina Scalise contributed to the reporting of the article.