In 2014, Harry Susilo endowed Boston University's Questrom School of Business with the Susilo Institute for Ethics in the Global Economy, Questrom's first permanently endowed institute. Since then, the unique institute has promoted ethical business practices and leadership through its original research and educational offerings.
Executive Director of the Institute David Epstein said what sets the Susilo Institute apart from similar institutes in different universities is that it is part of the business school, instead of being a part of the wider university.
"Ethics should be taught as part of business, and it shouldn't be the differential between business and ethics," said Epstein, a visiting professor of global leadership and information systems in Questrom.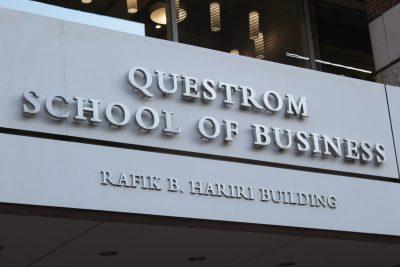 Traveling to Singapore
Epstein said a "staple" of the Susilo Institute is its annual symposiums — this year's took place in Singapore on Nov. 1. With industry leaders, government officials and academics as speakers, the symposium attracted over 400 people, who varied from corporate executives to politicians.
The symposium goes back and forth between Boston and another city in the world each year. Epstein said this is in alignment with the focus of the Institute to better understand ethics internationally and how it differs all over the world.
This year's symposium, "Visionary Leadership for the Future; Leading Resilient and Ethical Businesses in our Changing World," included a panel on the implications AI would have for the future, from the perspectives of different industries.
Epstein said while he is thrilled to see technological innovations in AI, there are "many ethical issues" to consider.
"We try to address some of those issues in these conferences and webinars that we do and dive deep into it," Epstein said.
The Institute also hosts multiple webinars inviting leading industry professionals to discuss ethics in different contexts. One of the recent webinars focused on creativity in AI, where advertising professionals and BU professors spoke on the use of AI in the advertising industry.
Evolving ethics courses
Dean of Questrom Susan Fournier has been involved in the Susilo Institute since it was endowed. Within Questrom, she said, "the Institute allows us to create and perfect and continually evolve the courses that we teach in ethics."
Ethical Leadership in the Global Economy is a required course for first-year MBA students in Questrom. The course was remade a few years ago by Nina Mažar and Evan Apfelbaum, who are both faculty fellows for the Susilo Institute.
Apfelbaum, an associate professor who currently teaches the course, said contrary to what many students expect, the course does not teach them "what is right or wrong."
"It's a course that gets them to think about their values, what they stand for, what businesses and leaders should be responsible for," Apfelbaum said.
Throughout the course, students are put through a number of exercises and simulations to "challenge their own views and their ability to think about taking care of people and doing business at the same time," Apfelbaum said.
Lima Kim, a first-year in the MBA program at Questrom who took the course, previously worked as an international sales manager at electronics manufacturer Foxconn, where he described the culture at the company as "revenue-oriented."
Throughout the course, Kim said he learned that when ethics are ignored in order to gain revenue in the short term, there are detrimental long-term effects on the corporation and its employees.
"I was starting to think about all the implications of my behaviors," Kim said.
Getting students involved
In recent years, Fournier said, the Institute has been evolving to be "student-centric." She said the Business and Ethics Case Competition, which started this year, is representative of this mission.
The Business and Ethics Case Competition is directed by Gregory Stoller.
, a master lecturer in Questrom. Stoller said the competition received 71 submissions from 15 countries, of which about 20 teams were selected by a group of over 20 judges, who divided the teams into different regions. The five finalists and a team from BU will receive a subsidy from BU to compete in the global final in southeast Asia in June.
Stoller has been holding different case competitions for 17 years, but this is the first time he is doing it on ethics and business.
Fournier said it is "incredibly valuable" to have the teams from around the world come together in person and learn from each other.
Among other institutes in Questrom, Fournier said the Susilo Institute is "emblematic" because it forms a strong foundation for Questrom's mission to create global, ethical leaders who "leverage the power of business to create value for the world."
"We could never teach that in a classroom."