For students at the 64 colleges and universities in the Boston metropolitan area, Thanksgiving signals one of two things — the official kick-off of the holiday season, and a slightly less festive  mass migration out of the city. 
Whether traveling by train, car, bus or plane, sky-high prices and congested terminals make being thankful this holiday season difficult.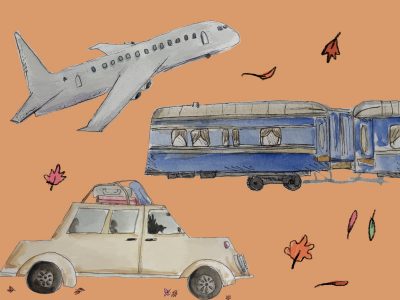 The American Automobile Association's annual forecast estimated that 55.4 million people traveled 50 or more miles for the holiday last Thanksgiving. According to NBC, the average price for a domestic flight during the Thanksgiving season is up 5% from 2022.
Elsa Caron, a freshman in Questrom School of Business, said the length of BU's short Thanksgiving break combined with "super expensive" plane tickets make it impossible for her to travel to her home state of Nevada. 
"When you fly across [the] country, a lot of the time there's no direct flights for me," Caron said. "So I would have to spend two full days just traveling which would take away from time to spend with my family." 
Classes officially go on recess beginning on Nov. 22, giving students just five days off before they resume on Nov. 27. 
However, Caron isn't letting her inability to go home get her down — instead, she's looking on the brightside. 
"I think that it'll contribute, when I go home for Christmas, to an even better feeling because it'll have been longer since I've seen my family," Caron said. "But I'm hopeful that maybe next year I'll be able to go home for Thanksgiving." 
Because of time constraints, some students opted to have their families travel to Boston, rather than going home.
"I'm really lucky my parents could afford to come out to Boston," said Evan Kurtz, a freshman in the College of Arts and Sciences, whose family is coming from Washington State to bring Thanksgiving to him. "We're renting a house and we're having Thanksgiving as a family here with my sister."
Kurtz explained "with the about five days we have for Thanksgiving break, having two essentially eight to nine hour travel days just wasn't feasible."  
International students traveling home for the break face a different set of concerns than domestic students. Many need to make sure they are eligible to leave the United States and return to their home countries with BU's International Students and Scholars Office.
"I think it was always set in stone I was going to go home, but I do need to check my F1 Visa Status to make sure I'm in compliance," said Sam Blackstein, a sophomore in CAS and international student from Canada.  
Although the flight to Toronto — Blackstein's hometown — is fairly short, the documentation and paperwork for an international student makes the trip complicated, she said. 
Even when planning for their trips months ahead of time, some students still decided that traveling isn't worth the headache and financial burden. 
When Jack Essner, a junior in the College of Fine Arts, checked the prices for plane tickets to go home for Thanksgiving a few months ago, the Los Angeles native knew staying in Boston was ultimately the better option. Like other students, Essner has family coming to Boston. 
"My twin sister is coming to visit me so I'm very excited for her to see Boston," Essner said. "But I miss home."
Students who can't go home to celebrate Thanksgiving are finding new ways to extend their gratitude even when their families can't come to them. 
"I'm kind of excited because I'm so used to doing the same thing every year for Thanksgiving, so I feel like it'll be a fun new experience," Caron said of joining a family friend's dinner table. "I'm honestly looking forward to it." 
Like Caron, Sean Tomany, a sophomore in the Faculty of Computing and Data Science from San Francisco, is joining his friends and their families on the east coast this Thanksgiving. 
"I was originally planning on staying here so I was disappointed about that," Tomany said. "I was like, 'Fine, I'll make the most of it.'" 
For the sophomore, spending time with his college found-family is still time worth giving thanks for. 
"I've known these people for a year and a half now, and it's great to further our connection," Tomany said. "I'm super grateful that they were able to take me for Thanksgiving."