Every prospective student at Boston University gets the same study abroad spiel. There's something for everyone, a tour guide says walking backwards along Bay State Road. 
When Elena Green started at college, she said she was "really interested" to take her studies overseas through BU's highly ranked study abroad program. She soon realized, as a pre-medical student, those opportunities may not be within her reach.
"I think that one big issue with [study abroad] is when you're pre-med, there's an expectation to start in freshman year, gathering research experience, gathering clinical experience, et cetera," Green, a junior in the College of Arts and Sciences, said. "Going abroad can sort of halt that if you've already started to gain that experience."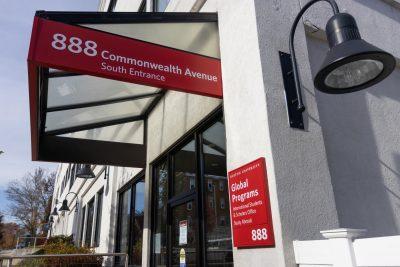 Green is also in the Kilachand Honors College, which has its own set of requirements that can't be fulfilled while studying abroad, she said. Some of these required classes are only offered during certain semesters. Since the classes aren't offered abroad, she could fall behind quickly. 
However, Green is currently considering applying for a public health study abroad program. While she hasn't been able to find a program that would work well with her major, her public health minor offers her a couple more options.
According to the BU Study Abroad website, students hoping to pursue pre-med pathways can travel to Chile, Denmark, France, Ireland, New Zealand, Singapore and Spain. The available programs make up only seven of the 83 programs listed on the website. 
Though Carly McDermott, a pre-med junior in CAS and a Spanish minor, was able to study abroad while staying on track with her science courses, she cited an entirely different set of issues once crossing the border.
McDermott studied at Universidad Autónoma de Madrid during the fall semester of her sophomore year. Though she feels very fortunate she was able to experience and immerse herself in another culture, McDermott struggled when taking organic chemistry in a foreign country. 
"In a sense, I felt a little under-prepared coming back to BU to take [Organic Chemistry II], just because it wasn't as clear or concise," McDermott said. "We didn't have the same curriculum and textbooks [when abroad], which made it really challenging, but as for the content we were learning, it was the same as BU." 
McDermott reached out to the BU Organic Chemistry I professors in order to be added to their Blackboard sections and teach herself the material. 
"I wanted to stay on track with what [BU] students were actually learning," she said. "So I just went through and I basically self-taught through that class."
Out of the approximately 25 students in her cohort, McDermott said about half of them knew limited Spanish. Although classes were taught in English, McDermott felt that those with limited knowledge of Spanish would be at a disadvantage when it came to carrying out their daily activities in the city.  
Joe Moussaoui, a pre-med junior in Sargent College of Health & Rehabilitation Sciences, went into the Madrid science program with a very limited knowledge of the native language but was lucky enough to have a host family that spoke English and friends who spoke Spanish. 
"I know some people who actually were the same, didn't know much Spanish going in, whose host families weren't as good in English. They were saying how it was really difficult or that it was really hard communicating with their host family," Moussaoui said.
BU has one of the best study abroad programs in the U.S., ranking 13th in the U.S. News & World Report's 2024 study abroad program ranking. BU offers programs in over 20 countries. 
Gareth McFeely, the executive director of the Study Abroad department, said BU makes sure to offer coursework in their programs that ensure pre-med students stay on track. He also said the study abroad office more frequently sees social science and humanities students applying.
McFeely said that students may face difficulties when it comes to studying abroad for a variety of reasons, one of which being planning. The study abroad office encourages students to plan ahead, especially with requirement-heavy paths like pre-med — it all depends on their personal pathway. 
"We often say to students that if they're interested in neuroscience that Copenhagen is a good fit, but another institution might not be a good fit," McFeely said. "So we really try to talk with students individually about the pathway. I think it's fair to say again, that the earlier you plan and the earlier you go, the more possibilities that you have available to you."
Emma Martin, a pre-med senior in CAS, said planning ahead would have helped her go abroad.
"If I had considered [studying abroad] early on in college and I had planned around it … it still would have been tough to go abroad," Martin said. "But if I had planned it from the beginning, I probably could have."
Green felt similarly: "Once you start your path at BU, if you're that kind of major, it's difficult to then try and squeeze it in."