Boston University's Charles River Campus reported a decrease in stalkings and liquor law violations since 2020 but an increase in sexual assaults and misconduct, according to BU's annual safety and fire report.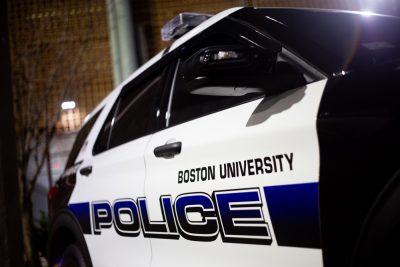 Institutions that receive federal funding are required to publish their crime statistics in a report annually by Oct. 1 and must include reports over the last three years in compliance with the Clery Act. The included statistics reflect crimes reported on all of BU's campuses in Boston and educational programs located outside of the Boston area. 
"Being in a big city with an open campus, we must address issues of crime, crime prevention, and personal safety directly,"  Kelly Nee, chief safety, security and preparedness officer, wrote in the report. "Ensuring the safety of our Boston University community is our paramount concern, and I want to assure our community that we prioritize safety without compromise as we strive for transparency and inclusivity."
Chief of BU Police Department Rob Lowe said no unusual trends stood out in the reports. 
"That's something that we pay closely attention to and will continue to do that," Lowe said. 
Stalking, Sexual Assault and Misconduct
The Charles River Campus reported forcible fondlings doubled from five in 2020 to 11 in 2022, and reports of rape increased from seven in 2020 to nine in 2022, according to the report. 
There were three reported incidents of stalking on the Charles River Campus in 2022, down from seven in 2020 and 17 in 2021.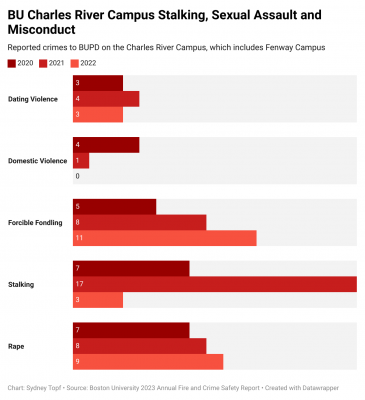 Lowe said it's hard to pinpoint a reason for the increase in stalkings in 2021. 
"Overall, we do see trends during different times of the year," Lowe said. "When you're asking for a specific reason for a certain crime, generally speaking, that can be a difficult question to answer."
Domestic violence declined on the Charles River Campus, with four reported incidents in 2020 and none in 2022, according to the report. 
There were three incidents of dating violence in 2020 and 2022, respectively. 
While the report only cites incidents from 2020 to 2022, BUPD keeps an updated report on recent crimes. 
During the week of Oct. 25, BUPD reported four sexual assaults just two days apart, igniting conversations on campus about sexual assault. 
Lowe said BUPD gave all officers trauma training over the summer for handling cases of sexual assault. 
"One of the things that [former BUPD Chief Kelly Nee] did recently was bring in a trauma-informed approach to the way we investigate sexual assault reports," Lowe said. "[The training is] just a way to assist officers and in understanding how trauma impacts people in different ways and to recognize what those signs are so we can best support survivors in those moments."
Dean of Students Jason Campbell-Foster wrote in an email that the Committee on Sexual Assault and Harassment Prevention is one way his office is responding to sexual assault and misconduct on campus. 
"This is a coordinated effort where the voices of students, faculty and staff have joined together to advance our key priorities and efforts such as increased transparency, education, training and awareness," Campbell-Foster wrote. 
Shana Weitzen, a junior in the Frederick S. Pardee School of Global Studies and the liaison between Planned Parenthood and BU Students for Reproductive Freedom, praised BU for clear communication. 
"BU is very unique in that they have that struggle," Weitzen said. "I think, honestly, the transparency has been very refreshing because the University has struggled with that in the past." 
Other Crimes 
BU reports hate crimes both on campus and on public property. The Charles River Campus reported an increase in hate crimes in 2022.
In 2021, the Charles River Campus reported one incident, which was classified as intimidation based on race and occurred on public property. In 2022, there was one reported intimidation based on religion and three reported instances of intimidation based on sexual orientation. All four hate crime incidents occurred on campus, according to the report.
Aggravated assaults doubled on the Charles River Campus from three in 2020 to six in 2022. 
Cases where students are involved in liquor, drug or weapon violations are often referred to the Dean of Students Office for disciplinary action after breaking the student code of conduct. 
Liquor law violations on the Charles River Campus decreased by 60% between 2021 and 2022, according to the report. There was only one arrest for liquor law violations in 2022 and none in 2021.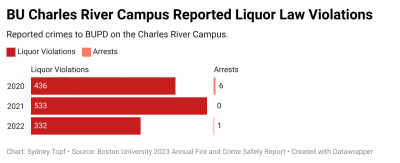 Campbell-Foster wrote that he could not cite a definitive factor for this decline, but provided some potential reasons.
"Some factors that may have contributed to the decrease are more awareness of alcohol use and misuse due to educational efforts undertaken by BU and high schools; a shift in social norms and attitudes around alcohol consumption; [and] the impact of the pandemic and restrictions during that time," Campbell-Foster wrote.
BUPD made two arrests for drug law violations on the Charles River Campus in 2022. In 2021, there were no reported drug law violation incidents. 
One person was arrested for a weapons law violation in 2021, and two were arrested in 2022. 
Lowe said he hopes students use the report to keep themselves informed. 
"Our goal is to keep our community informed number one, and then secondly, I would say to keep them safe," Lowe said. "So it again becomes an education campaign where people can learn about ways to keep themselves safe, whether they're alone at night, or in groups."