College of Communication alumnus David Bettencourt said his goal in creating a web series about the 2003 fire at The Station nightclub in Rhode Island was to bring peace to those affected by the incident, and to increase fire safety awareness.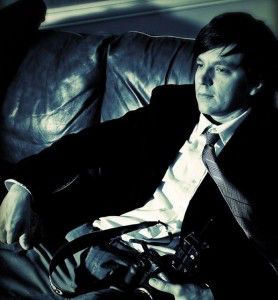 Bettencourt, a 2001 Master of Fine Arts in Film graduate, said a friend who survived the fire inspired him to direct and produce "The Station," which premiered Wednesday — the 10th anniversary of the tragedy — on YouTube.
"We can heal as a community from watching these stories and learning about what we need to do to make our nightclubs safe again," Bettencourt said. "No one should die when they go out to a nightclub."
Bettencourt directed and produced the series, which is the first documentary about the fire, he said. The fire was the fourth deadliest in U.S. history, with 100 lives lost.
Through the filmmaking process, Bettencourt said he learned much more about fire safety.
"I knew the basics of fire safety, but definitely learned more talking to survivors and their families who lost loved ones, and fire code officials," he said. "I started to learn more and started to be active in making sure that this doesn't happen anymore."
Bettencourt said while it was emotionally straining to deal with the series' heavy content, the most difficult part of the creative process was establishing the documentary's format.
"I think the biggest challenge really was trying to explain the non-traditional distribution," Bettencourt said. "Getting people to understand that going to a YouTube channel and watching it and sharing it … is really the new way of distributing content [was difficult]."
A similar tragedy struck in Brazil in January when more than 230 people died in a fire at the Kiss nightclub.
The Kiss tragedy proves a need for nightclub fire safety education, Bettencourt said.
"We teamed up with [Tyco International] to tell the stories of survivors and first responders and use these movies to educate and basically help the community heal and learn so this never happens again," Bettencourt said. "It just happened again in Brazil. Brazil doesn't really have any fire codes or safety laws, so this is important for them to watch and to learn."
Film professor Sam Kauffmann said while at BU, Bettencourt was part of a class that worked well together and fed off one another's ideas.
"He was part of a really good class, and they all inspired each other," Kauffmann said. "David was part of a group of really talented students and was really one among them."
Kauffman also said the nature of the master's program might have contributed to Bettencourt's project.
"Most people that come out of the program do more of the narrative style of film because that is the training they go through," he said. "Some do work in the industry as documentary film makers, but then they also have the skills to make their documentaries look really special because they have done that narrative filmmaking."
Molly Trillo, a College of General Studies sophomore, said she thinks nightclub fires and nightclub safety should be a topic of discussion more often.
"I didn't know about the fire at The Station, but I heard about the one in Brazil," she said. "It is so sad, but it's nice to hear that someone is doing something about it."
Deana Gordon, a College of Arts and Sciences junior, said this project is healthy for the victims' families and other fire survivors.
"It is really important that something like this is being done," said Gordon. "Even ten years later, the aftermath of something like this can be really strong, so a project like this is good for everyone involved. Plus, it allows for more discussion of safety."
Jake Bann, a COM senior, said he is pleased to see the success of a former BU student.
"It's nice to see that someone who went to BU is doing things in film," Bann said. "Especially when it comes to awareness."
Bettencourt said BU was integral to his film career.
"BU film school was an important part of my career," he said. "I made friendships and working relationships with people that I still have today."