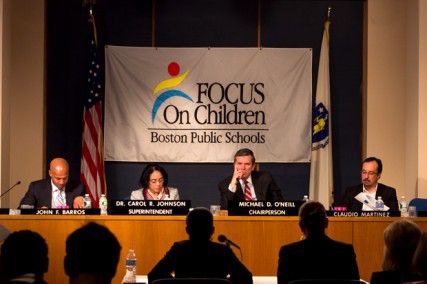 The Boston Public School Committee met Wednesday to hear public comment on a school assignment plan that would increase and diversify the number of Boston schools to which parents have the choice to send their children.
These plans would constitute the biggest change in the public school system since 1988.
"Our journey toward equity and excellence is never ending," said Carol Johnson, BPS superintendent.
The plan, called Home-Based A, was passed by the External Advisory Committee Monday. It would use a complex algorithm to give families an average of eight to 10 schools to which they could apply, based on the quality of the school and its proximity to their home, according to the Home-Based A Proposal.
Johnson said the current system of assignment is not connected to equality or predictability, but the modern model allows for both fairness and choice.
The current system divides Boston into three zones, with families only allowed to choose schools within their respective zone, according to a press release from the EAC Monday.
Johnson said the new model would provide better information and clearer guidance to families about the schools their children will be attending.
Michael O'Neill, chairman of the BPS Committee, said as the quality of schools increases, the assignment system will adjust.
"As quality improves, they will get less choices, but they will be higher quality [schools] and closer to home," O'Neill said.
He said the system is both an incentive to the district and a reward to the parents.
Laura Perille, an EAC member, presented the reasons for change to the committee.
"The system we have today with three large zones and transportation across the city is not working well for families …  we [should] develop a student assignment model that would deliver more equitable results to students and families," Perille said.
She said the criteria for school assignments would be based on equitable access to quality, proximity and predictability.
"We looked in particular at students with the lowest access to quality … to ensure if a student is on a bus, the student is on a bus to a higher quality school" Perille said.
Mary Tamer, representative for the BPS Committee in the EAC, said the EAC has met 55 times since March 2012 at 31 different sites and engaged with more than 5,100 community members about the proposed changes to the zoning laws.
Some community members said the updated zoning plan is a step in the right direction, but obstacles remain.
Kim Janey, senior project director of Massachusetts Advocates for Children, said equitable access to quality schools is important.
"The challenge however, is the unequal distribution of quality schools," she said.
Others said the new assignment system does not focus on racial or socio-economic equity of students.
"It is disappointing that the EAC recommendation saddles its proposed new model with the yoke of past inequities that the Boston School Committee has imposed through an outdated algorithm laden with bias and preferential treatment for geographically advantaged families," said Peggy Wiesenberg, former board member of the Citywide Parents Council.
Fran Smith, an active community member, said she dealt with these geographic problems when she was in school.
"I began this journey when I was 15 years old, when a black girl asked me why my people were taught to hate," Smith said.
Smith said she has not seen the leadership of Boston take a bold move on institutional racism, but said the city has come a long way since she was young.
"At least we have a school committee that is racially diverse and can answer, 'will this change with school assignment help black, brown and low-income students of all races?'" Smith said.
The School Committee members will continue to review — and could vote on — the Home-Based A assignment plan at their next meeting on March 7.